Noffsinger makes the best out of his Covid experience
News | Published on August 19, 2022 at 1:46pm EDT | Author: chadkoenen
0
Local man takes over goose-moose pond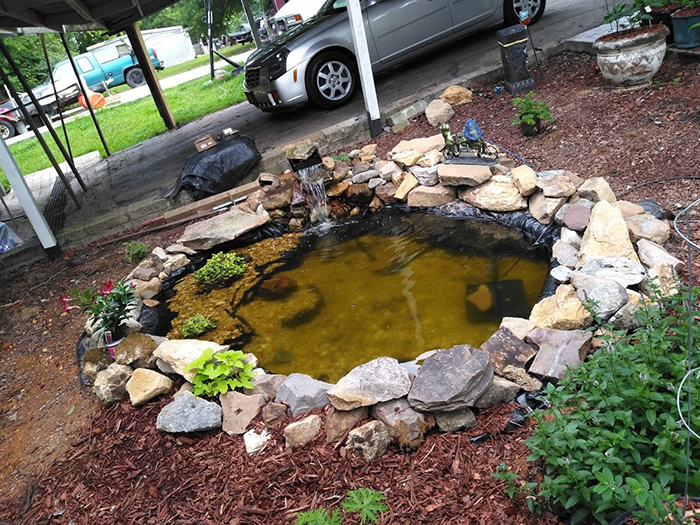 By Kathryn Wilkowski
Reporter
After getting laid off during the start of COVID-19, Christian Noffsinger began to look towards other career options that would leave him more time with his family. 
"I moved here from Georgia once COVID got really bad," Noffsinger explained. "I had created a pond down there but at the time, didn't really consider it as a career. But I always grew up around water and fish and knew I loved it."
After building his first pond in 2017, Noffsinger quickly got laid off from his longtime career at a factory due to various precautions regarding the pandemic.
"Since it wasn't a central business, they basically laid off the entire crew. So I had to move up here; I had no choice," he said. "My mom has lived up here for the past 10 years. So, we moved up here, me and my wife and my kids."
After settling in the Frazee area in 2020, Noffsinger wasn't sure the direction he was going to move forward in. After reading a local article on a goldfish, he decided to recreate the pond he created back in Georgia.
"I read a story about a goldfish that was found in one of the lakes around here and it was one of the biggest wild goldfish ever caught," he said. "So then, I was thinking about creating another pond at the house and it's giant. Still, I wasn't thinking about doing it as a career until I had a guy come over to move a fish tank and he recommended me to start a business. So I did."
After the exposure to his homemade pond, Noffsinger took on his first project in the Fargo-Moorhead area to completely restore a pond.
"After that project was done, I was like, 'yeah, this is what I'm doing, this is what I want to do,'" said Noffsinger.
After the decisions were made to take Aqualife Aquascaping on as a real business, Noffsinger immediately got the deal with Goose-Moose Pond to rent out ducks on Main Avenue.
"That's a big concern," he said. "The ducks will come back next year. We rent out the ducks for the spring and the summer and then bring them back to my farm for the winter months."
Along with his own pond and the restoration, Noffsinger has also built a couple ponds in Perham. Hoping to get a few more details worked out before winter hits, he plans on continuing his building process for many years.
To create a pond with Noffsinger, contact him at (218) 850-1127 or AquaLifeAquaScaping@gmail.com.
For more information on the ponds he had already created, visit his facebook page at www.facebook.com/AquaLife218 or his tiktok, www.tiktok.com/@aqualifeaquascaping