Stella takes Wiener Race title to Little Falls
News | Published on August 19, 2022 at 3:43pm EDT | Author: chadkoenen
0
Two-year-old dachshund and 40 others amuse fans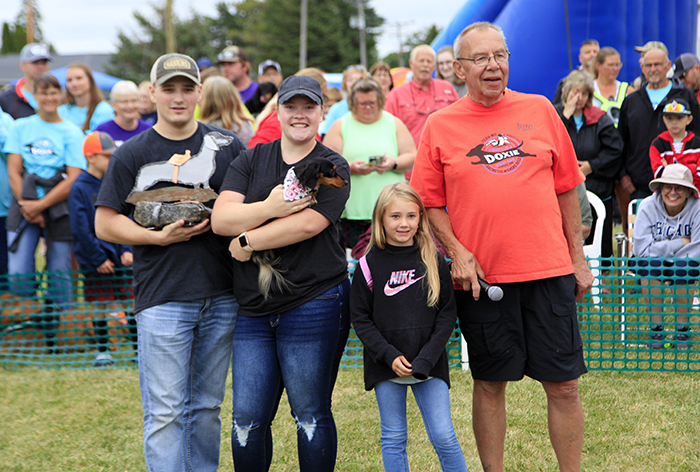 By Robert Williams
Editor
Looney Days visitors who got up early on Saturday to catch the Racing of the Wieners were delighted with two hours of smiles and laughs as two-year-old Stella sprinted to victory in her second race appearance in Vergas. ¶ Stella is the first family pet of Ashley Hastings and her fiancé Taylor Murphy of Little Falls. Stella's performance was a solid follow-up to her rookie year in 2021. ¶ "She won her first heat, but then in her second she got distracted by a ball and lost; so we didn't make it too far," said Hastings. ¶ Stella came to her humans by way of a cousin of Ashley's who was breeding dachshunds.
"This is our first real pet; it's worked out pretty good," said Murphy. "She's been a good dog."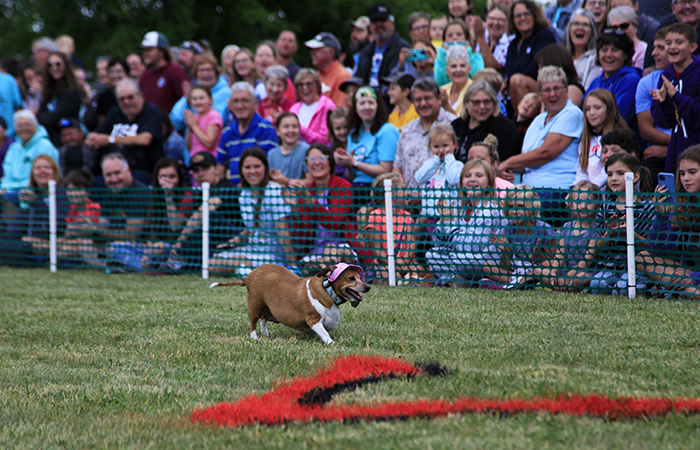 Stella is kind of shy and has definitely bonded with Ashley. That was the whole strategy for victory on Saturday. Put Taylor at the starting line with Stella and let her race to Ashley at the finish.
"She's a momma's girl," said Murphy. "Put her on the end and…"
"I told her goodbye and she was mad and wanted to come home," said Hastings.
Then there was the crowd favorite, 12-year-old Lulu, making her first-ever appearance at the race.
Lulu's owner was worried about how her dog would react around all the other dogs, seeing as Lulu lives with two cats and has somewhat adopted a feline tact of enjoying a good nap much of the time.
With an incoming strategy of just go for last, Lulu was the big winner with the fans as she made her way across the finish line in her own idiom and a slow pace allowing time to soak up a building roar that crescendoed as she tapped her tiny feet across the finish line.
"I'm sure they heard it downtown," race organizer and emcee Digger Anderson said.
Smiles were all around as the crowd continued to grow as the races whittled down to one champion dog.
"It's so exciting to have something like this and see people with smiles on their faces," said Anderson.
Now in its 10th year, Racing of the Wieners is one of the biggest attractions during Looney Days.
"I think the street dance brings more people, but this is the biggest single event that everybody comes to for free and it's great to have it first thing in the morning on Saturday," said Anderson. "It kicks off the big day and just look at the crowds we had here and then people go downtown, they see the merchants, they go to the street fair and it's just so much fun and this weather couldn't have been more perfect for today."
Wieners and fans enjoyed a cool, overcast morning with temps around 70 degrees at race time.
The wiener races were Anderson's idea after having experienced a few wiener sprints himself.
"Back in 2013, the community club was sitting around talking one day," he said. "We needed a new event, something new to try."
Not everyone believed it was a great idea, but Anderson persisted.
"I'd done a couple down in the cities and they really work," he said. "I told them, 'Let's give it a try.' I got a group of people together and the first year we had maybe 300-400 spectators and maybe 15 dogs."
Saturday's race had over 40 competitors and a crowd that swelled as the event went on.
"It's just gotten bigger and bigger each year," Anderson said. "There's something about little wiener dogs. It's just crazy. They just love it."
For more laughs, Anderson owns an arsenal of 10 years worth of wiener innuendo he timely dispenses over the microphone to the bemusement of the crowd. Well, most of the crowd.
"My daughter told me my jokes were getting stale," he said. "It's a fine line between keeping it clean, but I know when it's working when I see the little boys smirking."
While the winners were from Little Falls, there were other competitors who traveled more than 1,500 miles to attend.
"We had one from Las Vegas," said Anderson. "Over the years, we've had dogs from 10 states, including New York, Rhode Island, Texas and Florida last year. There are actually people here today who booked their vacation around Looney Days. They own wiener dogs and they scheduled their vacation at one of the local resorts and come here for Looney Days and the wiener dog races."
A busy Looney Days Saturday with a full schedule planned for the rest of the day certainly benefited from the morning's main attraction and all the people it brought to town.
"It's great for the Otter Tail County area, but it's really great for the town of Vergas," Anderson said.