Waller brings talent and pastries to Vergas
News | Published on August 19, 2022 at 3:40pm EDT | Author: chadkoenen
0
Professionally trained chef opens during Looney Days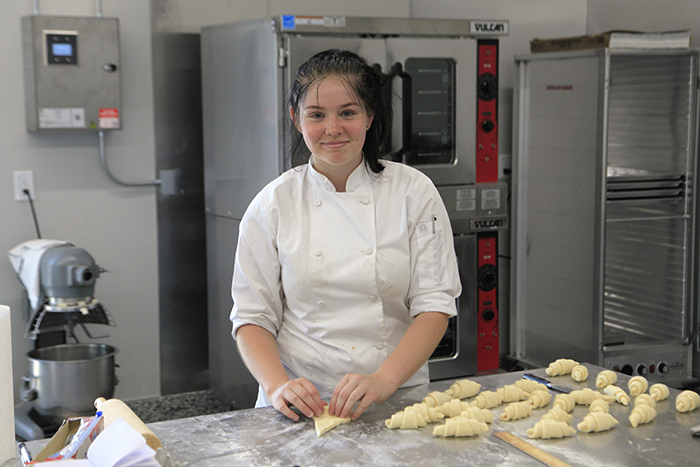 By Robert Williams
Editor
Executive Pastry Chef Madison Waller completed a trio of retail openings at Altona Square in Vergas when she opened the doors of MW Pastry on Friday, Aug. 12. Even prior to opening, there was plenty of foot traffic from people stopping in to see what was going on inside and when the shop was opening.
"Everyone so far is really excited and excited that I'm opening up too," Waller said.
A 2018 Pelican Rapids graduate, Waller, 22, was professionally trained at the Culinary Institute of America in Napa Valley, Calif.—one of the top pastry schools in the world.
She traveled around the country for a few years working at Devil's Thumb Ranch near Denver, then as the head pastry cook at the top restaurant in Colorado, and finally at Big Sky Resort in Montana before returning to Minnesota.
Coming back home was not in her official plan after graduating in California.
"COVID hit four weeks before graduation so I was forced back home a bit," said Waller. "I was not expecting this, at all. I'm excited that I am back and I'm glad that it kind of brought me this way. The second I started telling people I'm opening up a pastry shop in Vergas everyone was so excited. A lot of people were coming up to me and I heard people talking on the street excited about it."
With Lakes Fit Fitness Center open at the other end of the building and Ditterich Mercantile recently opening around the corner, visitors were all over the square Thursday afternoon. People in Vergas are definitely enjoying the recent upgrades to downtown.
For Waller, owning her own pastry shop has been a dream since childhood.
"I've always known since I was six-years-old that I wanted to be a baker," she said.
Her business plan consists of half retail and half custom orders for surrounding businesses and restaurants.
"I'll be doing more intricate, specialty pastries for restaurants," she said. "For grocery stores, it will be my breads and cookies, and items like that."
The past few months have been extremely busy working to get the retail side of the business ready to open.
"Especially with all the equipment being delayed, in the industry and everything, it took a lot longer than I was expecting," she said. "A lot of late nights."
Waller signed the lease at Altona Square in February and ordered equipment in June. Given the supply chain issues in multiple industries, awaiting delivery was a bit nerve wracking and sleep has been at a premium the past few months.
"I'm lucky it came this quick," she said.
The custom side of the business is off and running.
"I have a lot of weddings already booked," she said. "I'm going to be doing holiday parties. Kind of, just any event. I work with Larry's Supermarket in Pelican and I'm hoping to work with Spanky's again to get them some desserts."
From fresh breads, French pastries, or custom desserts, Waller can cater to any gathering from corporate events to family reunions and graduation parties.
Her store hours are Wednesday through Saturday 6 a.m. to 1 p.m., and 3 p.m. to 6 p.m.
She is also open Sundays from 6 a.m. to 1 p.m.
Waller also has a delightful web presence at www.mwpastrymn.com with more information and a few job openings for a cashier, beginner baker and sous pastry cook.