August fishing is prime for panfish
News | Published on August 24, 2022 at 10:42am EDT | Author: chadkoenen
0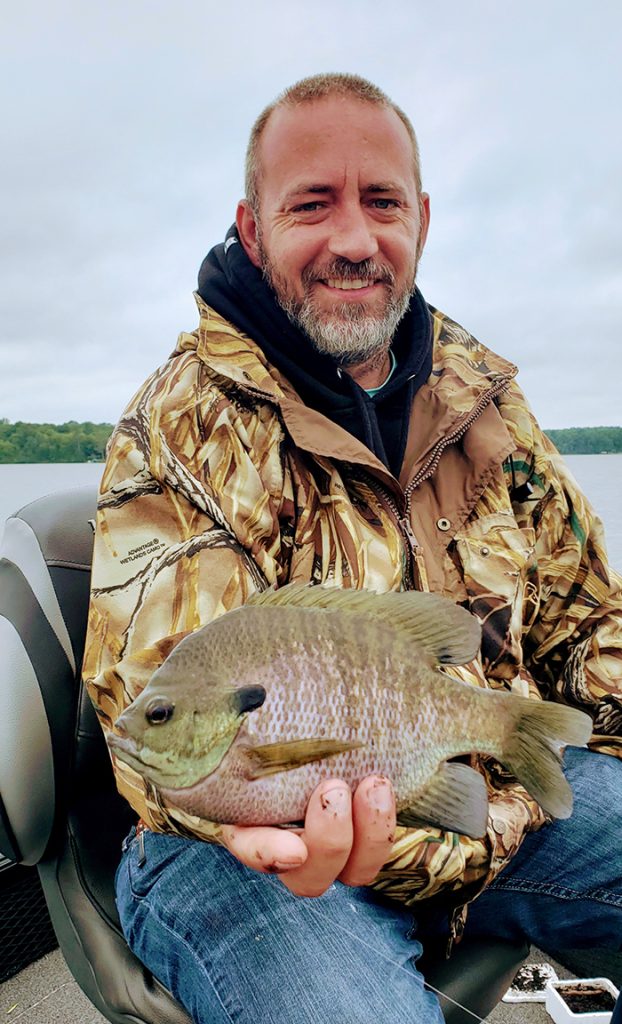 Chill Fishing Report
Cody Hill
Are you tired of fighting weeds, and you feel like you spend more time taking weeds off your line then actually fishing? This was us this weekend and I finally slid into deeper water trying to get away from weeds. That is where we found the big blue gills, they weren't on weeds but on breaks and boulders, yes, I said that right BOULDERS. 
We used our sonars to find big rocks and we would troll pulling a light weight and a half a night crawler trying to find active fish. The schools were massive and after locating the active schools I switched to a jig and plastic, and it didn't take long to start producing very large blue gills. The schools would move quickly so you had to know where the boulders were, and they would just swim from rocks to rocks.
Pitching a 1/64 oz jig with a 1.5-to-2-inch plastic seemed to produce the biggest fish. Either pitching and swimming it back to the boat or casting and slowly trolling around the boulders. Both presentations worked best but when the wind died, and it was flat calm vertical jigging worked best and it seemed to spook the fish the least. 
Depths didn't seem to matter but it did matter where the larger rocks and boulders were. We found them from as shallow as 9 feet of water all the way out to 24 feet. A few of the rocks were 3-5 feet tall so they stood out on the graph. Be prepared to be hung up and loose a few jigs and weights if you are trolling or jigging near bottom. It seemed we would get 2-4 fish before the school moved but for the most part the school only moved 20-40 feet away and held tight till you caught some out of their new location.
Our area is very well blessed with some amazing panfish, and a lot of our local lakes do have special regulations on them mainly with reduced limits and/or minimum lengths required to be kept protecting our resources. The advantages of this type of fishing are once you find them it's a lot of action but it is very easy for people to take advantage and ruin a fishery in a short period of time. Practicing selective harvesting ensures that the larger fish can survive to spawn the following season.