Author makes return visit on national trail hike
News | Published on August 24, 2022 at 12:07pm EDT | Author: chadkoenen
0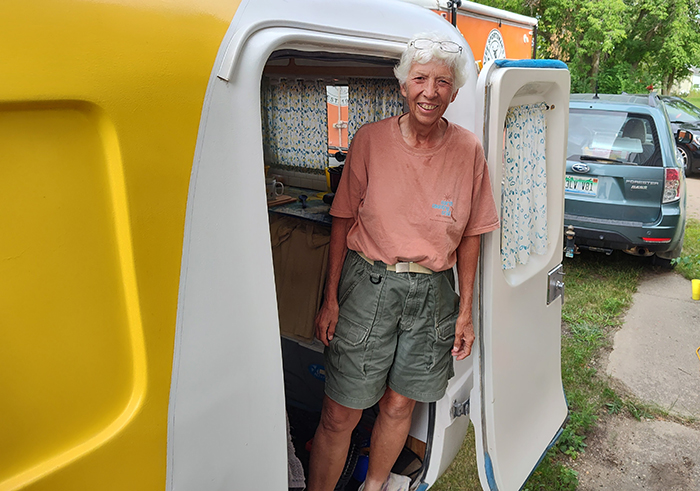 By Robert Williams
Editor
Author Joan Young of Scottsville, Mich., was the first woman to hike the nearly 5,000-mile North Country National Scenic Trail (NCT) on foot in 2010 and recently passed through both Frazee and Vergas on her second attempt to complete the feat.  ¶  "We always went through Vergas; it's been on the route forever," she said. "I'm in love with this trail. I think it's unique among national scenic trails. It has more diversity than any of the other trails. National scenic trails are trails you can put your feet on and hike. National historic trails are usually collections of places that center around a particular transportation theme and you can drive from location to location, such as the Lewis and Clark trail."  ¶  Her first hike of the entire trail was a two-decade mission that ended in 2010 that she did in sections. Her current trip, a through hike, was planned for a calendar year, but will likely stretch an extra month to completion.
"The North Country Trail just wanders all over and because of that it has this tremendous diversity of experiences and a lot of the trail has changed since the first time I saw it."

Joan Young
One would be safe to assume a hike of that duration would not lead to one wanting to try it again. However, Young is of a different mindset than most people.
"I wanted to do it the minute I finished the first time," she said. "I had to have a job for a while and I really couldn't figure out how to pull it off because unless you can hike 25 miles a day you're going to hit some part of this trail in the winter."
The North Country Trail stretches from the Adirondack mountains in Vermont to the prairies of central North Dakota.
"I woke up in the middle of the night about two years ago with this idea in my head, oh my gosh, I could start where I live in western Michigan, hike south and do Ohio in the winter, starting December 1st, go east to Vermont, drive to North Dakota and come back."
She immediately began planning a travel itinerary and started off for Ohio. She backpacked solo across the Adirondacks.
"I think this is doable, so here I am," she said. "Because I'm a little bit late, I'm going to catch some winter in Michigan."
Young's plan was to be through the upper peninsula of Michigan before October.
"That's not going to happen. I might have to hole up for a couple days and go out on snowshoes—we'll see," she said.
The Vermont section and the arrowhead of Minnesota are the most recent additions to the trail and Young has a special affinity for northeastern Minnesota.
"The biggest news in Minnesota is as of 2009, the arrowhead reroute and Vermont are official and they were semi-official before but they weren't congressionally official because they had to be because they were way outside the original corridor. That whole arrowhead region is amazingly beautiful. Some of it's pretty tough and that's okay. Not everything on this trail needs to be or should be easy."

Joan Young
The trail west of Frazee presents its own set of challenges with the North Dakota portion beginning as a footpath near Garrison Dam and traveling east and south to cross the Red River in Fort Abercrombie State Park. The summer sun certainly provides a challenge in the travels east to Minnesota.
"I just did North Dakota; it was very hot," Young said. "Here there are hills and forests—it's great."
Young did many of her hikes in North Dakota at sunrise to avoid the heat of the afternoon.
"I'm not a morning person so there have been a few days where I've said I don't want to get up, but there haven't been any days where I've said I don't want to walk," she said.
Part of Young's traveling arsenal is a vintage 1985 camper trailer where she stays each night after hiking.
"I like sleeping on the same surface every night. It's a fun place to stay," she said. "My original reason for buying this was it's going to be a portable office so I can go on the road, do research and write."
Her diet consists of her staple protein—peanut butter, along with vegetables and pasta.
When asked about what item in her camper she could not live without, it was all about getting going in the morning.
"Coffee pot, that's a real luxury," she said.
Young blogs during her hikes at www.myqualityday.blogspot.com and does public presentations, like one she did on the North Country Trail at the Detroit Lakes Public Library Monday, August 22.
"It's very casual. Every once in a while there will be a post I spend more effort on to call it creative writing."

Joan Young
She uses her blog to share daily updates from her hikes with a purpose.
"The North Country Trail, it's getting better, but in the past it hasn't gotten a lot of respect from the hiking community because, largely because it has this diversity," she said. "It wanders all over the place. You're not going to have a high, rocky, stupendous view every 200 feet except in some places, but there are other things to see. You can't walk five miles on this trail without there being something interesting. People don't understand that. One of my goals with the blogging, I wanted people to see that there is something interesting on this trail every single day."
Her first book was about one of her hikes. Recently, she's been concentrating on the fiction side of writing.
Young does take an occasional day off and meets friends in many states for special hikes along the route, along with maintenance days for her car and camper. She typically travels with helpers she picks up along the way. She was without one in this area and got assistance from Hank Ludtke in Frazee and Michelle Olson from Fergus Falls.
Young utilizes the trail's Facebook page and a framework of 31 chapters that maintain and promote the trail, along with providing resources for people that want to help.
"The NCT still has few enough hikers that people are just thrilled when there is actually a hiker they can help," she said.
Young is the chair of the NCT long distance hiker recognition group (explorenct.info/NoCoLo/). The list consists of 21 people who have completed an end-to-end trip of the trail, along with three or four others who have yet to apply. That's a specific list of 25 people who have completed the entire trail in its 40 years of existence.
"That's fewer than one a year," she said.
Young gained a love of the outdoors at a young age and scouting played a big factor in her future hiking endeavors.
"I was always an outdoor kid and through girl scouts I developed some additional skills. Scouting was where I learned more about equipment and planning overnight trips. So then, I got married and did the whole family thing and didn't get a hiker in the bunch."

Joan Young
She began lengthy hikes with a friend, Marie Altnau, whom she met in scouts. The duo put together some equipment and went on a three-day backpacking trip.
"Just a bunch of stuff that we cobbled up, not even decent equipment," Young said. "We did 33 miles and looked at each other and asked, 'Do we want to keep doing this?' Every summer since, with one exception, we've done a fairly long hike on the North Country Trail."
Well-known hiker Nimblewill Nomad holds the record having hiked the trail at the age of 84. A decade away from that age, Young has plenty of time to contemplate matching his mark.
"He's a really neat little guy," she said. "I'm thinking, could I do this at 84? I don't know if I want to, but it's 10 years away."
It takes a sense of humor to complete such a lengthy task and just to be away from home for more than a year. Young also acknowledges the irony of her last name being in her early 70's and so active.
"I'll be Younger when I die than I was when I was born because that's my married name," she laughed.
After leaving our area, Young will still be months from home, a place she will have to take some time to get reacquainted upon arrival.
"I've never been gone this long at one time," she said. "I'm planning on not doing anything until I want to, which might take a week."