Streiffs to keep Palace Cafe open
News | Published on August 24, 2022 at 12:12pm EDT | Author: chadkoenen
0
Couple set to open up new restaurant after Labor Day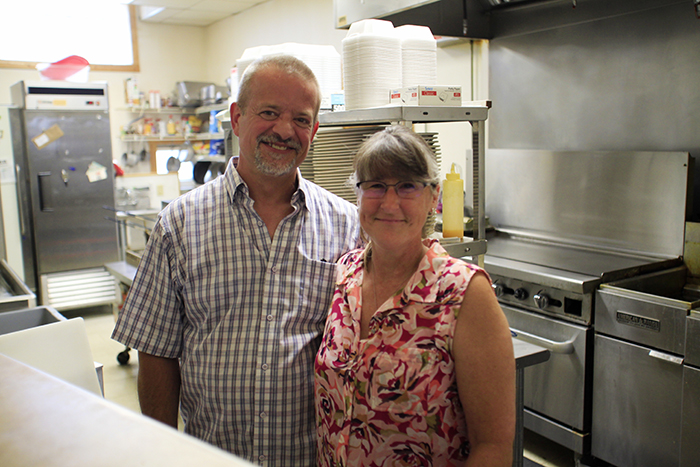 By Robert Willams
Editor
David and Debbie Streiff, of rural Frazee, have purchased both the Palace Cafe and the building with plans to reopen the business after Labor Day.
The former business closed after its last day of operation under former owner Mandy Moltzan Saturday, Aug. 20.
Debbie Streiff has worked in town at Seip Drug off and on over the past six years and has monitored the restaurant purchase from a block away.
"The heart of every small town is the diner where you go to have coffee, where you have your comfort foods and meet your friends. This has been our dream for many, many years."

Debbie Streiff, new co-owner of the Palace Cafe
The couple had always planned to own their own restaurant, but the Palace opportunity came as somewhat of a shock.
"It actually came as a surprise," David said. "We hadn't done any of the legwork to even do anything."
"We know Mandy and heard she was selling it," said Debbie. "We talked to her and stood back a little bit. The rumor was that somebody already bought it. I decided to go and talk to Roger (Boe) one day and went home and we just decided to jump in with both feet."
Boe is one of four co-owners of the building. Those four purchased the business from Moltzan and handed keys to both over to the Streiffs Sunday afternoon.
The Streiffs have been busy at their current jobs, while creating a business plan, projections and figuring out financing to try to get the restaurant open as soon as possible.
"Midwest Bank has been tremendous through all of this," said Debbie.
The renovation of the building also went through Midwest Bank, which made the appraisal easy and also eased some of the time needed to complete the sale.
"It's the size we've always been looking for," David said. "That 50-60 seat, something that we can take care of."
David has worked a busy summer as the manager of both kitchens at Long Bridge Bar, Grill and Marina in Detroit Lakes, a job that is 60+ hours per week.
Without a doubt, it's one of the most successful restaurants in Detroit Lakes," David said.
"The nice thing is that David is used to such high volume right now, this is going to be a little bit scaled back from that," said Debbie.
David will continue to work at Long Bridge until after Labor Day, which is why the Palace will sit quietly for the next couple weeks.
"We didn't want to burn our bridges with our previous employers. We need to wrap up our jobs before making a commitment to the restaurant."

Debbie Streiff
Local restaurant experience
David brings knowledge from more than thirty years in the restaurant business; Debbie adds another couple decades. He began his career in Mason City, Iowa, where he started as a dishwasher and moved up to general manager two years later. He worked 18 years at Country Kitchen, including the former Detroit Lakes location. Debbie also was a Country Kitchen employee and part-owner.
"I think that was the appeal that Roger had with us; that Country Kitchen food is what they're looking for," David said.
The Streiffs were 20 percent owners of the DL Country Kitchen, but the majority owner sold the building and the business to retire.
"That was a big wind out of our sails at that point," Debbie said. "We had a contract basically that we were going to take it over, but that didn't work out, unfortunately, but the good Lord was watching out for us, I believe. COVID hit and if we would have still had that…"
The Country Kitchen sale was also a good business lesson.
The ability to purchase both the Palace Cafe and the building was mandatory for the Streiffs and that will also keep the Palace Cafe in its place. Had the building not been for sale, the Streiffs had pondered buying just the business and moving it to the downtown retail center up the block.
"We would never own anything else unless we own the building with it," said Debbie.
Small towns need diners
Both owners are keenly aware of the important role a cafe plays in a small town, especially Frazee where dine-in food offerings are currently limited. They are aiming for the Monday after Labor Day as opening day, but acknowledge it could take a bit longer.
"That's in a perfect world; if everything works right and there are no hiccups," said David.
Other logistics need to be ironed out.
"We're still figuring out the roles and how many employees we can afford to have," said Debbie.
The couple are in talks with former wait staff. A former cook left the business when it closed and David will be spearheading all the work in the kitchen.
Noticeable changes are early plans for serving fresh, hand-pattied burgers, along with new daily specials and the addition of an upgraded point-of-sale system to ease much of the time spent on paperwork, bookwork and inventory.
The current projected hours are Monday through Saturday 6 a.m. to 3 p.m. and Sundays from 8 a.m. to 2 p.m. That may change with demand.
"That's the number one request I've had," said David. "Are you going to be open on Sunday?"
Friday and Saturday nights are also on the table, but something the couple plans for the future, likely after the winter season.
"Ultimately, I would like to be open 6 a.m. to 8 p.m., all seven days a week, but that's so far down the road," David said.
There is also a combined belief by both owners that Moltzan's years of effort have set them up for success.
"We don't really want to change it, per se, the Palace has been successful. We want to get in there and learn the business and run the business successfully. Obviously, we want to put our little spin on it. With the size of the restaurant and this being a small town, I know that our town will be behind us. They supported it when Mandy had it during COVID because she was a hard worker that only wanted the best for this town. We just want to pick up from there and go. That's the joy of a small town diner, even in hardship times, your community surrounds you and lifts you up."

Debbie Streiff
The Palace Cafe is also a personal favorite of the couple.
"From the first time we walked into the Palace restaurant seven years ago, we fell in love with it," said Debbie. "When we got married, we took our whole wedding party there for breakfast. It truly played an integral part in our lives."
The timing of the purchase also worked out for both David and Debbie.
"Even the time of the year it is; it's kind of perfect that it's going into the slower part; we can get in, get everything figured out and grow in whatever direction from there," said David.
"We want to talk to our guests and see what this town really wants from us and that's part of owning a business," said Debbie.
The Streiffs also acknowledged the Palace will benefit from increased traffic on Main Avenue, brought in part by the success of The Hive Nutrition across the street. Hive owner Brandi Latham has reported being pleased with how supportive the community has been of her new business.
"That's so awesome to see," said Debbie. "I believe Frazee is on the precipice of moving forward. I really do. I think there are good things in store for this town."