CornerStone youth center to open this fall
News | Published on August 30, 2022 at 4:35pm EDT | Author: chadkoenen
0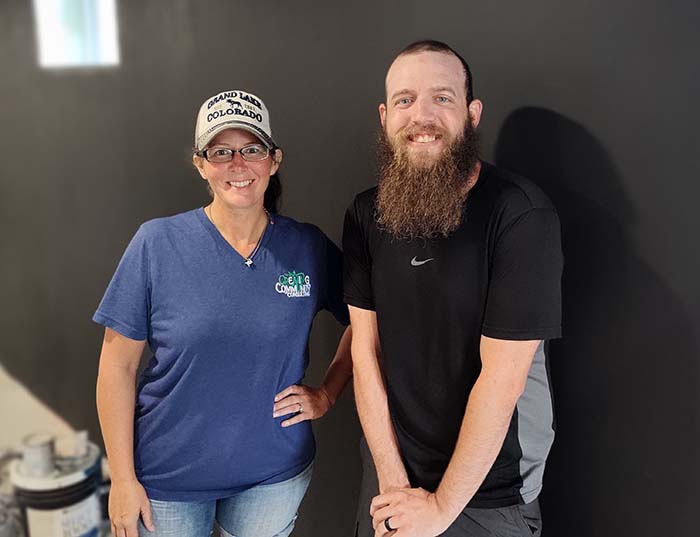 By Robert Willams
Editor
The leadership of the CornerStone Community and Youth Center in Frazee has leaped a few hurdles and suffered a few setbacks, but is nearing completion of the youth center downstairs in the former United Methodist Church. Hopes are to be up and running with that in two to three months.
The church was gifted to CornerStone in November of 2020, but progress has been slowed by a number of factors.
"When COVID hit, a lot of things went completely to a crawl," said director Karen Pifher.
Pifher's time to focus on CornerStone was limited when half of her staff at Essentia Health St. Mary's in Detroit Lakes was cut during the pandemic. Also, much of the fundraising came to a standstill due to COVID as well.
The leadership group went to the community to do much of the early work.
"We brought in lots of volunteers, including kids and Harvest Church brought a bunch of people over," she said.
The entire basement has been gutted and it was rewired by Frazee Electric. The project has tried to utilize local businesses, such as OK Lumber & Hardware, as much as possible during the construction.
"We ordered as much as we could locally," Pifher said.
The remaining construction work downstairs, which will become the youth center, is down to LED panels that will be installed by the electric company, along with a pair of kitchen outlets. Electrically, the building is being completely modernized with data ports at each outlet. A lounge area will feature televisions and sofas, a place for kids to socialize and relax.
The youth center had been scheduled to be completed by June, then possibly by Turkey Days in late July, but much of that work was delayed by health issues affecting the company doing the construction.
Prior to reaching this point, the entire design of both spaces has gone through a couple iterations and multiple issues have caused a fluid timeline in terms of when things will be completed.
"We've had two plans for what will happen in this space," Pifher said. "Originally, we were going to put the bistro/coffee shop down here. Because of the low ceilings and the cement walls it was going to be an astronomical cost to do that. That's when we flip-flopped to do that upstairs and make this the youth center because it's much more feasible."
The centerpiece of the youth center will be the Science, Technology, Engineering, Art and Mathematics (STEAM) lab. CornerStone has a $50,000 grant that will be used specifically for the STEAM lab to acquire anything from computers to art supplies.
There will be a full kitchen downstairs.The Detroit Lakes Breakfast Rotary donated all of the appliances.
Local kids will be painting a mural on the floor once the electric work is completed and that will lead to moving furniture in and opening up the basement.
The bistro plan upstairs is currently in limbo, as the church only recently vacated the building. The church held its first service in their new building July 3.
The nave of the former church offers high ceilings and a lot of space, something the CornerStone leadership group wants input on before remodeling.
Pifher and her team will be surveying residents in the next two weeks with flyers around town and in the newspaper seeking that information.
"What we do know is we need a form of income so we do have all of the stuff to have a coffee shop and bistro," she said. "We have a stage and lots of space. What we want to know from the community is what do they want to see, do, experience in here? What's the vibe they want to get? We can do a lot of things. We just want more input on what that should be. What will get people in the building, other than food. We know…food."
Other than the already designed and approved kitchen for the upstairs bistro, much of the future work hinges on community feedback.
"It will be good to see what people come up with and that will help us focus more and they can start working on the infrastructure," Pifher said.
CornerStone adds
youth director
Mike Riva has been added to the staff as the new youth director. Riva moved to Frazee in 2009 and immediately started getting involved in town. He met Pifher at Harvest Church in 2017 and eventually began working there as the youth and worship director.
"I've been really involved with different youth things in the community and this was a perfect fit," said Riva. "It's something I really wanted to do. In 2020 we talked about this and I just didn't know how it was going to work. A series of awesome events has made it to a point where I'm actually here and I'm super pumped to be working with the youth in our community."
Riva's role will center around coordinating events for students, who will be planning much of what happens at CornerStone.
"I'm going to be helping facilitate their planning and helping them execute their stuff and creating relationships with different people in the community, making connections and trying to coordinate back-and-forth about what kind of things we want to do in this community and how we can be impactful," said Riva.
Like the whole project, some of Riva's duties are up in the air as the youth center nears completion.
"We don't know exactly what it is going to look like, but we've gotten to model after other youth centers," he said.
Riva's hire allows Pifher to concentrate on her role and will help direct kids into helping form what the youth center becomes.
"The biggest thing we've talked about is my role as the director is working on the funding and building and managing those and we need somebody to do that service direct work and that is where Mike's job comes in," said Pifher. "He's in charge of the youth and volunteers and how to make a meaningful impact."
Allowing kids to help direct what the center becomes and what services it will provide is a key component for both directors.
"To have someone to help focus their ideas, I'm super excited to have that opportunity," said Riva.
"What we all agreed on as a board and our philosophy is that we want to empower kids to make decisions so he'll be working with the youth council which is shared with the school," said Pifher.
Riva will also help the youth council with a specific budget annually.
"They have to figure out how with Mike's leadership how they're going to spend it to do fun, cool things," said Pifher. "We'll provide the space, guidance and parameters, but ultimately they get to make the decisions."
A fully-functioning CornerStone is still a ways off with hopes for spring of 2023. The youth center is expected to be open in a couple months.