Foster family reunites after three decades
News | Published on August 30, 2022 at 4:47pm EDT | Author: Chad Koenen
0
Shannons share about helping more than 60 kids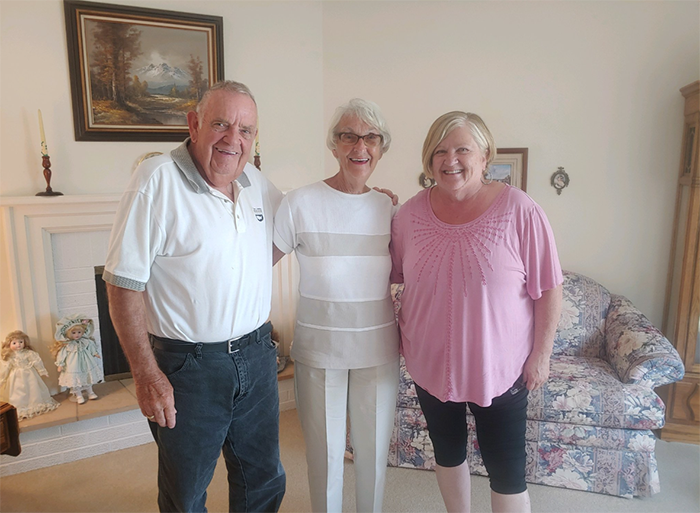 By Robert Willams
Editor
Former sheriff Terry Shannon and his wife Jean were parents to three biological children, but were foster parents to more than 60 kids. The couple had a chance to meet up with one of them, Gayle Sengel, recently for the first time in 30 years.
Sengel was one of the earliest foster children the couple took in and had reached out online to the Shannons.
"We connected about a year or so ago on Facebook," Terry said. "She lives in Colorado and she was coming up for a wedding."
Terry was scheduled for a surgical procedure and short hospital stay that lasted longer than anticipated, threatening the three being able to meet.
"We just couldn't work anything out," he said. "I ended up being there for three days, but she said Monday and she did show up."
Sengel arrived with a surprise.
"What was wonderful was she brought this other little gal with her, Alisha, who is the daughter of a neighbor girl that Jean and I loved dearly, but who had passed away much too early. Both Jean and I loved her to death—she half lived at our place."

Terry Shannon
The reunion was a special moment despite the time that had elapsed since being together.
"It is kind of unique," said Terry. "Like Gayle or any of our foster kids, you love 'em. You can't bring a kid into your home and have them there six months or a year without growing attached to them. You get very close."
Both recent visitors are also part of a long list of success stories that trace back to the influence the Shannons had on these kids as teenagers.
Gayle is married and a successful business owner, a parent to six foster children and works with vulnerable adults. According to the Shannons, Alisha has an amazing career and lives nearby. Ironically, she is married to a police officer and has three young children. The Shannons have plans to meet them soon.
"The good Lord sure shined down on Jean and I; life can be amazing," Terry said.
Terry's work as a police officer in Moorhead and as Becker County Sheriff put him in contact with the probation officers of nearly all of the kids the couple fostered.
"We had our own three kids and we'd have up to six foster kids at a time," Jean said.
Terry's parents were also an influence, as they were foster parents, as well.
For some of the kids, living with the Shannons was a last resort and it was not always a pleasant experience.
"If they didn't make it at our place they would have gone to an institution," said Jean.
"I was darn strict with these kids," said Terry.
The Shannons did not have a specific goal in what they were trying to accomplish with each foster. They were simply trying to provide structure and a family atmosphere, two things many of the kids had not experienced early in life.
"When you looked at these kids and met their parent or parents, you can almost understand why the kids were in trouble," said Jean.
The Shannons were up to the task of having to be in the middle of broken families and did their best despite the difficulties.
"It seemed the worse the parents were the more they hung onto their kids. The more success Jean and I had the more the parents disliked us. I had a couple times I took a kid for a home visit and said you're not going and brought them right back."

Terry Shannon
For the Shannons, what was most important was providing a safe place, direction and more often than not material items kids needed to be successful.
"It was to keep them in school and just give them a decent life," said Jean. "When the kids came, most of them came with the clothes on their back, so we had to outfit them so they could go to school. We just tried to provide the things that they needed."
Each foster took on the same responsibilities at home as the three Shannon children.
"They weren't treated any differently than anybody else," said Terry.
"I would give each of the kids a job and they would do that job for a week," Jean said. "It was not only to help me, but to teach them how to do things. One of the first things I told them when they came was they had to make their bed every day and if they didn't make their bed I tore it all apart and then they would have to start from scratch."
Dinner time was also a scheduled space for conversation and bonding time.
"We all sat around the table and that was our time to visit," said Jean. "There was no TV or anything on at that time. It was family time."
Foster stays with the Shannon family were typically six months to one year, but varied with each kid.
"The shortest time, there was one girl that lasted two days," said Jean. "Some of them lasted a year-and-a-half. It was just when they developed enough that they could go home."
"The probation officer made that decision," said Terry.
The Shannons also taught the kids about financial responsibility. They used a store the couple owned in Detroit Lakes as a training ground.
"At that time, macrame was really in style and whenever we got a foster kid we borrowed them $300," Terry said. "It was a loan and they had to pay me back. With that 300 they could buy stuff to put in the store. The kids would also sit out on our deck and tie macrame and it would sell out overnight. It was a neat thing that worked out really well. Almost every kid that left our place had either a checking or savings account, something their folks never did."
While Terry was admittedly strict and used axioms like "There's got to be consequences; if there aren't consequences it doesn't mean anything," he has a witty sense of humor – something he used to showcase his sales abilities in a tale he related about the store.
"My mother made this pot. It was just hideous. Rather than spin it on a wheel, she just padded pieces of the clay together. It was the ugliest damn thing and she brings it into my store and wants to sell it. She wanted $35, a hellacious price, but it's my mother, see. Normally, we had somebody hired to run the store, but one day I was working there. This guy came in and he's looking at this pot and he's shaking his head and asked what's the story on this pot? I said, 'Oh, that's an interesting piece. The artist that made that is having surgery on her arms and it might be the last piece she ever is able to make.'"

Terry Shannon
The guy immediately grabbed the pot to purchase it after Terry's sales pitch that had some semblance of the truth.
"My mother was going to have carpal tunnel surgery," he laughed.
It takes a solid sense of humor to foster more than 60 teenagers and both Terry and Jean provided life experiences for their kids to go along with the laughs.
"We did a lot of stuff," said Terry. "We went on fishing trips. I took them up to the Boundary Waters and Canada. It was just a normal home."
On the surface, having all those foster kids seems like the Shannon home would be anything but normal for the three Shannon biological children, but they had a chance to nix the plan as the Detroit Lakes store provided an out. The store reached a point where it was so active the family had to decide between running the store or continuing to foster kids.
"We took our kids and sat them down and told them we have to give up the store or give up the group home because it was too much to handle both things and they wanted to give up the store," said Jean.
The positive impact that the Shannons provided as a family unit for so many that came from dysfunctional family units is something that they are reminded of often. While Gayle's visit last week was a special one, it is not uncommon for both Terry and Jean to be reminded of the benefits of the work they did to help others in need.
"We're still in contact with many," said Terry. "I don't think any of them, that I'm aware of, didn't go on to have a decent life. That makes you feel good. If you can help somebody that's a big deal."
"It's kind of neat when we look and see what the kids are doing now," said Jean. "So many of them are really doing well and that makes me feel really good."