Organic farmers hosting Deep Roots Festival
News | Published on August 30, 2022 at 4:38pm EDT | Author: chadkoenen
1
Farm tour starts at Lida Farm outside Vergas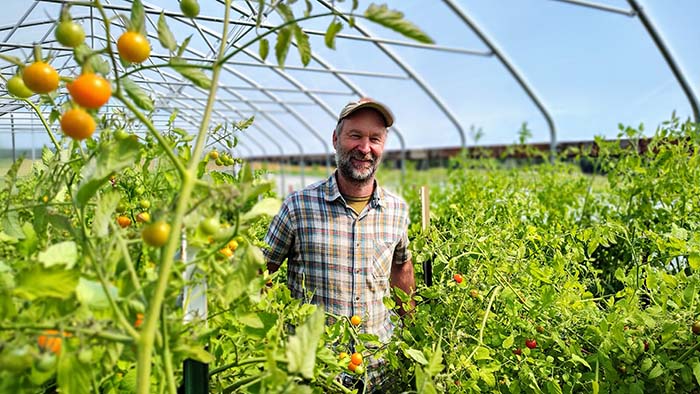 By Robert Willams
Editor
Seven miles southwest of Vergas lies Ryan Pesch's little slice of heaven—Lida Farm.
The farm is the first stop on this year's Deep Roots Festival, consisting of a bus tour of four area farms and workshops ranging from how to build a food business to knowing and growing mushrooms, root crops and growing a supply chain and getting started with kombucha brewing.
The event was organized by the Lake Agassiz chapter of the statewide Sustainable Farming Association.
"There are a whole bunch of things going on," said Pesch.
The Festival is scheduled for Saturday, Sept. 10, from 1-8 p.m.
Lida Farm will host the workshops under a giant tent and there will be kid's activities and a marketplace featuring goods from local producers. Pesch will lead a walking tour of Lida Farm before the bus tour begins at 2 p.m. sharp 
"We're local foodies, right?. It's a public facing event for anybody to find out about local food. We want people to experience good food and the making of stuff that comes off the farms."

Ryan Pesch
The workshops feature instruction provided by the owners of Deb's Corner Foods and Catering, Strictly Mushrooms LLC, Hugh's Gardens LLC, Red River Harvest Cooperative and Cali Kombucha.
Lida Farm's evolution
Pesch and his family have operated Lida Farm since 2004 and have gone through a lot of changes in nearly two decades of farming.
"It's morphed some," he said. "When I was younger and had more energy we integrated livestock more with the produce. There was a time in my 30's when we were doing a dozen hogs, a few hundred broilers. We milked a cow for three years and at that time I was up to six-and-a-half acres of vegetables."
The farm is down to just less than four acres of vegetables in 2022.
"And that's all I do," he said. "I got to the point where I'm like you can do this, but I'm just tired and I don't know if I'm really getting anywhere. What happens is you end up having these competing things. It's like if you're a beef person or a dairy person, you could do produce, but you're not going to do dairy well if this other thing keeps taking your attention."
The Pesch family has gotten the most out of their four acres, despite less than ideal growing conditions in 2021 and a slow start to this year.
"Last year was super challenging," he said. "I thought I was going to fall over dead. It was the driest year we've ever had. I spent eight hours just moving hose around every day. That was just to keep the plants kind of alive, not really thriving really well. This year has been slow, but it's picked up some. We've gotten good weather, good moisture."
Regardless of Mother Nature's whims, the work still needs to be done making each year a potential conundrum and a success.
"Each season can be its own challenge and then there's—I call it the day-to-day combat—of veggie farming," Pesch said. "I'm sometimes jealous of my grow crop friends who plant in the spring, co-op sprays it in the summer and then they harvest in the fall. I call it the veggie hamster wheel. Once you get on it you can't get off it until the end of the season."
Over time, Pesch learned that specialization was a more plentiful road than trying to manage multiple sectors of the farming business.
"You have to specialize. That was seven, eight years ago, I made that switch. I'm dumping all this stuff and I'm just going to focus on produce, do produce well. And some days I don't feel like I do produce well," he laughed.
Stores and
markets to the stand
Ryan and his wife Maree are both involved with Manna Food Co-op in Detroit Lakes and sell their produce there, along with community supported agriculture (CSA) delivery weekly to their customers and can be found Fridays at the Pelican Rapids farmer's market. In between that activity, they keep a stand at the farm for locals to shop at, something that took off the past couple years.
"Since the pandemic it's been ridiculous," he said. "There's no better place to social distance than on a township road. A couple things happened. People were like I don't want to go to Walmart and all that noise and another thing that happened was when the whole supply chain just fell apart. I think it gave some people an idea to do something different. There is more of a local focus. Some people almost became regular customers. They started shopping the stand every other day the way they would go to a grocery store. Whereas before, it wasn't that much."
Ryan brings a jovial, good-natured approach to his profession and runs the stand on an honor system with a cash drop box and recently upgraded to accepting payments via Venmo.
"People always ask how much is stolen off the stand," he said. "You're going to lose 20 cents of every dollar by going to a farmer's market. You take all this stuff; you put it in a van. I was driving to Detroit Lakes; I sold there for 14 years. You're driving an hour round trip and spending about five hours at the market. You add up all those costs, I guarantee you 20 cents of every dollar that you're selling there is going to those costs of just going to the market and back. And that's five hours that you're not weeding or cultivating. I have a higher mission here than just making a living, but I can give away 20 percent of that and I'm even."
The prices at the stand are far more affordable than in most stores and the quality of the food can be seen. It's growing all around the stand.
"I like to be generous," Pesch said. "Some people, in terms of business, can be chiselers. I don't want to be a chiseler in life, like nickel and dime some people or run some people down for a buck. You know, you're my neighbor, you're buying produce from me. It's all good. I'm just happy that you like it. That's the attitude I like to have. You have to go with the flow. If you're some kind of control freak you'd lose your mind."
Talking to Pesch is like getting a waft of fresh air, just as much as walking around his farm. He is also an innovator when it comes to powering the farm, using multiple solar arrays and a wind turbine. The staff and board members of Lake Region Electric Cooperative were at the farm Thursday on a tour to see Pesch's energy investments and how he uses the equipment at the farm.
"If we need the power we're using it directly," he said.
Being a proponent of cleaner energy solutions, he practices what he preaches.
"If the crunchy organic vegetable operator isn't putting up a wind turbine, who the hell is?" he said. "That's sort of how some of my reasoning goes. It's about doing these alternative things and making the world a better place, so you might as well do it. It takes a lump of coal the size of your fist to generate just one kilowatt hour. Most of us are doing 1,500-1,800 kilowatt hours a month. Can you imagine taking 1500 lumps of coal and just throwing it in the basement. Imagine what that would look like in a year..and then burn it. We don't see the impact because it's happening over in Beulah, North Dakota and it just comes down the line. You just see the power poles."
From power to produce, Pesch works within the theme that we have to do better—from producing healthier food to using cleaner energy. His focus is hyperlocal on all fronts. His farm, along with the new grocery store in Vergas run by neighboring Ditterich Family Farm, allows local shoppers an excellent opportunity for a fresh and healthy dinner menu, despite the two farms not working together yet.
"Not yet," he said. "I'm not out looking around for a new account. I'm just trying to fill what I've already committed to doing but I'm all for the store. I think every community should have a grocery store. Because something is lost if you don't. You go to any community that is nothing but a C-store, all anybody is eating is pizza and soda pop. It's a negative net benefit to the whole community."
Learn more about Lida Farm at lidafarm.com, visit the stand at 44593 275th Ave., technically listed in Pelican Rapids, and view the full itinerary for the Deep Roots Festival at sfa-mn.org/deep-roots-festival/
Admission is $15 for SFA members and $20 for non-members. Guests can register in advance via the website or pay at the door.