Strand nominated to Junior Team USA volleyball
News | Published on September 7, 2022 at 10:46am EDT | Author: Chad Koenen
0
Sophomore mixes sports with community service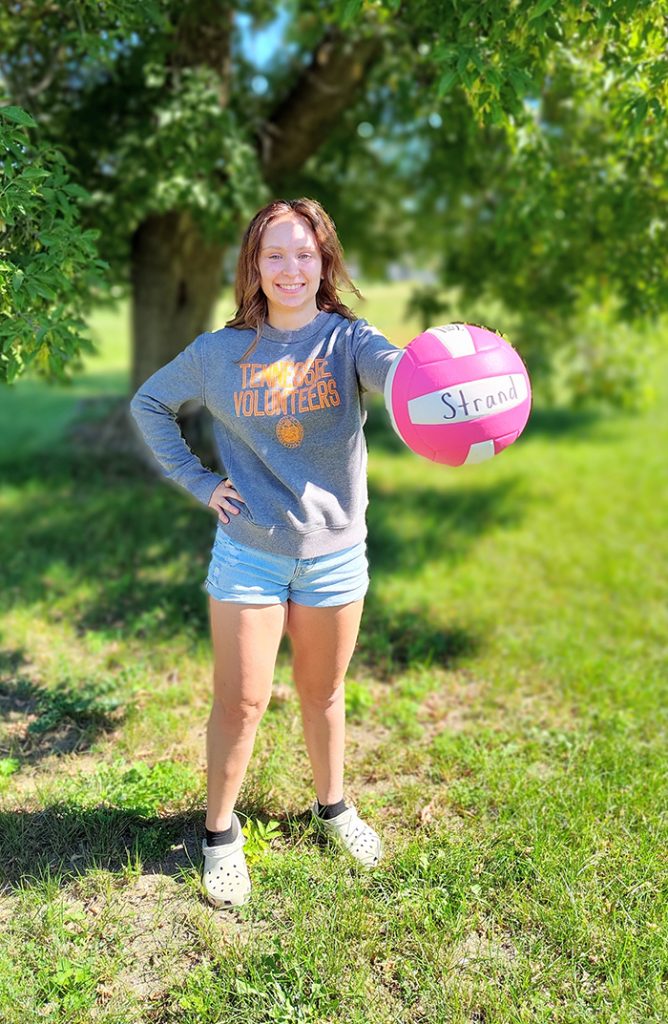 By Robert Willams
Editor
Incoming Frazee-Vergas High School sophomore Sophia Strand started raising money to help others at a very young age and those efforts were noticed, earning her a spot on the Junior Team USA volleyball team and a trip to the Dominican Republic in 2023.
"I am beyond excited," Strand said. "I know I'm not supposed to wish my life away, but I'm wishing for next July to come."
Strand was nominated anonymously and was skeptical when the invitation hit her phone.
"I initially thought it was a spam text, so I called my mom who was working at the jail to look into it and she called me back an hour later to tell me to text back for more information because it's the real deal. Apparently, now I'm going to the Dominican Republic next summer to play a little volleyball."

Sophia Strand
Players are nominated on the basis of their ability, equally important are their actions off the court.
Strand started raising funds to fight cancer in first grade when her teacher Brandi Trapp was diagnosed with breast cancer a few days before school started.
"I just felt really bad," Strand said. "I raised a little bit of money at city-wide garage sales. I raised $400 for her and gave it to her to help with chemotherapy and she had just had a baby boy. It kind of just grew from there."
In the nine years since, Strand has created two separate fundraisers and has made a huge impact on the lives of others with her philanthropy.
"In total, I've raised about $50,000," she said.
Strand initially got involved with the American Cancer Society and raised money with her Cupcakes for Cancer program each summer during the Frazee city-wide garage sales. The program was paused this year due to all the construction around town, but will return next summer for its 10th annual event.
Strand has done much of the work going door-to-door and putting in the legwork to create a consistent manner to raise funds.
"I went knocking on business doors asking for donations and as the years went on and I became more of a familiar face, they started gaining a little bit of trust in what I was doing and started donating more."

Sophia Strand
Strand has used her marketing skills to get discounted cupcakes and cookies for the program from Central Market and she gets donations from community members for more, which is essential to the success of her free-will donation program. She's not big in the kitchen.
"I'm not a baker of any sort," Strand laughed.
Each year, her Cupcake program typically raises between $5,000 and $6,000 in one day.
Cupcakes for Cancer's success led Strand to take a similar program to the sports she's involved in at Frazee-Vergas High School. She pitched the idea for Hornet Hoops and Hope to activities director Nick Courneya and started with the boys basketball team.
Strand was the team manager and incorporated a silent auction, a pass-the-bucket free-will donation, and other on-court events raising $1,200 the first year.
The next year the girls basketball team wanted to be a part of the program and the basketball programs have successfully raised funds the past three years totaling around $3,000 each winter.
All of those funds are donated to support the Stand by Me Foundation, a local charity that provides financial aid through grants to parent(s)/guardian(s) who need to leave their employment, which results in lost wages; to provide in-hospital support to their child during long hospital admissions due to chemotherapy or medical procedures related to cancer.
The Stand by Me Foundation was created by the Helmers family of Frazee in 2019 when their son Vincent was diagnosed with a brain tumor.
"I just like helping people, I guess," said Strand.
"She is very committed to what she's doing," her mother Nicole Strand said.
Strand is adding another fundraiser to her list for the coming school year raising funds to pay for her trip to the Dominican Republic in 2023 to play for Junior Team USA volleyball.
"It's a little spendy," she said.
That project is just another addition to a very busy schedule that starts at 6 a.m., and can run well past 10 p.m., during the winter months.
Strand plays club volleyball for Volt out of West Fargo five months per year from January to May. She plays school volleyball from August to October leading into the basketball season beginning in December. During hoops season, there are volleyball club tryouts and the five-month season.
"I'm up at the crack of dawn to do what I love so I'm not complaining by any means," she said.
The Dominican Republic trip is more than just playing volleyball, the players will also be doing some sight-seeing and have a mission impact humanitarian project to benefit local residents.
"I think that's what I'm most excited about besides volleyball," she said.
For more information or to donate to the Stand By Me foundation visit www.togetherwestandwiththem.com.