The Hive Nutrition finds success in Frazee
News | Published on September 7, 2022 at 10:41am EDT | Author: Chad Koenen
0
New business overcomes delayed start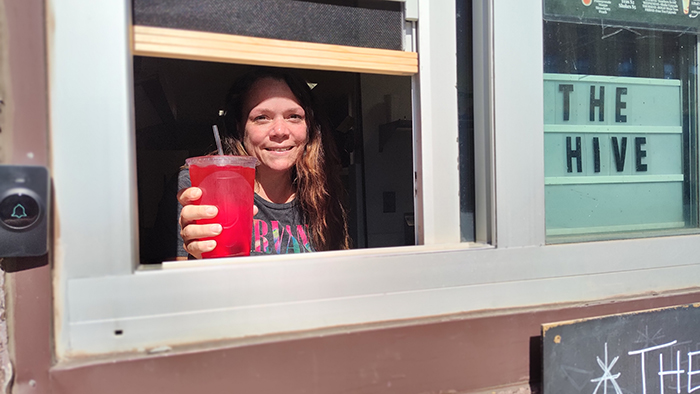 By Robert Willams
Editor
Despite being held back seven weeks from the intended opening on May 1, Brandi Latham, owner of The Hive Nutrition on West Main Avenue, has welcomed the support of the community and has her business off to a strong start after two successful months.
The initial opening was delayed by a rookie inspector of the Minnesota Department of Health.
"It was very frustrating, but we got it together," said Latham. "She was a new gal—I don't know if she had even had another inspection before ours. She wasn't nitpicky in a mean way; I think she was just trying to make sure she wasn't doing something wrong or overlooking anything."
Rather than be operating on all cylinders the first two months of business, the Lathams had to find ways to try to get the doors to be allowed open.
"We just tried to do anything we could to appease them and find different ways to negotiate what they were saying that we needed to have up to code versus the category of food service that we are.

Brandi Latham
The main culprit was the floor.
"In their opinion, maybe the floor wasn't approved when it was put in or because codes change it was no longer to code and they wanted me to put an entire new floor in here," she said.
Spending thousands of dollars up front on a repair she felt was unnecessary was not going to happen.
"I know the floor needs to be replaced; I would love to have already replaced the floor, but I have to open my doors first," Latham said.
Once an agreement was reached the May 1 opening turned into a soft opening of four hours on June 23. Unexpectedly, the store served 60 in only four hours
"What we didn't know was that volleyball had just started and their practice ended at 11 a.m.," said Latham. "By 11:15, we had a line into the lobby. We were like, okay, what can of worms did we just open? It went really well and then Turkey Days came and that was great."
The street fair of Turkey Days was the busiest day of the season so far, especially at the walk-up window.
"A lot of people were also coming in to ask questions about the Fitness Center, but we did a lot of window traffic," she said. "Our next best day was last Thursday."
Frazee Fitness Center and The Hive Nutrition are getting a new neighbor as early remodeling work is being done to add a Brazilian Jiu Jitsu studio between the two businesses as the former bowling alley continues to evolve.
While the other two businesses help by adding foot traffic, The Hive has garnered its own niche customers.
"We definitely have our regulars already. We have people that come in every single day. We have a kids menu specifically for them. They love bobas in their tea so that's a big hit. Now that volleyball practice has started up again, the girls volleyball team is keeping us very busy."

Brandi Latham
The Hive offers changing specials, along with a shake and tea of the week. They offer Club Credit, where customers can prepay $100 to avoid having to pay each visit. There is also a 10-drink punch card that offers a free drink when completed.
"We want to try to get people to try new things," said Latham. "We do have certain customers that get the same thing every day. It's a fun place to be. It's a feel-good place and another option besides what was here."
Despite opening late, the response from the community has been incredible.
"The support has been amazing," said Latham. "We were trying to get open before school ended because we would like to focus on the kids and teachers. It's really been a lot better than we expected because it's a small town—you don't really know. I know during the school year there's a lot more traffic in and out of town so we weren't sure."
The response from up the Herbalife corporation chain has also been of praise for the early success the Lathams are seeing in Frazee.
"That was encouraging," Latham said. "Everybody comes in and they're so glad they don't have to go to Detroit Lakes anymore and they can't wait to come in every morning."
Latham used to work at the Detroit Lakes Herbalife store and built up a rapport with customers there who are now patronizing her Frazee store.
"There were a few that I knew were in this area, but there were quite a few that I didn't realize live close by," she said.
Hours were scaled back from the initial seven days a week plan when the company closed on Saturdays in August. Saturdays will be revisited after school starts, especially when weekend events are happening at the school or in town. The Hive is closed on Sundays.
A few upcoming additions to the menu are coming, along with a few winter-centric changes.
"We've got some protein balls going and we've been playing around with energizing and snack gummies," Latham said. "In the winter, we're going to offer some soup and other warm things. Hot teas are very popular in the winter, for sure."
Specials are updated on the company Facebook page – The Hive Nutrition Frazee, along with any updates to hours of operation.