LRAC closing reception for the juried exhibition
News | Published on September 19, 2022 at 5:39pm EDT | Author: chadkoenen
0
Reception to be held September 20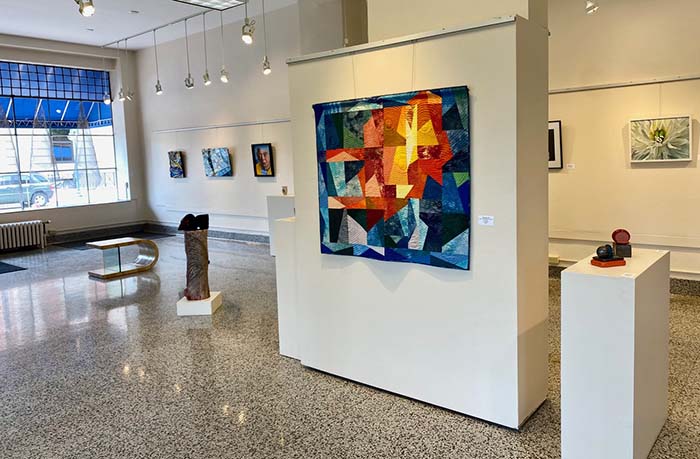 The Lake Region Arts Council has announced the closing reception of the exhibition, "Guest Juror—Tasha Kubesh" for Tuesday, Sept. 20, in the LRAC Main Gallery at the historic River Inn, 133 S. Mill St., Fergus Falls.
This public reception for the artists will be held from 5:30-7 p.m., with artists talks will begin at 6 p.m. 
"Works selected form an exhibition of regional artists' artwork on the subject of reflection and contemplation, nature and the human condition. An honor, great pleasure, and difficult task selecting from Minnesota Lake Region's incredible and inspiring talent, this exhibition culminates with eighteen artist's work forming a kaleidoscope of intriguing skills, material and color, thought and passion. Thank you to all artists for all of their important creations that are crucial to making this reflective and contemplative life—lively, transformational, beautiful and just," said guest juror, Tasha Kubesh.
Kubesh is the previous Curator of Exhibitions and Collections at Plains Art Museum (2016-21) in Fargo, N.D., and Gallery Director at Flanders Art (2000- 2010) Minneapolis, Minn., has over twenty years of experience working with contemporary visual artists and art in the Midwest region, specializing in the presentation of Modern American and regional Contemporary Art. Kubesh graduated from Minneapolis College of Art and Design, Minneapolis, Minnesota, in 2001, and studied at Parsons Paris School of Art and Design, Paris, France, and at Colorado College, Colorado Springs, Colorado.
The exhibition features the work of 18 selected regional artists with 23 works made of fabric and fibers, photography, acrylic and oil paints, sculptures, clay and glass. This multi-media exhibition of artists features; Jodi Peterson, John Campbell, Dwight Mickelson, Mary Williams, Ross Hilgers, Dominic B. Facio, Tim Cassidy, Erinn Webb, Michael Burgraff, Paul Seifert, Cary Ann Krogsgaard, Kristi Kruder, Mike Weatherly, John Beaudine, Kim Baird, Mary Jo Wentz, Faythe Mills and Annette Marcahnd.
"LRAC is thrilled to have the gallery open to the public with this multi-media juried exhibition on display and to have the opportunity to work with these extremely talented artists in our 9-county region," said LRAC Gallery Curator Naomi RaMona Schliesman. "You don't want to miss this exhibition and come meet the artists to learn more about them on September 20."