Church group donates car to a friend in need
Uncategorized | Published on September 20, 2022 at 11:43am EDT | Author: Chad Koenen
0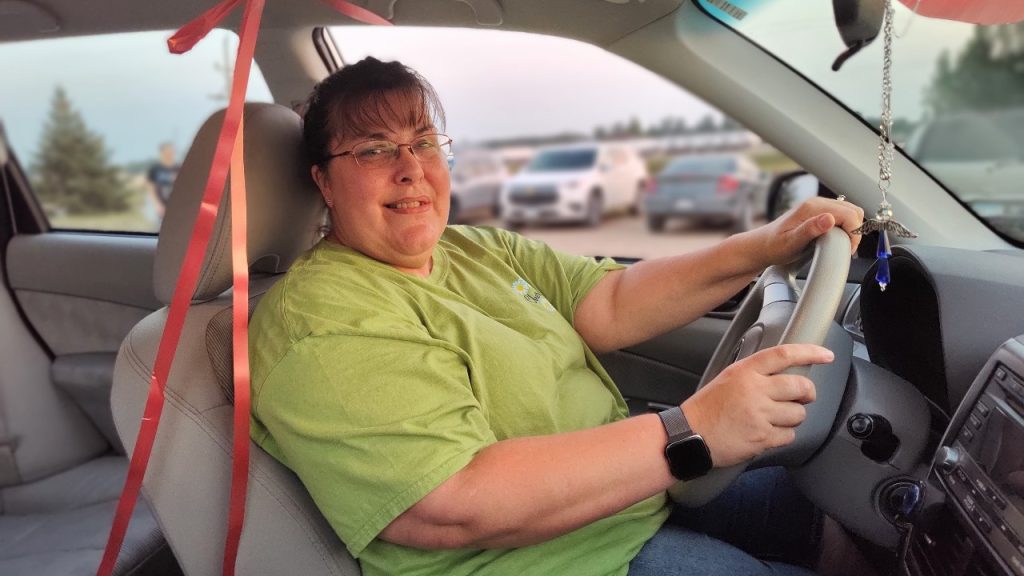 Secret fundraiser creates a big surprise for a local resident
Pam Fiebelkorn works part-time at Harvest Church as an administrative assistant and leads the children's ministry and religious release time during the week. She has been doing so with an aging Chrysler that was simply ready to be replaced and its condition limited the amount of miles she could travel.
A group of her friends created a secret fundraiser on GoFundMe, spearheaded by Michelle Strand, and raised enough money to purchase a 2009 Subaru Forester with a brand new engine and gave it to Fiebelkorn in an emotional surprise ceremony at the church Wednesday night.
"I can't believe it's me in the driver's seat," Fiebelkorn said. "I love my church so much and the people in it. Tonight just proved how much they do love me."
Strand had started a conversation about how to help alleviate the car situation and her husband had access to find the right vehicle.
"I had thought about it and mentioned it to my husband," she said. "He works for Subaru so that's the connection there. He gets all of the cars that come through, trade-ins and I said pick a good one and let's figure out how we can do this."
The reasoning behind wanting to help out Fiebelkorn was based on how much she helps others, especially in her multiple roles at the church.
"Pam is only a part-time employee but between volunteering and everything she does, she's over-the-top in how much she is committed to this church family, but more importantly, she is so committed to the kids and youth of this community," pastor Ryan Stockstrom said.
"So many people here know; she's just so giving," said Strand. "She never complains about anything. She just has the biggest heart and would never ask for anything."
The idea quickly became a working fundraiser and the group raised more money than they initially planned to allow for the gift to include fuel and future maintenance coverage.
"Every person we mentioned it to were like that's an awesome idea," Strand said. "I just took the bull by the horns and I put my name out there on the GoFundMe. We all spread the news around and between what was there and given in cash and checks we were able to come up with more than what was originally on there. Which was great because every little thing got fixed. The engine is new, 300 miles, tires and all the stuff she needs to have a good running car. And we can actually give her a gas card and have a maintenance account for her."
Fiebelkorn had been limiting herself to drives to Verndale to see her extended family and not much farther for fear of breaking down on the side of the road.
"I didn't dare to go too far out of town," she said.
The new car is going to free her to have a trip to Fargo when she wants and take off without worry.
"I'll be visiting my mom and dad a lot more too," she said.
The message of blessing
Wednesday night was youth group night at the church and the car surprise was worked into the teaching that night as a real-life example of practicing what one preaches.
"They planned that whole thing," Fiebelkorn laughed.
"This makes my pastoral heart super happy. I don't think this night could have gone any better," said pastor Ryan. "It blows me away to know everyone who participated and gave and sacrificed to make this happen just out of love, no ulterior motive. It's so awesome to see."
The plan involved weaving the message of blessing others with the actual gift-giving later in the evening. The youth group exited the church and were part of the circle of friends that included 50-60 people all waiting to see the shock on Fiebelkorn's face.
"Today, our message to our youth group was all about blessing," said Strand. "How we bless other people. How we receive blessing and we asked all the youth to share when they have blessed people and how they've received or witnessed blessing. We purposely did it tonight so the youth could come out and witness her being blessed and what it's like when a group of people get together. You can move mountains when you want to."
Having the kids there made an already special moment more memorable for Fiebelkorn.
""I love my job and what I do and helping the kids," she said. "These kids are everything; they're our future and it's our job to spread that word and get them to do what's right. This is more than right."