A new look with a touch of nostalgia
News | Published on September 27, 2022 at 4:48pm EDT | Author: chadkoenen
0
Palace Cafe in Frazee to open Oct. 3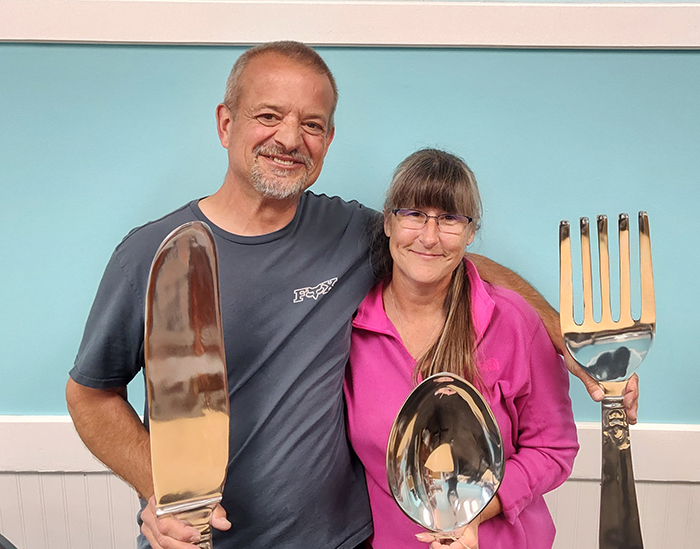 By Robert Willams
Editor
The wait is nearly over for area diners as David and Debbie Streiff are wrapping up their remodel of The Palace Cafe with plans for an official opening day of Monday, Oct. 3.  ¶  The business has been closed since before Labor Day.  ¶  Earlier plans were to open prior to October, but finalizing paperwork on the sale and with the health department are not tasks completed quickly. The Streiffs have taken advantage of the extra time to complete some extensive cleaning with interior upgrades to get the restaurant exactly how they want it.  ¶  "The supply issues out there in the world; we've had some snaggles that went through that we've ironed out," David said.  ¶  From customers who stop by the newspaper to people who drive by the Palace twice a day checking on its status, there are a lot of people waiting for the cafe to be back in business.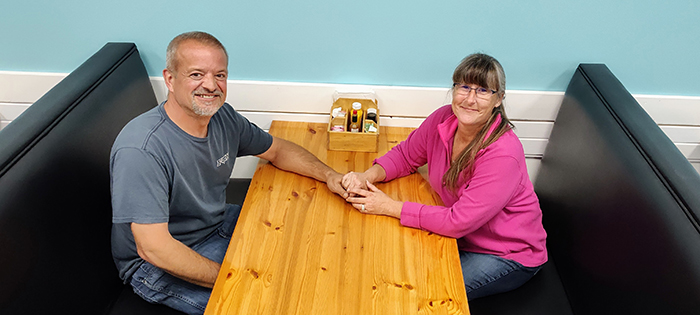 "I know how important it is to get this open," said Debbie. "I went over to the gas station this morning and it was all the women lined up in the chairs drinking coffee and I thought we need to be open. I know how much people are looking forward to it. I want to get it open but we want to do it right."
The front door has been open while the renovation has been taking place and plenty of people have popped in just to see the progress.
"It's going to be a shock to many people; it's nothing that it was before," David said.
The cafe will have a whole new coffee system and Coca-Cola products, a switch from Pepsi. The change will also bring back to life the relevance of the Coke sign on the exterior of the building. Frazee Electric will be getting that sign back in order to bring some new light from a former time to the downtown strip.
While not natives of Frazee, the Streiffs have made a big effort to bring back some of the town's nostalgia as part of the decor.
"I think the history of Frazee is super important," said Debbie.
The couple have received donations from Roger Boe, next door at The Backyard Station, and other members of the community. The Streiffs now have a large collection of framed photos showing businesses from the past, like Frazee Freeze, Ketter's Meat Market, and past high school sports teams, that will allow visitors to get a glimpse of what downtown used to be like with a lot of recognizable faces from town lore.
"My goal is to have people come in here and eat and see the history on the walls and get people interested in it again," said Debbie.
One photo includes five past mayors of Frazee pictured in order, including Vernon Daggett.
Word has gotten out and other members of the community have been going through their collections and donating 8×10 and larger framed photographs.
"When I say history to people, everyone gets excited," Debbie said. "Some are even having pictures made so they can have it on the wall. The amount of people who have stopped in and given us encouragement has been so awesome. I feel the town behind us; I really do."
The kitchen set-up will begin Tuesday, Sept. 27, to complete what's been a big change inside the building that included new flooring and a refreshing paint job. The paper will come down from the windows during the final week giving customers a peek at what's to come.
Prior to the official opening, there will be an invite-only soft-opening planned.
"It's going to be a limited menu, but it's just to get into the dynamics of how it's all going to cook, how the kitchen and dining room are going to flow," the Streiffs said.
Staffing is still dependent on how business flows. There is one server on the roster with others in conversation.
"Because David is so well-known, he's got a whole bunch of people who are willing to come in and help him cook," said Debbie.
The last few weeks have been a lot of work and not the easiest for the couple who have spent much of their own money to complete the transformation after leaving both of their jobs in early September.
A couple big issues need to be completed to make October 3 a reality, namely a Cat5 internet installation by Arvig to fire up the point-of-sale system and beverage systems from Coca-Cola.
Hours of operation will be Monday through Saturday 6 a.m. to 3 p.m., with future flexibility to be open later if business dictates.
Another very popular request from the community has been answered as the cafe will be open Sundays for the after church crowd.
"It's a family day," said David.
The opening time is still to be determined but will be in the morning. The Sunday shift is dependent on customer needs with an emphasis on those who finish off their weekend worship with lunch.
"I want to see what the community wants from us," said Debbie. "Sunday is the biggest day in a restaurant in my opinion."
The Streiffs have turned their lives upside down to chase their dream of running a restaurant and they are as excited as the community is to bring The Palace Cafe back to life next week.
"This is our main focus in life; this is our baby," Debbie said. "We're wrapping up staffing issues and putting the final touches on all the changes that we've made."