MnDOT Highway 34 open house October 4
News | Published on September 27, 2022 at 4:37pm EDT | Author: chadkoenen
0
Area residents critical of proposed logging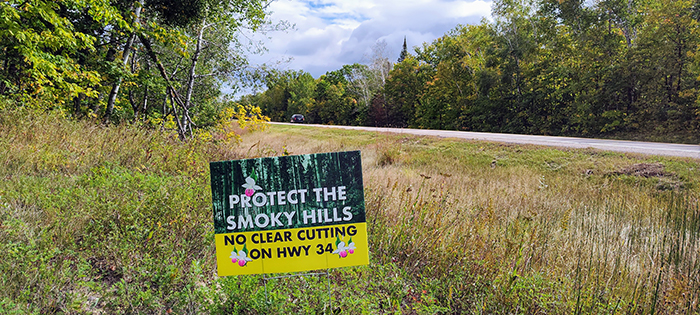 By Robert Williams
Editor
The Minnesota Department of Transportation is holding an open house concerning tree removal of the Highway 34 project on Tuesday, Oct. 4, at the M State campus in Detroit Lakes.
There will not be a formal presentation. Instead, the meeting will be similar to the ones held on the State Highway 87 projects between Frazee and Menahga, when residents can stop in over the course of the three-hours to present feedback.
MnDOT has come under criticism from residents in the area and regular travelers of the scenic byway concerning its reasons for selective logging during the upcoming 2023 resurfacing project on Highway 34, from Becker County Road 29 (Four Corners) to west of Osage, County Road 26/47 (old MN225).
In preparation for the project, MnDOT is partnering with the Minnesota Department of Natural Resources to complete selective logging within the state highway right of way on the south side of Highway 34 from west of Snellman to the Shell River.
MnDOT will also remove trees and vegetation from the remainder of the project, from County Road 29 to west of Snellman. All of this work will take place in the state highway right of way. All tree work will take place between Nov. 1, 2022 and March 31, 2023.
After hearing initial concerns about the logging, MnDOT issued four different concessions in modifying the original plans:
• MnDOT's original plans were to remove 85 percent of trees as shown. Through public engagement, MnDOT has reduced the removals to 50 percent.
• Originally proposed was an 85 percent removal of trees with 15 percent of trees remaining out to 250' with unique DNR contract for minimal impact harvest.
• First compromise was a 75 percent removal of trees with 25 percent of trees remaining out to 150-feet.
• Final compromise is a 50 percent removal of trees with 50 percent of trees remaining out to 150-feet.
"We take these public comments seriously and have met with several stakeholders to discuss solutions," MnDOT said on its project page (dot.state.mn.us/d4/projects/hwy34/). We are doing our best to balance the needs between safety, environment and budget."
The group "Friends of the Scenic Byway" met at Jack Pines Resort in Osage on Thursday, Sept. 15. Approximately 65 people were in attendance at the "Protect the Smoky Hills" informational meeting. Winona LaDuke was the final speaker with a message of caring for the Earth.
The group has also encouraged project opponents to contact Gov. Tim Walz via the group's Facebook page.
MnDOT provided alleged benefits that include improved highway safety, a smoother pavement surface, bridge work, culvert replacements and less salt use during winter driving months. Fewer trees will allow for easier melting and higher road surface temperatures. Reduced deer collisions were suggested as probable after moving the tree line further away from the road.
Opponents are also against the logging due to the natural flora and fauna in the area, including Minnesota's state flower, the lady's slipper.
There are several locations along the proposed stretch of highway where lady's slippers are prevalent.
MnDOT has stated it makes extra efforts to protect the state flower and will identify and mark those areas along the stretch of proposed logging. Where avoidance is not possible, MnDOT has relocated lady's slippers to Minnesota State Parks, wildlife management areas and other state or federal land.
The MnDOT open house will be held from 4-7 p.m., in the C101 Auditorium at M State in Detroit Lakes.