Truck route, quiet zone coming to Frazee
News | Published on October 11, 2022 at 5:35pm EDT | Author: chadkoenen
0
Main intersection dominates first Whole meeting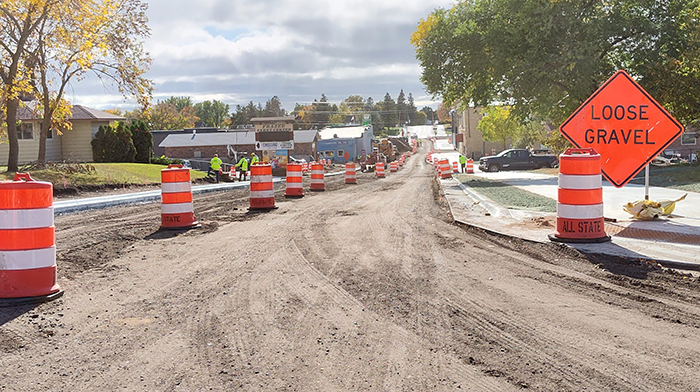 By Robert Willams
Editor
The Frazee City Council held its first Committee of the Whole working session on Wednesday, Oct. 5, at the Frazee Event Center. The committee meeting was created to help streamline official city council meetings each month and allow for more discussion on topics related to staff and committee reports.
"This is a business meeting. No formal decisions will be made. It's mainly for discussion."

Jordin Roberts, Frazee city administrator
Given the proximity to the last council meeting held in September, most committee reports were tabled to next month. Instead, the council focused on the railroad quiet zone and creating a designated truck route through the city upon completion of the Highway 87 project at the end of October.
MnDot Project Manager Tom Pace was in attendance to discuss both projects and to address concerns on the railroad intersection on Highway 87 and a number of other roadway changes.
The turning radius for large trucks and semis at Highway 87 and County Road 10 will present challenges to drivers of both the trucks and oncoming vehicles. The goal is to not have trucks make turns at that intersection.
"MnDot is not opposed to a truck route if the city and county want to work together to make it work," said Pace.
Truck routes are not easy to enforce, but hopes are that regular delivery drivers in town will abide by the new changes.
Options for the routing of trucks include County Road 29 to Main Avenue and County Road 87 directly to Highway 10 and vice versa.
Daggett trucks and other semi traffic coming from Highway 10 up County Road 10 will likely be using Fifth Avenue to Birch to get out of town on Highway 10, Highway 87 or County Road 29. Going to Highway 10 will likely be done by leaving town either direction on County Road 10 rather than utilizing Highway 87.
The coming quiet zone will also create problems for trucks as the Juniper/Highway 87 intersection will have a quick curb system installed to assist drivers to negotiate the tracks without trains sounding horns in the future.
"Putting Quick Curb in is going to make it worse (for trucks)," said Pace.
The quiet zone will likely not be completed and enforced until spring of 2023. The Highway 87 construction project is scheduled to be fully finished by the end of the month, including pavement work nearing completion by Oct. 24. Paving will be done in three stages beginning north of the Main Ave intersection and proceeding to the railroad intersection.
The truck route will also be delayed due to necessary approvals from MnDOT and signage installation. Dedicated truck routes are rather rare.
"There aren't many around here because they're hard to enforce," said Pace. "We have one in Alexandria."
Perham also established dedicated truck routes in 2011.