Franklin Fence thriving amidst Vergas growth
News | Published on October 18, 2022 at 3:47pm EDT | Author: chadkoenen
0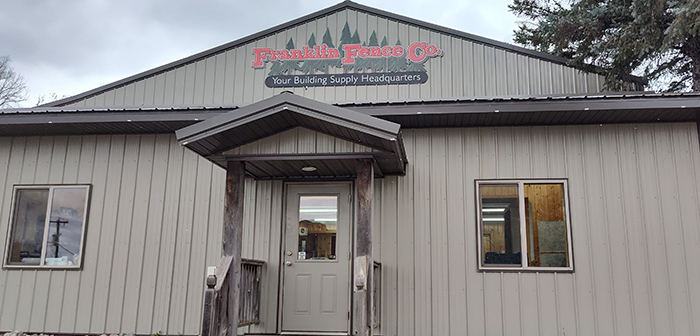 By Robert Willams
Editor
Vergas' hometown lumberyard, Franklin Fence Company, is coming off one of its most successful years through the pandemic stretch and is joining the town in a business boom.
"It's just a fantastic year again," owner Tyler Schmid said. "The whole COVID thing, everybody thinking it was going to shut down and it was the complete opposite. It completely went the other way. We had one of our best years in 2021."
Much of that success is due to the home building business going for a full 12 months consistently, rather than halting for winter.
"Right now, it's almost year-round now," said Schmid. "Everybody gets their stuff going in the spring and they go full tilt all through summer. Once fall hits, they get the concrete in, building's up, everything enclosed before it gets to be winter – work all winter and start all over in the spring."
Right now, contractors and their crews are in a dash to get set up for the coming cold months.
"Definitely, you get a big push from now until December 1," Schmid said. "It will be push push push until the first freeze up."
Franklin Fence is a one-stop shop in regards to building needs: lumber and siding, roofing, windows, doors, insulation, interior doors, trim and beyond. However, the company has its own seasonal specialities, as well.
"Our main niche is probably the pole building end of it and that kind of dwindles down about deer hunting," said Schmid. "From now until that first freeze up, it's a residential push trying to get concrete in, get the building up and try to get it roofed."
Thriving in questionable economic times is nothing new for the company during its eight decades of business from its beginnings as a snow fence operation in 1938 coming out of the great depression to its current multi-building full service dealings seeing record growth fresh out of COVID lockdowns.
The current form of Franklin Fence exists because of tragedy, after losing the snow fence operation in the fire of 1973 and rebuilding into the lumberyard it is now.
As the business has changed, so has Vergas.
"You bet it has, absolutely," said Schmid.
The company and the town are a perfect fit with histories that coincide with each other.
"This town is always thriving," said Schmid. "Main Street is constantly busy every day."
Much of the company's customers are locals but demand is seeing that coverage area expand.
"Our main focus right now is in a 40-mile radius," Schmid said. "It's expanding now to that 130 to 150 mile radius. This morning we ran west of Fargo. The day before we were an hour north of Naytahwaush."
Like nearly every industry, Franklin Fence Company has dealt with supply chain issues. One of the biggest delays in our area is windows.
"We did," said Schmid. "Railcar threw us for a loop and that's how we get our lumber into our wholesalers and they get it to us. That's kind of relaxed."
Windows, however, are anywhere from 10 weeks to half-a-year out.
"That's on the short end of the average," he said. "We've had anything out to 26 weeks. Any vinyl window you're in 10-15 range. If you want a metal clad exterior you're 20-plus. It's nuts. Right now, you're ordering windows before you dig a hole."
Schmid offers strict advice about making window decisions and ordering a priority for clients and customers.
"Back in the day, you'd get the roof up, start shingling and then you'd order the windows two weeks out," he said. "Not anymore. It makes things kind of tough. Better make sure the homeowner is locked in on their window placement because there's no changing 'em."
Schmid's company has also been a big contributor to change in Vergas, providing new housing and commercial space at Altona Square. The need for rental housing in the area is real and Altona Square is the proof.
"We put that building up across the street and we had five of the eight apartments spoken for before it was even half done," he said.
Renters agreed after simply seeing a floor plan and a rental agreement. All but one are currently occupied. The lone vacancy is the handicapped accessible apartment on the ground floor.
"We thought that would be the first to go," he said.
Somewhat surprisingly, the tenants are young, single people under the age of 23. The endeavor was proof that more rental housing would be filled if built.
"Probably, in the city limits. I don't think you could do it outside," said Schmid.
The problem Vergas has for businesses and housing is a lack of available land.
Franklin Fence Company has three different areas around town it uses to do business.
"We've got the property here and the property by the church and we recently purchased the property down by Kevin Zitzow's shop and we put up a new building," said Schmid. "We've got a fair amount of land there but they're all full. It's kind of frustrating but we don't have much choice being landlocked."