Trail advocates celebrate Heartland Trail
News | Published on October 18, 2022 at 4:59pm EDT | Author: chadkoenen
0
Speakers tout 87 project and Wannigan Park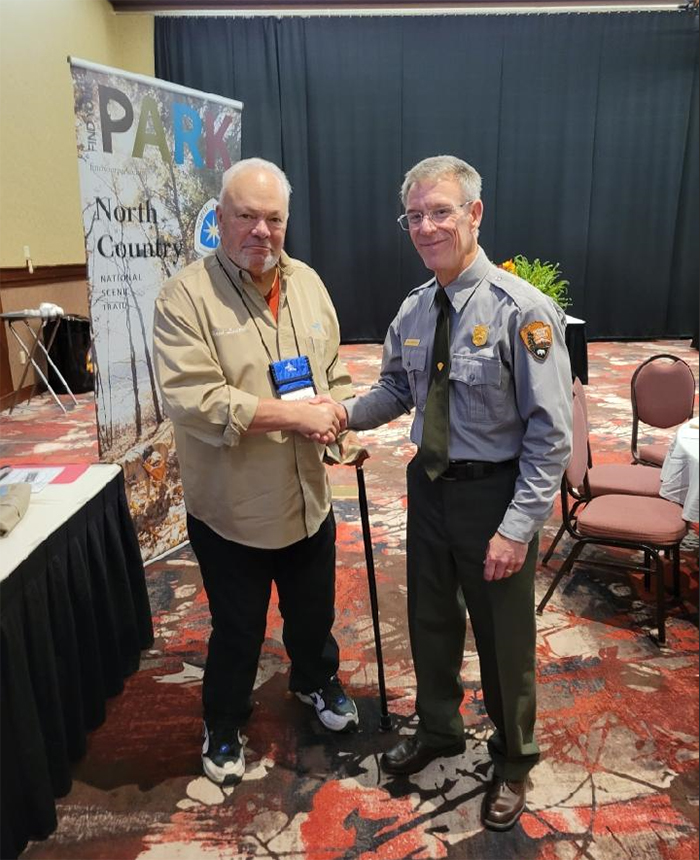 By Robert Williams
Editor
The Heartland Trail, which runs through Frazee and is a part of the Highway 87 project, was celebrated in a ribbon cutting ceremony in front of the school on Wednesday, Oct. 12.
"Because it's made out of concrete, people think this is just a giant sidewalk, but it is a pedestrian and bicycle trail along the west side of highway 87," Patrick Hollister of PartnerSHIP 4 Health said in his opening remarks.
Hollister planned the ceremony for last week because the second Wednesday of October each year is International Walk to School Day.
The trail project began back in 2015 when the Minnesota Department of Transportation listed the highway 87 project as scheduled for 2021.
Trail advocate Hank Ludtke wanted the Heartland Trail to run through Frazee and Partnership 4 Health and the city of Frazee created a concept plan for the trail and applied for a grant, but was denied.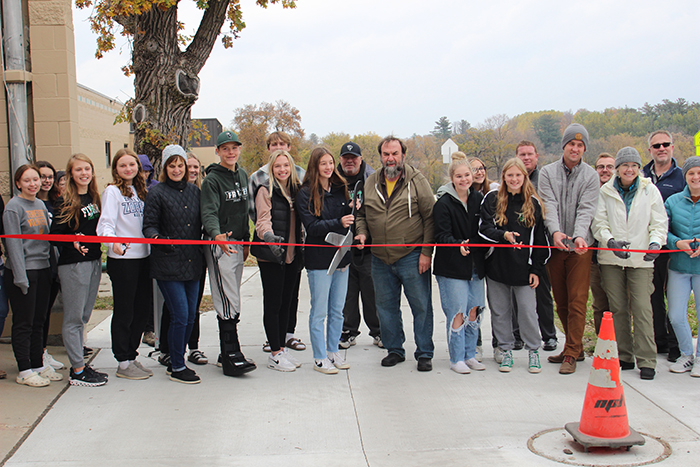 MnDOT delayed the project to allow the city to reapply for the grant in 2018 and it was approved allowing the trail and Highway 87 project to coincide in 2022.
"This has changed the landscape of downtown Frazee," said Tom Pace, MnDOT project manager.
Pace is a Frazee High School alum.
Ludtke also addressed the crowd.
"It's been a long time and projects do take a long time," he said. "We have the water trail and we knew where that was going to be and it took 10 years. Now the Heartland, we started talking about that probably 15 years ago."
Ludtke recommended trail advocates contact their representatives about the upcoming 2023 bonding bill to help connect the trail from the new bridge at County Road 10 and U.S. Highway 10 to Frazee. That project was stopped when approval was not granted on the state bonding bill this year.
Another Frazee High School alum, Polly Andersen, spoke representing the Wannigan Park board. She noted relief after hearing how long the trail projects had taken. Wannigan Park has been delayed as the city and the Frazee Community Development Corporation negotiate an agreement on backing up multiple grant proposals for the park.
"Good things take time," Andersen said. "We really think Wannigan Park will be open in a few months, hopefully. We're really excited about this being a part of Wannigan Park as well."
Pace reiterated that his expectations remain consistent from last week on the completion of the Highway 87 project happening by the end of October.