Belka barn gets a new name and comes home
News | Published on October 26, 2022 at 5:27pm EDT | Author: chadkoenen
0
Pipe dream comes true for builder's grandson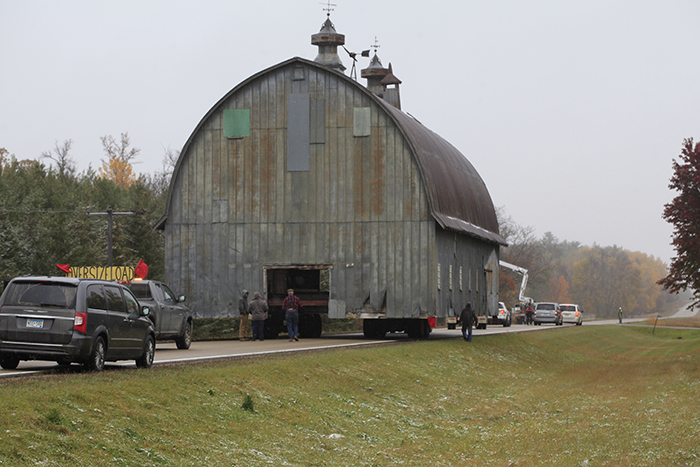 By Robert Willams
Editor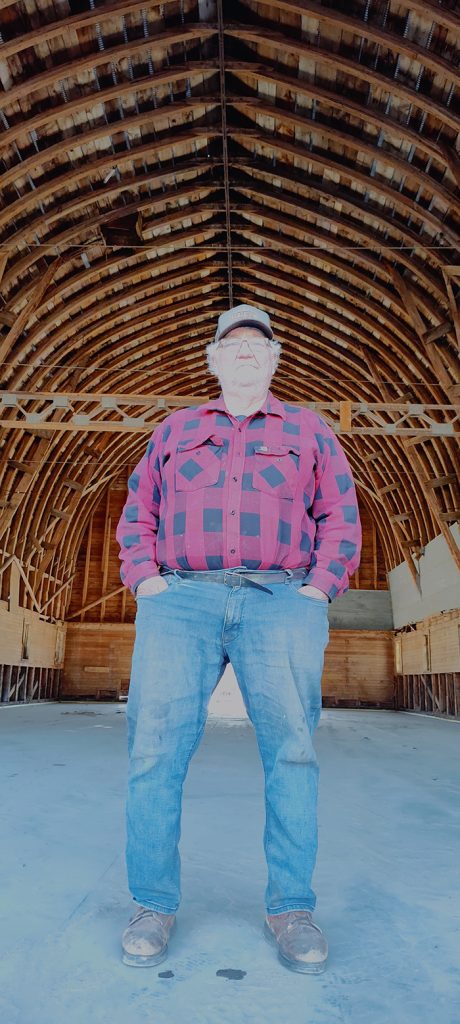 Regular drivers on County Roads 60 and 51 have used the Belka barn as a landmark for more than a century, but as of last Friday, they will have to travel north a few miles after the legendary barn was moved to Jon Bachmann's property.
"I've been driving past that barn my whole life," Bachmann said. "That barn, I remember when there were other buildings where it was and a house and granary that got torn down. I've known the people that owned it now for all my life."
What Jon did not know, until recently being informed by his uncle Alfred Bachmann, Jon's grandfather Robert built the barn.
"Then I found out that my grandfather built that barn; didn't own it. He built it," Jon said. "He was a carpenter."
The Bachmann family has lived in the rural Perham and Frazee areas since 1880. Building things is a literal family tradition.
"I've got a grandson that's a carpenter, my son is a carpenter; I'm a carpenter," he said. "My dad was a farmer but he was a carpenter too."
Jon's grandfather Robert was born and raised on the land where Jon lives today. The barn was built three miles away by Robert, his brother Otto and one of the original owners from the Belka family, which is how the barn got its original name.
"Now it's the Bachmann barn," Jon laughed.
Jon loved the barn even before he knew it was built by his grandfather.
"I'm fascinated with buildings and I'm also fascinated with history," he said.
The work that went into creating the structure, which is mesmerizing when seen from the inside, is difficult to comprehend being done a century ago.
"I have just stood here and studied it," Jon said. "It was quite an undertaking and it's in just remarkable shape. I have studied the rafters to try to get my head around how they did that. That's the difficult part. They had to make a jig and put them together and then lift them up there. That had to be a job in itself."
The quality of the craftsmanship speaks volumes when inside the barn and also is a testament to how the building has stood for 100 years. A typical barn from 1920 is long gone by now.
"The studs are tamarack and that is a native wood," Jon said. "The rafters are also tamarack and they are laminated. What I was told was they took those 1x4s and made a jig and soaked them in the river so they could bend them."
The curved rafters give the interior the look of the hull of a ship turned upside down and the 30-feet of height creates a cathedral-like atmosphere. Those rafters look nearly brand new.
"They just built it to last," said Jon. "They didn't build it to fall down. The walls are pretty straightforward. I can put my mind around how to build the walls. I've done that many times, but the rafters are what gets me—the strength of them. They are two-foot on center, which is quite unusual for the age of the barn."
Even the cupolas on the roof, a wind generator and two original weathervanes remain intact.
"Usually, they're shot full of holes," said Bachmann.
Other than reinforcing the metal roof with screws from the outside and repairing one rafter, there is no restoration work needed for the barn to be fully functional, which is just incredible considering its age.
"The construction of it, I just stand in there and wonder to myself how you did this with no power tools," said Bachmann. "It's in the neighborhood of 30-feet tall. I know how it was built but it had to take an amazing amount of time even though they didn't have the same time clock as we do today. They probably worked from daylight to dark."
Bachmann credits the steel roofing for the building's longevity and inner beauty.
"The reason that it is still there is because it is covered in steel," he said. "The steel was put on when it was new. The outside, you can look at it and the steel is rusty, which gives it appeal to me, but on the inside you can see between the boards and it looks brand new. That steel had to be bent and I've done that enough to know that's a heck of a job with a metal brake and they didn't have that."
Bachmann acquired the barn from its former owner Luann Carow, a partner with Vince Bachmann of Bachmann Carow Real Estate, Inc., in Perham.
"I asked her husband once if he would be interested in getting rid of that barn and he wasn't," Bachmann said.
Randall Carow passed away in December of 2020.
"One day, I asked Vince, if Luann ever says anything about getting rid of that barn, let me know," Jon said. "He laughed and said, 'Last week, she asked me if I thought the Amish would tear that barn down.' It was like, ooh, so I called Luann and went to see her. She said, 'If you want the barn, it's yours.'"
The one caveat is Luann gets one of the cupolas.
"I accepted that," said Jon. "That's a deal you can't pass up. I think that it's incredible. I didn't know if I ever thought I would ever get it. It's like a pipe dream."
While acquiring the barn is going to cost one cupola, Bachmann is already planning on trying to track one down.
"You'd be surprised what you can find and I'll hunt," he said. "I see them every now and then, but whether they're that style or not, we'll have to see,"
Making his dream come to fruition had one giant challenge—moving it.
"There are all kinds of house movers out there," Jon said. "I had one from Vergas that we have dealt with before and he didn't want to do it because it was too big. So, I contacted three different movers and this guy was the most reasonable and he did a superb job. I couldn't have imagined it going any better."
That guy was Dale Johnson of Johnson's House Moving out of Wahpeton, North Dakota.
"There were two beams down the center," Jon said. "Each one of those beams weighed four-and-a-half tons. They put them down with cross beams in it and on the inside walls they put another beam and bolted that beam to the walls."
Once secured, the building was hydraulically jacked up and ready to move.
The barn slowly moved north up 51 and 33 with a parade of emergency vehicles leading the way and a line of cars behind it. Neighbors were out taking photos and video as it passed. The biggest challenge was negotiating the turn into the Bachmann property and a run up to the hilltop where the barn now stands.
"They had to swing and the machine was in the ditch to get it straight. That was the only trouble they had coming up that hill," said Jon. "Our sand is beach sand and they lost traction and I got a neighbor to come with a big tractor and he pulled them up here."
Jon had a concrete pad installed and waiting for the barn to be set upon.
"It took them maybe 10-15 minutes and they had this perfectly aligned," he said. "I thought, wow! To get it that perfect."
The barn is a perfect fit on the property and has already been noticed in its new home.
"I've had four people tell me now that it looks like it was built here," Bachmann said.
The fact that a 100-year-old building could even be moved is another testament to the quality of the build. Nothing was damaged on the three-mile trip.
"I worried about it," said Jon. "I don't think anybody else did."
Bachmann credited the professionalism of the moving company with the safe relocation.
Now Jon is looking forward to using a big piece of family history in continuing his own work and more so in being able to share that with his own family.
"I've got nine grandsons all together and two of them that work with me quite a bit, one of them works with me pretty much every day," he said. "When I found out I could get this barn in the first place, I took him down to look at it and he stepped in the door and said, 'Man, we can pile a lot of lumber in here.' That makes me feel good."
Now that it's the Bachmann barn, plans are in the works with how to best use it.
"We've thought of different things to do with it," Jon said. "I saw lumber and build houses and whatever. We're going to use it for storage, but I probably will put my saw mill in there to do longer logs. We do plan on putting a loft in it, just simply for storage purposes or for the grandkids to fool around in."
Other people have been coming up with ideas outside of it remaining a barn, but that's not going to happen. The beauty of the rafters and the interior simply cannot be covered.
"One rafter is bad but the rest of them are perfect," Jon said. "One fella in Perham said, 'I'd make a house out of that in a heartbeat,' and it did cross my mind, however, I'd have to cover all of this up in order to do that and I think that's part of the fascination, to be able to see what went into it at the time."
Jon estimates the cost of building the barn in today's money at $250,000, and it being sellable as a home on the market as much more than that, but it's a giant family heirloom that he plans to cherish and pass down. Long after he is gone, the barn will still be there.
The new landmark can be seen on the west side of county road 33 near Dead Lake.