Hornets receive fourth seed in Section 8AA
Sports | Published on October 26, 2022 at 4:53pm EDT | Author: chadkoenen
0
Frazee defeats Roseau 20-12 in regular season finale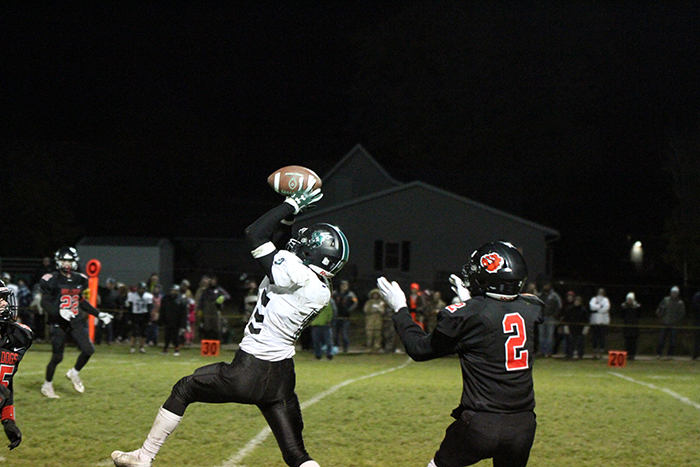 By Chad Koenen
Publisher
After one of their best regular seasons in a number of years, the Frazee Hornets will get the closest thing to a home game that they have had all season long.
The Hornets, who defeated Roseau 20-12 on Wednesday to end their regular season with a record of 5-3, will host fifth seeded Hawley on Tuesday night in the Section 8AA opener. The Hornets received the fourth seed after winning their past two games.
"Tomorrow will be another tough game for us," said head coach Russ Hackel. "I think we are pretty fairly evenly matched."
Hawley comes into the game with a record of 2-6 overall as they have averaged 24.5 points per game on offense, while giving up 29.1 points per game on defense.
Frazee is 5-3 on the season and averages 23.2 points per game on offense, while giving up 22.1 points per game on defense.
The Hornets have played all of their games on the road this season due to construction at the new sports complex in Frazee. However, after a season of away games the Hornets will host Hawley at Detroit Lakes High School in a neutral field game.
The winner of the game will take on top seeded Barnesville on Saturday in Barnesville. The Trojans are a perfect 8-0 on the season and are ranked sixth in the QRF.
The Hornets earned the fourth seed after defeating Roseau by a score of 20-12 on the road on a short week last Wednesday. The Hornets were led offensively by senior Jake Nagel who had one of his best games of the season as he rushed for 215 yards on 31 carries and a pair of touchdowns.
Hackel said the Hornets started out a bit slow on Wednesday night, but once they found their groove Frazee was able to find success both on the offensive and defensive end of the field.
Nagel put the Hornets on the scoreboard in the first quarter when he scored on a 4-yard run with 40 seconds left in the quarter. The point after attempt by Brady Crabtree was good to leave Frazee up 7-0.
Brady Crabtree quickly answered a Roseau score in the second quarter when he raced down the field for a 25-yard touchdown to make the game 14-6 in favor of Frazee. He also kicked the extra point.
Nagel scored Frazee's final touchdown of the game late in the third quarter when he found the end zone from 6-yards out to give the Hornets a 20-6 lead after the point after kick was blocked.
Roseau scored a late touchdown with 2:27 left in the game on an 8-yard pass to make a game of it late, but would get no closer than 20-12.
Nagel led the Hornets with 215 yards rushing and a pair of touchdowns, while Tyler Moe rushed 10 times for 58 yards. Crabtree rushed 3 times for 19 yards and a touchdown, Asher Blaine rushed 3 times for 1 yard and Carter Sonnenberg rushed 2 times for -13 yards.
Sonnenberg went 4-6 passing for 32 yards with Nagel catching 1 pass for 14 yards, Blaine catching 1 pass for 11 yards, Crabtree catching 1 pass for 5 yards and Moe catching 1 pass for 2 yards.
As a team the Hornets out gained the Rams by a 328 to 166 yard margin. Frazee did turn the ball over 3 times, compared to just 2 for Roseau.