Lammers to interview for Pelican city admin
News | Published on November 3, 2022 at 11:15am EDT | Author: chadkoenen
0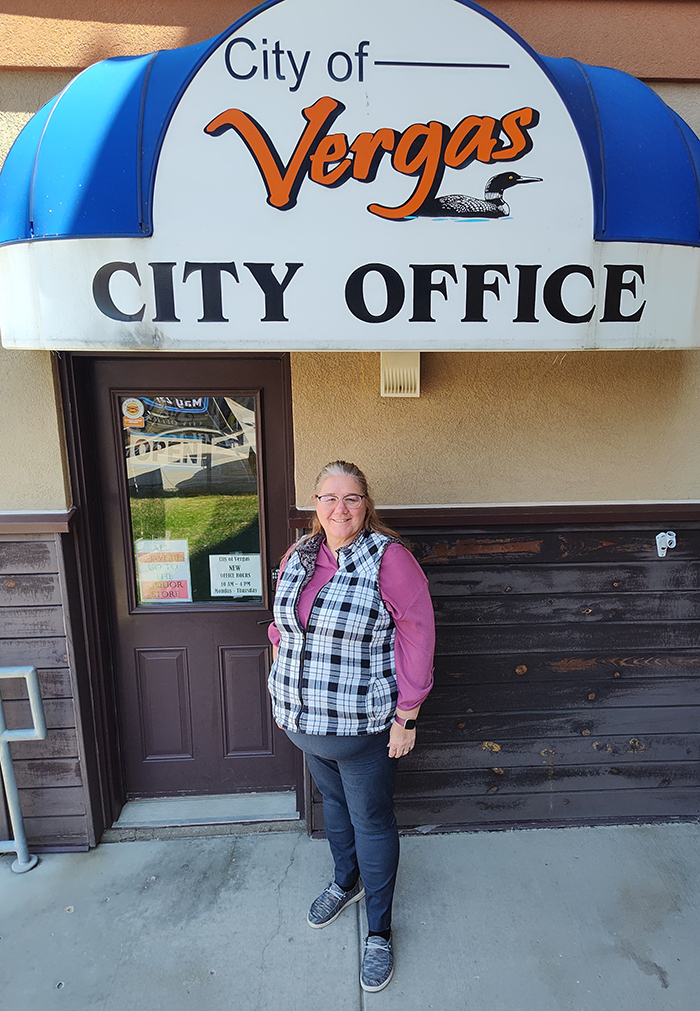 By Robert Williams
Editor
Vergas treasurer/city clerk Julie Lammers is one of four finalists for the Pelican Rapids city administrator position.
Lammers has been employed by the City of Vergas for over 11 years. She served as the Deputy Clerk/Treasurer for the City of Pelican Rapids for 16 years prior and currently lives in Pelican Rapids. Ms. Lammers holds a bachelor's degree in Office Administration from Moorhead State University.
Five candidates were deliberated by the Pelican Rapids City Council Tuesday, Oct. 11. The council voted to narrow the field to four, for final interviews.
Councilmembers differed with Mayor Brent Frazier on the finalists. Frazier favored interviewing all five.
"I strongly feel we should interview all five," said Frazier. "As long as we've gone this far, why not interview the fifth?"
The other four council members were mostly unanimous on the other four. The candidates were only identified by numerals 1 through 5, as they remain anonymous until interview selections are made. By Minnesota statute, the names are then made public. 
Three of the four candidates have local connections, including Lammers.
Lance Roisum currently serves as the Health and Safety Facilitator for Lakes Country Service Cooperative where he has been employed for three years. Prior, he served as a Highway Maintenance Worker for Otter Tail County for one year, and as an Operations and Maintenance Worker for the City of Pelican Rapids, for 14 years. Roisum holds a bachelor's degree in Business Administration from Mayville State University.
Tom Mortenson currently serves as the Senior Strategy and Policy Planner for Gemini Industries, K-Force Government Solutions, Inc. where he has worked for over 10 years.
Prior, Mortenson served as the County Administrator for Becker County for six months, as the Community Development Director for the City of Temple Terrace, Fla., for one year, and as the Building and Zoning Director for the City of Temple Terrace, Fla., for two years. Mortenson holds a Bachelor of Arts degree, a Master of Science degree, and a Master of Public Administration degree.
Lukas Darling currently serves as the Deputy Town Administrator for the Town of Otterbein, Ind., where he has been in the role for nearly one year. Prior to this, he worked for the Boardman Township (OH) Department of Planning and Zoning as a Property Enforcement Officer for two years and as a Planning and Zoning Intern for one year. Darling holds a bachelor's degree in General Studies in History from Youngstown State University and a master's degree in Public Administration from Arkansas State University. 
The selected candidate will replace Don Solga, who has served in the position for 18 years. He will be retiring Jan. 1.  
The position was advertised with a salary of $78,000 to $104,000.
The city contracted with a consultant to aid with the search for an administrator, for about $20,000. The firm is DDA Human Resources, based in Wayzata. Representing the firm at the Oct. 11 meeting was Pat Melvin. 
Final Interviews, which are conducted as an open meeting with the public allowed, will be at city hall on Wednesday, Nov. 2. There will be three rounds of interviews by Department Heads, Community Members (picked by Council) and the City Council.
Editor's Note: The Pelican Rapids Press contributed to this story.