Search for big fish continues on area lakes
News | Published on November 3, 2022 at 10:53am EDT | Author: Chad Koenen
0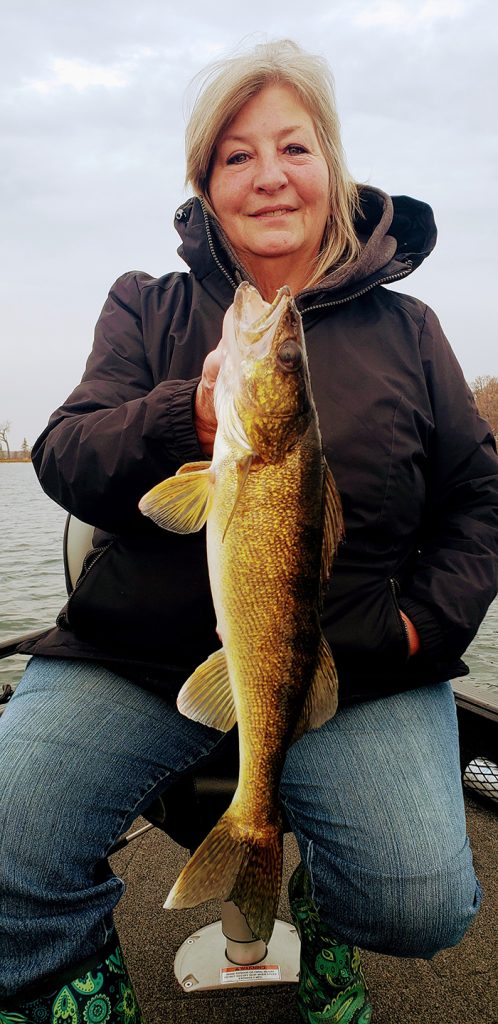 Chill Fishing Report
Cody Hill
As I write this article it is snowing in Western North Dakota and that means our open water season is nearing its final days. 
For me I have a final day of November 1 asa that is the day that my boat has to go into its winter storage for the winter, but this past weekend was perfect for getting out fishing and enjoying the last remaining days on the water. Warning to those trying to cash in on one more trip, docks are being removed daily so plan accordingly because your boots might get wet trying to launch your boat. Boat next to me this weekend put a 3-step stepping stool near their boat in the water to make it easier to get in and out of the boat when beached.
Fishing was amazing on Friday, but it took a while to find those fish but once you found the fish it was nonstop action till it got dark and I called it a trip. I was able to find creek chubs at my local bait shop and they were the ticket being dragged around using a Lindy Rig. On Saturday the bait shop was sold out of everything, and I had to hunt to find sucker minnows and they worked but they were not as effective as creek chubs I had the day before. 
Saturday, I found some of the biggest schools of fish I have ever graphed before in my life but fish were very inactive so you had to coax them into biting, and it could not be a fast presentation. If I was traveling above 0.5 mph, I didn't get fish but if I targeted 0.3-0.4 mph it would greatly improve my frequency of getting bitten. 
With these very large schools I tried to jig over them, notice how I used the word tried? If the boat trolled over the fish or used the trolling motor as spot lock the fish would instantly move 20 feet away from me. I tried pitching jigs to them, and it produced some fish, but fish wanted a very slow drop in the minnow, so a light jig wasn't working with the windy conditions and how quickly the schools were moving. Friends who were fishing different areas reported the same situation and found they were having best luck casting their Lindy Rig to the fish letting it sink to bottom and slowly reeling in their line feeling for the bite.
I always talk about what is working well but Saturday afternoon I switched lakes to try for crappies and I failed and shouldn't have left the first lake. I found fish suspended over basins in areas that I target them first ice, but they wanted nothing to do with what I was pitching at them. Fish were present but they didn't want things I was trying so I either didn't find the right presentation or missed the bite window but regardless even guides can struggle from time to time and that's why it's called fishing and not catching.
Halloween weekend is coming up and it'll be my last trip of the year in the boat but now is the time to start prepping for winter if you haven't already done so. Take steps in winterizing your boat and don't forget putting fuel treatment in your gas tank. Letting your boat dry out properly before sealing it up for the winter will help with molds. Drier sheets spread throughout the boat will help with deterring rodents. 
Reducing line tension on your rod tips for winter storage will help with memory on a carbon rod blank. Getting your gear all in one location and out of the boat for the ice season is important. Ice season usually starts for me on Black Friday and it's always a busy few weeks between summer and winter but if you can take steps now it will help you be prepared for early ice and when you take your boat out of storage in the spring.
It is never too early to be thinking of booking a trip during the winter to make memories that will last a lifetime!