Thrifting takes 'A Step Up' in Vergas
News | Published on November 3, 2022 at 11:23am EDT | Author: chadkoenen
0
Owners stress quality and affordability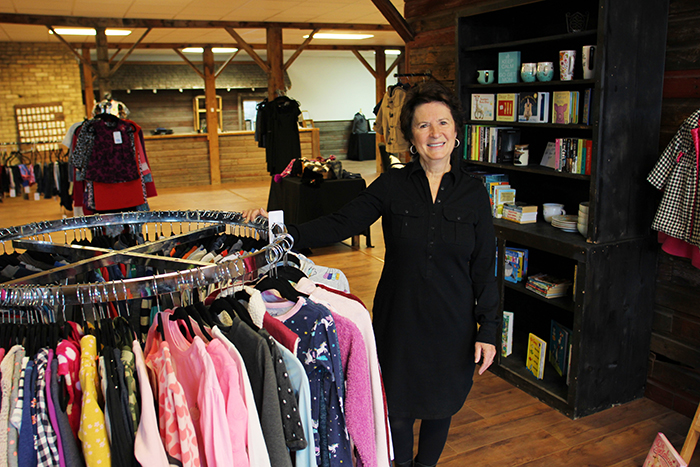 By Robert Willams
Editor
The Attic Shoppe had been a staple of downtown Vergas for 32 years under the leadership of Bonnie Anderson until her retirement in September. Its replacement, A Step Up Thrift Boutique, is being run by another three-decade resident of Rose Lake, JoAnne Knutilla, and her daughter Kari Heisler.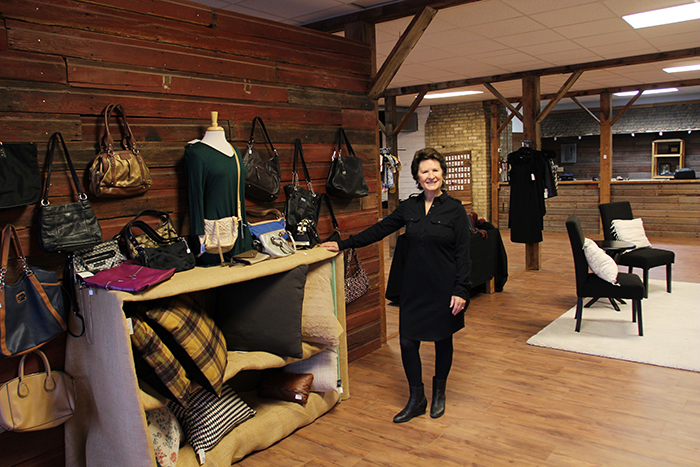 A Step Up missed the Vergas Celebration of Business by a couple weeks but the village rarely has a quiet weekend thanks to the community club and Knutilla was able to open during the Wine Walk, where people visit businesses in town and sample wines.
"I've been so impressed with the community club. What a great event. They said hundreds of people will come through and they were right, so we had a great opening."

JoAnne Knuttila
Knutilla has taken part in community club meetings and that group had a direct effect on taking the risk on a new business.
"When I went to my first community club meeting they were talking about how successful Looney Days had been. It was the best ever," she said.
They also discussed what it is about Vergas that attracts so many people. To that, Knutilla had an answer.
"From the minute that I suggested that we might like to do this, people have been so encouraging and so supportive," she said. "Especially after the mess we've gone through the last few years. People want to believe that they belong somewhere; that they have a sense of community somewhere and you guys have made me feel like we belong here and that has encouraged us a lot."
In replacing the Attic Shoppe, JoAnne and her daughter Kari needed to come up with a name. In that conversation, Kari said, "The attic sounds like old clothes; I want my stuff to be a step up."
Given the lengthy staircase up to the boutique, the name also lends a healthy, ironic twist.
Kari is the driving force behind the business. She is in the 20th year of teaching choir in Hudson, Wis., and she's a mother of six. Clothing six kids will create a thrifty nature in a mom.
"She's just always found great deals and she's kind of been the personal buyer for the family. I was visiting with her and she said, 'Mom, maybe we should put a thrift store up there.' "She knows what's in and knows all the brands. She started thrift shopping from baby one and found such great deals. Her kids are well-dressed but they do not spend a fortune and she's taught a generation at the high school to thrift shop."
Aside from creating a unique shopping experience, JoAnne and Kari emphasize quality and affordability over anything else.
"I understand young families are moving here and little Vergas is hopping," said Knutilla. "It's a boutique style with thrift prices; we have nice, quality clothing, but we offer affordable prices because young families need the help these days."
Having only been open a week, both women are still waiting for more time and customer feedback to help shape inventory.
"We have lots of children's and women's clothing and we do have some men's; we're trying to find more men's stuff," said Knutilla. "That's always a find in thrift stores, so Kari is going to focus on that."
Kari's buying audience has quickly grown to more than just the Knutilla family.
JoAnne discussed the business idea with other business owners in town and received positive feedback from the likes of Sarah Wacker (The Lavish Loon) and Natalie Fischer (Natalie's Serendipity), along with utilizing local businesses for supplies during the remodel.
"They're very encouraging, all of them," Knutilla said.
During the remodel, having the availability of products right down the street and being able to keep their business in Vergas was also important.
"There is something to that," said Knutilla.
JoAnne's son-in-law did much of the flooring work and was amazed at how quick runs to the hardware store were, along with other businesses in Vergas.
"I'd be back in three minutes and my son-in-law was like, 'what?'" Knutilla said. "And then we took him to the Loon's Nest and Billy's and he was like, 'I think I died and gone to heaven and I tell you small-town living is it,' and I said this is an exceptional, little town. Everybody supports one another. I'm so excited about it."
Knutilla worked for 30 years at Holy Rosary Church in Detroit Lakes as a faith formation director and her husband's dream was always to move to the lake.
"We just love it there on Rose," she said. "There is something wonderful about waking up and seeing the water in the morning. We have such a beautiful area and I like the change of seasons, because I have more clothes then."
More irony, Bonnie Anderson started her business that became the Attic Shoppe in a little cabin on Rose Lake.
How JoAnne took over the retail space was an happenstance that involved both women.
"It was just a fluke," Knutilla said. "We had built a guest house at our lake place when we retired. I was looking for a few pieces because I wanted it kind of rustic and I bought some from Bonnie."
Later, Anderson called and mentioned she was going out of business and that started the formation of A Step Up.
"She cleared it out quite a bit and I bought a few pieces from her that we could use," Knutilla said.
Anderson will still be involved with the store a bit offering some of her handmade embroidery products and she was also the first person to shop at A Step Up.
"In fact, she was our first customer and she had brought her granddaughter and she bought a few things and said, 'I'm a thrift shopper and you have the nicest stuff for the most reasonable prices I've ever seen,' and I said, that's exactly the kind of feedback we want to hear. That's our goal: that we can provide quality clothing for reasonable prices," said Knuttila.
During the Wine Walk, Knutilla got plenty of feedback from local customers intrigued by the changing of hands of a store that had been there so long.
"People were saying, 'It's so open and so big,' everybody was, 'this is so great!'" said Knutilla.
Aside from the original wood that make up the beams from the building's creamery days and the wood along the walls, Attic Shoppe visitors will be stunned by the interior transformation Knutilla and her family have done to the store.
The city and Knutilla combined to replace the old carpet with new flooring. The city purchased the materials and Knutilla and her family took care of the installation. The city is the owner of the building.
The wide open floor plan is in stark contrast to the stuffed aisles of the former business.
"I knew it would look so much better opened up," said Knutilla.
The look also showcases some former highlights from the history of the building, like the small stage where bands used to play and the checkout counter remains the same, that was the former bar. Underneath the flooring, the former dance floor sits. Customers have visited bringing back their own memories of the interior, which used to include booths along the perimeter.
Mayor Julie Bruhn even shared that she had her wedding dance in the same space.
"I'd love to see some of those pictures," said Knutilla.
An early plan for the near future is to provide a place for area girls to shop formal wear for prom in early 2023. Like the lack of children's clothing, Knutilla also saw a need for affordable formal wear and she and her three daughters have a lot of experience in that.
JoAnne and her husband were longtime Jaycees in Detroit Lakes and were pageant chairmen at the Miss Northwest pageant.
Their oldest daughter was Miss Heart 'o the Lakes and went on to compete at Miss Minnesota, something that led Kari and her younger sister Kathryn to follow.
Kari's pink dress for her opening number cost $10 from a thrift store that JoAnne altered. Kari wore her prom dress for her evening gown and swept talent, evening gown and interview competitions winning Miss Twin Cities on her way to being named Miss Minnesota in 2001.
Youngest daughter Kathryn Karg was Miss Vergas, Miss Minnesota (2010) and also competed for the Miss America crown. Kathryn ran for Miss Nashville and won and was top 10 at Miss Tennessee.
She and her husband Andy are musicians and Kathryn will be playing live during the grand opening Thanksgiving weekend. Customers can sample and purchase her music at the boutique.
JoAnne has her sewing machine tuned up and ready as she will be offering pageant-winning seamstress services and alterations as part of the business.
"It's been exciting so far and we're very grateful for the opportunity to be part of this community," Knutilla said.
Hours at A Step Up Thrift Boutique are 10 a.m. to 5 p.m., Tuesday through Sunday, with being open Sundays conditional through the holidays. JoAnne can be reached at (218) 849-2509.