Angela Tate refuses to bow down to cancer
News | Published on November 8, 2022 at 3:44pm EST | Author: chadkoenen
0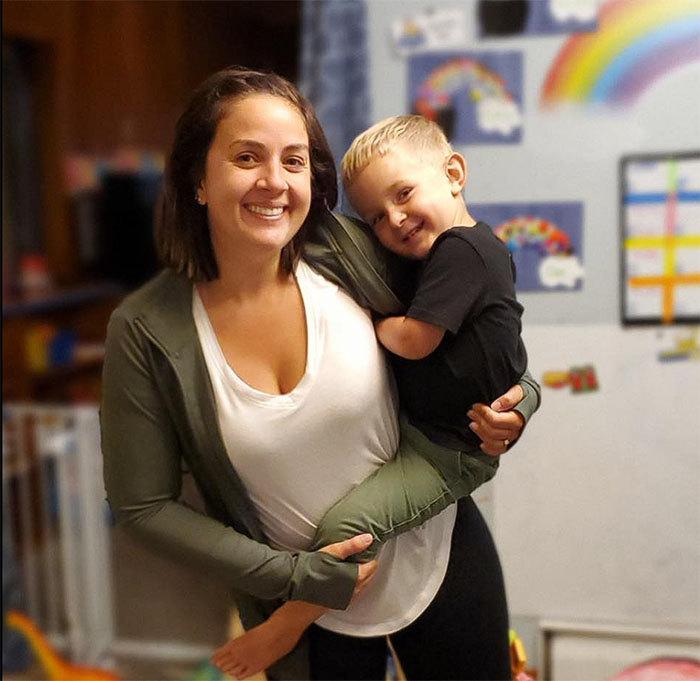 By Robert Willams
Editor
Angela Tate is a self-acclaimed control freak and that personality trait has been helpful and tested after a cancer diagnosis flipped her world around in March.
That world had seen its share of ups and downs in the last year after losing her dad on December 18, followed by the birth of her second child, daughter Della on December 24. She purchased a business in January and was diagnosed with colon cancer in March.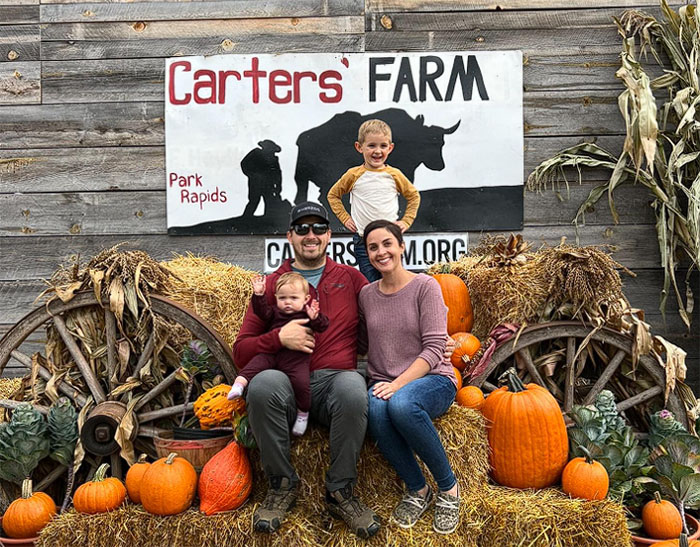 Angela was turning 33 on March 3, a date she planned to celebrate as her double golden birthday.
"I never make a big deal out of my birthday, but I'm going to do something big. Della was born in December, my little Christmas Eve baby. This is going to be my year, it's going to be my double golden!"

Angela Tate
Irony and agony struck instead.
On her birthday weekend, the Tate family was attending a wake and funeral of a coworker's wife who died from cancer at the age of 33. The wake was on Angela's birthday and funeral the next day.
"That's when I got the pain, at her funeral. I didn't have many symptoms or anything like that. We were at a friend's house in Brainerd. It kind of lasted the weekend and went away on Monday."

Angela Tate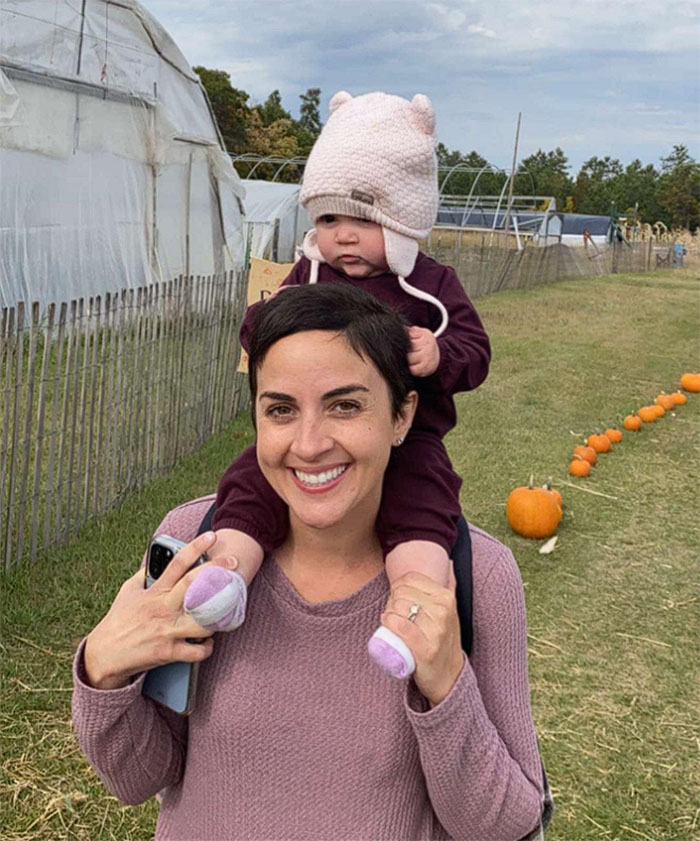 Another friend suggested she get it checked out, as it is common for women in their 30's, after the birth of a child, to have gallbladder complications.
"I went in and it sounded like that," Tate said.
However, it was something much worse. During an ultrasound 18 lesions were found on her liver.
She did not have any family history matching her diagnosis.
"I had genetic testing completed on myself to see if I had any kind of mutations or things like that and I don't. I'm just lucky," she laughed.
She also had the testing to assure herself that her children, son Dax, 4, and Della, two-months-old at the time, would be okay.
"There isn't anything that I am genetically passing down to my children, which was my No. 1 anxiety-causing aspect of it."
A CT scan was scheduled for a couple weeks later, but Angela was persistent in getting it done sooner.
"I just started calling around; I wasn't going to wait," she said.
She got into Perham Health two days later and had another wait until the following Monday for results, but a friend was working at Sanford as a fill-in nurse for the doctor that ordered the CT scan and she got Angela on his schedule that day.
"It was 4 o'clock on a Thursday and she came in and she just started bawling and we just knew it wasn't good," Angela said.
The doctor reported that it was likely colon cancer that had spread to her liver.
"You kind of just freeze and then I was thinking how in the world, I am healthy; I don't have these symptoms; I feel really good; how does someone with cancer feel this good?" she said.
The timing was peculiar as Angela had just gotten medically cleared to work out again after the C-section birth of Della.
"I was getting back to normal and back to work and I had a lot of things going and this happened and you're just thinking about your family. How does my husband do this without me?" she said.
The Tates had purchased a business January 1, the Family Resource Center in Detroit Lakes.
Angela does private mediations and works with child protection with the county and courts doing family group decision-making and drug testing for county-contracted businesses.
Angela was a social worker with Becker County for nearly a decade and had worked with the Family Resource Center during that time. She went from a job helping families to needing to concentrate on herself and her own family.
"I loved what it did for families, so we were really excited and had a lot of goals," she said.
The former owner, Jeanne Mercer, stepped in to continue working, along with friend Kathy Hausauer, to keep the business going while Angela came to terms with a Stage IV diagnosis.
At Stage IV, a patient's mortality rate can be significantly higher.
Next up was a colonoscopy and a meeting with doctors at the Roger Maris Cancer Center in Fargo.
"I just remember her saying, 'maybe two years, maybe 5, maybe 10, maybe cure,' but the two years, that's what rings," Angela said. "My son is going to be six. My daughter is going to be 2."
There was something positive to take out of that mixed, but open-ended projection.
"At least I have two years, but not at 33-years-old," she said.
A biopsy of the liver was next to determine it was cancer.
"You're just praying that these are just lesions from something else but they were the same cancer as the colon," she said.
A week later, Angela and her husband Dustin raced to a same-day chemo appointment in Rochester at 4 p.m. That appointment phone call came with some trepidation.
"Wait, are you calling me because things are worse?" she said. "That's exactly where your brain goes, but the nurse said, 'no, we have a lot of notes that you've called many times.'"
Persistence pays off.
"I remember going in like this is it," she said. "We're going to do it. I just had a feeling in me and I still have it; we're going to beat this."
The couple tackled recovery together and Angela utilized her best stubborn traits.
"There's a percentage out there of people that advocate—that push – have a higher rate of survival than those that just go with what the doctors are saying," she said.
Angela's will to survive was also boosted by her two young children.
"I've always wanted to be a mom and I've always thought of I'm that grandma that is going to call my kids when they have kids and I want to take your kids tonight and I wasn't going to let this stop me from doing that," she said.
Four rounds of chemo in, the Tates got an updated CT scan at Mayo and doctors were surprised saying, 'we haven't seen a response like this, this quick.'
At first, Angela was not a candidate for surgery because of how many lesions she had, but the scan revealed she only had half of the 18 original spots.
She had two more rounds of chemo, then a break before having a Hepatic Artery Infusion Pump surgically implanted, a new procedure; only five others at Mayo are currently undergoing this form of treatment.
The pump can only work with the liver, so a second surgery was necessary to see if there was cancer elsewhere in her body.
No other cancers were found and Angela went through an 8-hour surgery on July 26.
"It was easy for me; I'm going to sleep," she said. "I just felt bad for my husband; he's the one that has to wait."
The surgery removed a foot of sigmoid colon and cut six pieces of her liver out and did ablation on other spots. They left one spot that was close to an artery and the doctor did not want to cause any unnecessary issues.
"So after surgery, I went from having this mass in my colon and multiple lesions on the liver to just one spot on the liver," she said.
Despite that incredible turnaround, Angela was then faced with a stint with COVID and C. diff, an inflammation of the colon where good gut flora is replaced with bad flora.
"I had to heal from that; things were getting pushed off more and my anxiety was getting worse. Luckily, both were very mild," she said.
Doctor's goals are 12 rounds of systemic chemo and six rounds with the pump, which is filled with chemo and runs continuously two weeks straight. The pump cannot dry out, so it requires a trip to Mayo every fortnight to be filled with either chemo or saline solution.
Having made progress was not all roses. Angela lost 45 pounds from March to her surgery, but has since rebounded.
"I just think that mindset is a huge thing," she said. "I try to focus on what cancer has given me. My relationship with my husband, we've gotten closer. My relationship with Jesus and God. We go to church. We went to church on holidays and things, but now it's more regular. We pray and now my son talks about God and that's really great. My relationship with people; I reach out more and life gets busy and more people are reaching out to me and you reconnect with friends and connect with strangers."
Some of those new people are also survivors.
"The support groups on Facebook have been so helpful to look at other people who have been diagnosed with the same thing as me that are 16 years cancer-free," she said.
Angela credits all of those relationships, her faith and positive outlook as the major contributors to her recovery.
"I still have days and moments, but I have to remember I'm here now; I feel good now and I'm alive now. Keep moving forward and I'm kicking its ass," she said.
Currently, Angela is considered NED (no evidence of disease) and is on a lower dose of chemo to give her liver time to heal. A factual cure is considered after five years of NED.
"It's been a journey and it's been a rollercoaster since March," she said. "I'm feeling good. My doctors are optimistic and that helps me keep my optimism. My family is optimistic and I have an amazing support group from my husband and immediate family to his parents. Grandmas and Auntie, my work family has helped tremendously and I think that all helps lessen my stress so that I can focus on just being positive."
A benefit is being held at the Frazee Event Center Saturday, Nov. 12, at 3 p.m. All proceeds go directly to the Tate family to alleviate some of the financial hardship caused by ongoing treatment, lodging, travel to Mayo Clinic and lost wages.
Donations can be made online https://lendahandup.org/give/angela628/
Cash/Check donations must be made payable directly to "Angela Tate" and can be dropped off at Midwest Bank, 613 US-10, Detroit Lakes, MN 56501. 
For more information please contact the fundraiser leads: Jason (jason.hausauer@cnhind.com) or Kathy (kathy.familyrc@arvig.net).