Jordin Roberts resigns as Frazee City Administrator
News | Published on November 8, 2022 at 3:51pm EST | Author: Chad Koenen
0
Ready to take a step back and start a family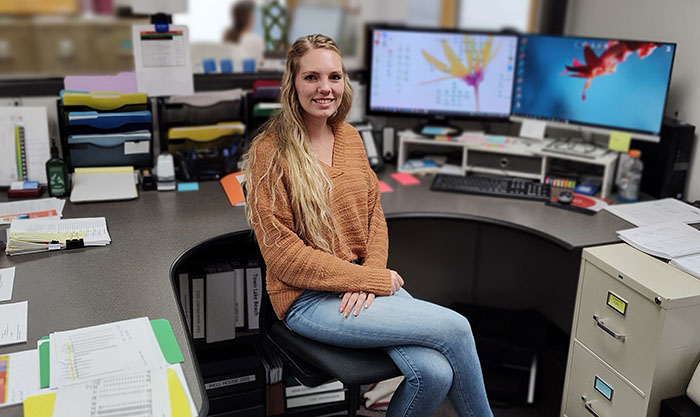 By Robert Willams
Editor
Job applicants are well aware of the frequently used statement from hiring managers that their resume will remain on file and they will call when something comes available. That hardly ever actually happens, but it did for Frazee city administrator Jordin Roberts and the job will allow her to move on with the life she has had on hold for a number of years.
Roberts publicly announced her resignation, effective, Thanksgiving Day, at Wednesday night's Committee Meeting of the Whole at the Frazee Event Center.
"I actually received a phone call a while back from The Theodore Roosevelt Medora Foundation; they had a job opening and had kept my resume on file from a previous job I had applied for, and they said they had a job that was a good fit for me, do you want to come talk to us about it? I didn't hear anything for a while, so I figured they had chosen someone else, no big deal, whatever. Then I got a phone call a week ago Monday and they offered me the position."

Jordin Roberts
Roberts will be the foundation's Membership Sales Officer in the Development department.
"Basically I work with people who are sponsors of Medora and make sure that their visit goes smoothly, make sure that all the kinks are worked out on both ends of things and that they are happy with everything that goes on and the staff doesn't have any issues with the bookings of hotel rooms and golf and all that type of stuff," she said.
The job is definitely a big change.
"Not exactly the field that I'm in," said Roberts. "It is a switch, but I will still have some involvement with the park and helping to develop it, bringing my ideas to the table at the group meetings."
Bismarck has been a part-time home for Roberts and her fiance Chris Leier.
"I drive to Bismarck every weekend; I spend a lot of money on gas. It's a full eight-hour shift every weekend," she said. "I was actually out in Bismarck when I took this job. Our thought at the time, we weren't engaged then, but we kind of eventually wanted to go back toward Minnesota because my family is from here."
Roberts grew up in New York Mills. At the time, the Frazee job was ideal.
"Perfect, this might be a great opportunity, so I took the position and was super excited, because it's awesome experience and Chris started looking for jobs to possibly try to come out this way, as well. We couldn't find anything that would give him what he is currently getting with his position. After a lot of discussion and a lot of me driving back-and-forth, it's more difficult for him to leave his job than it is for me to leave my job. It doesn't make as much sense for us to come to Minnesota as it does for us to stay in Bismarck. His family is from Bismarck, his friends are all in Bismarck, we already have a house there, so we have already started to establish our lives out there prior to me getting this job."

Jordin Roberts
The Medora job came out of the blue. Her departure, while inevitable, was not planned to happen this soon.
"I was very surprised," Roberts said. "I know the timing is really bad for the city and I feel really bad about that so far as it's budget season and elections, but I got the phone call and it was, 'this is just something that I can't turn down.'"
Roberts began working for the city in May of 2021 after completing two Bachelor's Degrees in Criminal Justice and Political Science, along with a Master's degree in Public Administration at the University of North Dakota a year prior. She worked in Bismarck at KFYR-TV as a news producer fresh out of college.
"Not what I went to school for," she said. "I felt almost underutilized in a way. It was a pandemic job. It was basically a little bit of experience, a good networking opportunity until I found something that was more in my wheelhouse in my field and then this came along."
The city admin job was also a big surprise.
"I was surprised, to say the least, when they called me," she said. "I was surprised I even got an interview."
When Roberts was informed she got the job it came as a shock.
"At first I was like, 'are you sure you called the right person?'" she laughed. "I accepted it because our goal was to come out here eventually, but things in life have changed."
Roberts felt qualified school-wise and at a bare minimum it would be good job interview experience, but getting the job and getting up to speed was a challenge.
"There is a lot that goes on," she said. "Honestly, it was a learning curve and shocking when I first started. I did not know what I was getting myself into, to be completely honest. It is bookkeeping, but it is a lot of other things as well: project management and human resources and I have learned so many things that I thought I would never have to learn in my life from sewer backups and water utilities, property line setbacks, zoning regulations, you name it. I don't have all the knowledge, but I have a little bit of pieces. There are a lot of things they don't teach you in school. A lot of things! School is a broad overview. To a degree, school prepared me in the aspect of knowing how to go and do research. I know how to give the answer of, 'let me go find out more information for you.' It's been interesting. I kind of got thrown into the fire a little bit and there were a lot of irons in it, a lot of progress going on, and I had to pick 'em up pretty quickly, but you manage to get 'er done."
Roberts was quick to cite the assistance she's gotten from town officials like Chief of Police Tyler Trieglaff and others.
"There are some really good resources in town," she said. "Hank (Ludtke) is a wealth of knowledge. Larry (Stephenson) is awesome. Ken (Miosek) knows a lot; he's a good resource. You just need to know who to go to."
She is also well aware that Frazee will be fine in her absence.
"The city was here long before I got here and it will be here long after I leave," she said. "I hope that I left it in a lot better shape than when I found it. I worked really hard to try to clean some things up, complete some projects, work on getting things done. I hope I left my mark in a good way."
Roberts also recognizes the opportunity she was given here.
"I'm eternally grateful for the city for taking a chance on me because they didn't have to," she said. "It is kind of rare for someone basically fresh from college to get this level of a position. They put a lot of trust in me and I really appreciate that. It's been a fantastic learning experience. It's definitely changed how I view things. Part of that is I worked on projects like Wannigan Park and Town Lake Beach. I've gained knowledge on how to do grant reporting and how to do a lot of project management and that's something that I'll still get to do out in Medora, which is something I enjoy doing."
The real enjoyment that is coming for Roberts in her semi-relocation is getting back much of her life that she put off to gain the experience of working in Frazee.
"I'm excited for this next chapter in my life to start planning the wedding a little bit more intensely and start having kids and all of that," she said. "I've pushed off my wedding to 2023 because I wanted to see how things are going to work out and how long I would be here. It's kind of difficult to be married when you live four hours away from each other and then my mom's pushing, 'I want grandbabies!'"
Roberts and city council members have started the process of finding her replacement with some candidates already responding and applying.
"I do hope we get a lot of candidates and I think with Pelican Rapids recently having that opening that might transfer over," she said.
The council hopes to have a candidate pool narrowed down to interview-eligible candidates by Nov. 14.
"It's going to come down to how many candidates we have," said Roberts. "We might leave it open longer. It's kind of a wait and see. The hope and the goal is we'll go through the process and be able to get someone hired. There may be a week or two of gap between my leaving and someone else starting and I will still be available. I don't want to leave the city in a lurch. I want to make sure I am available because there are a lot of projects going on."