Keeping future generations in mind
News | Published on November 15, 2022 at 5:12pm EST | Author: Chad Koenen
0
Lakeside prairie farmer maintains importance of conservationism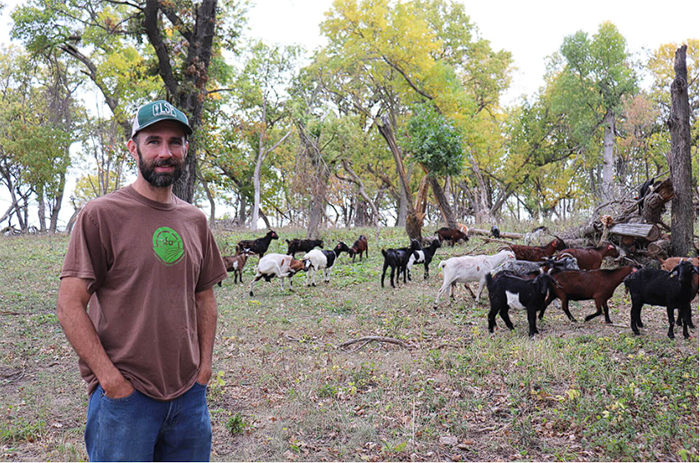 By Benjamin Velani
West Central Initiative
The first thing you may be taken by driving down Bryan Simon's Lakeside Prairie Farm lane is the plumes of brown-bodied birds that burst from the prairie as you pass.  ¶  "I think we're up to about 129 different species that we've identified," Simon said about the rebounding bird population on his property.  ¶  That's a hopeful sign at a time when news sources have been documenting a major decline in the world's bird species.  ¶  Hope for a future where agricultural practices allow human life to sustain itself in perpetuity is one of the reasons Simon began his journey to becoming a farmer.
Awareness of the state of the native ecosystems and the impacts on those ecosystems by modern agricultural practices slowly became apparent with his time working for the Nature Conservancy in Eastern South Dakota, and while getting his MS in ecology. He was determined to restore much of the land on his 217-acre farm to prairie and oak savannah.
Prairie and oak savannah are two environments native to Minnesota, and both are dependent on grazers to tame brush and invasive species.
"When we first moved here, you couldn't see the lakes through all the buckthorn," said Simon, as he looked out at the peninsula of land that he is trying to restore to oak savannah.
Simon walked along a footpath going out to the peninsula where the herd of goats were munching away or climbing atop woodpiles.
"Part of running a farm the way I do is recognizing that we're just one part of much larger system," said Simon. "I believe more so in Aldo Leopold's land ethic, that we're not removing humans from the equation. We have a role to play. We need to recognize what that role is, how we fit in, and how we can co-exist and not ruin everything."
Lakeside Prairie Farm has undergone significant change in its 10 years of being. Farm enterprises have come and gone: grass-fed beef, vegetables, eggs, chicken, pastured pork, rolled oats, heritage wheat, these were tried and given up on due to the constraints of raising, processing, and marketing a high quality product. Today Simon custom grazes a neighbor's cattle during the growing season and has a goat grazing service for invasive species control.
"When we first started, we had a lot more hope and a good deal of hubris. 'I can do this. I'm smart, I'm willing to work hard, I can figure this problem out.' But then reality sets in, and how complicated it is. No matter how hard we work, and how good our products are, it seems that forces much bigger than us are working against us," Simon points to the perverse ways that policy in the United States seems to only support large-scale agriculture.
Farmer-to-Farmer Teaching and Networking
"I feel blessed to be where we are. If it weren't for the connections we made through SFA, we wouldn't have been able to buy a piece of land this size," said Simon.
The Sustainable Farming Association (SFA) is a farmer-to-farmer network across Minnesota, organized into ten regional chapters and born out of the need for mutual aid during the farm crisis of the 1980s. Today SFA has more than 1,200 members, and a mission to advance environmental stewardship, economic resilience, and strong, diverse communities through networking, education, demonstration, and research.
"SFA was founded on the belief that a farmer is another farmer's best teacher," said SFA Executive Director Lucinda Winter. "That philosophy still guides our work today. Our team of technical consultants are knowledgeable about putting our soil health principles into practice because they are all also farmers, who have seen firsthand the ecological improvements that result from working with nature to regenerate the soil."
SFA is part of the ongoing movement to realign how our communities approach agriculture and land stewardship, shifting from an extractive paradigm to a regenerative one.
"It all begins with soil health," said Winter. "Wider adoption of soil health principles on our agricultural landscape may be our best strategy for successfully adapting to a changing climate."
Working for Future Generations
"We know collectively climate change is a huge issue," added Simon. "But knowing still isn't enough for many people."
What continues to give Simon hope are his children.
"They are starting to pick up on some of the things we do differently here on our farm and why," he said. "We need to be raising good citizens. We need to recognize and value what's good for the land, what having a good land ethic means, and to be raising kids with good land ethics. My work is for future generations."
Editor's Note: Benjamin Velani is the Lead for America Climate Fellow and serving AmeriCorps member at West Central Initiative.