Vergas CC wrapping up a banner year
News | Published on November 15, 2022 at 5:20pm EST | Author: chadkoenen
0
Festival of Trees and Small Town Christmas coming up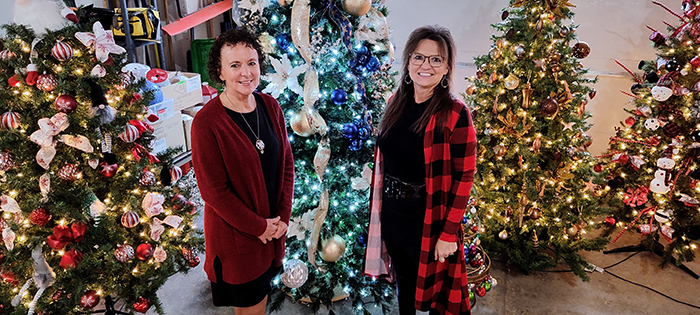 By Robert Williams
Editor
With the Festival of Trees and Small Town Christmas events planned for November, the Vergas Community Club is continuing a big year of helping local businesses and providing quality, family entertainment for residents and visitors. In 2022, the club has been busier than ever.
"It's funny, people will say we have two weekends available in the month of May; why don't you have something going on?" Club president Sherri Hanson said.
Residents of Vergas and regular visitors are simply used to having another event to attend, no matter what time of year. The success of the Vergas Community Club is not something organizers can pin down to one thing.
"I've actually struggled with that," Hanson said. "I don't know what the key is. I don't know why things are working for us, specifically, because if I did have the key we would just go in on that."
She cited the community club's mission statement as the formative nuance of the actual answer.
"The Vergas Community Club is a partnership between the businesses and citizens, all dedicated to creating the best community to visit, work and live in."

Mission statement of the Vergas Community Club
"The thing that strikes me about that is the partnership, because we do partner with all the businesses and the city itself," she said. "Everybody is invested in that. Everybody wants to see good things happen."
Hanson, a lifelong Vergas resident, is joined by a core of group members who do much of the planning and event management for a larger group of volunteers. One of those core contributors is club board member Natalie Fischer, a resident and business owner in Vergas for the past seven years.
"Right away, I was pulled in," Fischer said. "We have a key group that does the work. We've got 50-some members and when we need them they'll donate and help."
"You look for those key people," said Hanson. "This is not only someone who is going to be a business person, she's going to be invested, but she also has these skills. You want people to understand that we want to bring people to town for this reason. It's only going to benefit everybody."
Hanson is leading the way by carrying on a family tradition set forth by her father and a core group of his friends and business associates who got the ball rolling.
"I look back on my dad and Rodney Hanson, Gordie Dahlgren, Al Kading and Ronnie Goodman and those guys," said Hanson. "They were the fore-founders of the different events in town and for some reason, that baton got passed to me from my dad and Rodney. It's a curse, but it's also a blessing. You just want to keep it going."
By communicating and partnering with Vergas businesses, the club has contributed greatly to a town that is completing a banner year. Vergas looks completely different than it did this time last year. By figuring out what works for businesses, the club is able to steer its plans forward.
"We listen to our business people on what's the best way we can be spending our money to help you guys?" said Hanson. "We're doing these things to enhance our businesses and look at the businesses that have just opened the last couple years and how fortunate that is."
Another key element is gearing events toward families and keeping costs to a minimum for both locals and visitors and to do that it takes contributions.
"The key the last couple years were our sponsors, being able to provide it so that the families aren't forking over money all the time," said Hanson. "We've got the free inflatables, where it used to cost $15 an armband. Everything is free, except for the stuff like if you're going to be eating or drinking. You try to find that unique thing and I think what's been special for me, from watching Looney Days grow, was adding the family events. Once you pick up on that and figure out ways to bring your family to town and have things for them to do all day long."
Spreading the word about events is also crucial to success and the club has Facebook administrator Tammy Kinsella on board for that. In a town of just over 300 people, the club's page has 3,000 followers.
Looney Days is an example of an event that has reached its peak in terms of size and scope. It is not so much that organizers see it as too successful, there are simply limits to how large an event can be and still keep the charm that makes the village so special.
"They're looking for that small town feel," said Hanson. "But with that there's a challenge. I even said that with Looney Days the past couple years. We need to focus on our other events and do other things. Looney Days has reached the max of what we want to grow. We are a small town and then you get into another venue and you don't have that small town feel."
The charm that Vergas has is part of why the Vergas Community Club has seen so much success and there is a different aspect individually of what that charm actually is.
"People want a piece of Vergas and I don't think it's just the locals that are making us successful because we're getting people from everywhere," Fischer said. "We only have 300-some people living in Vergas and we do have seasonal residents too, but even with our Small Town Christmas, we get people from all over. People come in and they've all got different reasons why they love Vergas. They love the feel of the town. They love our little hardware store that's old fashioned. Everybody talks about something different."
Food options in and around town are critical to success, as well. Vergas certainly has a wealth of those in the area.
"How many small towns have Billy's, Skål, Loon's Nest, Spanky's and Blackboard; it's just amazing to me," said Hanson.
"Our eateries—we're so lucky; we've got the best of the best," Fischer said.
Supporting those places is essential and that comes back around.
"Our business owners work together so well and everybody wants the town to be successful," said Fischer. "As a business owner, every single business you just feel like you're family too."
That includes new businesses like A Step Up Thrift Boutique. Owner JoAnne Knutilla opened her store during the Vergas Community Club's Wine Walk and bragged about how helpful that was to getting her store up and running.
"I've been so impressed with the community club," Knutilla said. "What a great event. They said hundreds of people will come through and they were right, so we had a great opening."
Knutilla attends club meetings and the club board members encourage business owners and residents to be an integral part of future plans. One hand washes the other. Feedback from customers has also been helpful to both businesses and the club.
"Everybody wants people to be able to enjoy our small community and the community club just tries to listen to what the shop owners are saying and what they're hearing from other people," said Hanson.
Coming up in November, the Festival of Trees, a new event, is Friday and Saturday, Nov. 18-19 at the Vergas Event Center. On the Nov. 18, from 6-9 p.m., creatively-themed Christmas trees and seasonal wreaths will be up for auction. The event includes door prizes, music, a cash bar and appetizers from Spanky's Stone Hearth and holiday desserts by MW Pastries. Tickets are $25.
Vergas Holiday Bucks will again be available during the holiday season. A family can purchase up to $200 of Holiday Bucks for the discounted price of $160. There will be $10,000 in total Bucks and they will be first available during the Small Town Christmas event Saturday, Nov. 26.
"The community club believes in shopping local, we believe in shopping small and shopping in Vergas and we want people to come and do that so we're taking on that 20 percent difference and any Holiday Buck can be spent at any Vergas business," Hanson said.
Purchases of gas, tobacco or gambling are excluded from the offer.
Funds raised from the Festival of Trees will be used for future Vergas decorations. For full information on upcoming events search for the Vergas Community Club on Facebook.