Local Lions Clubs host Veterans Appreciation Dinner
News | Published on November 22, 2022 at 12:48pm EST | Author: Chad Koenen
0
Quilts of Valor presented to 13 veterans
By Robert Willams
Editor
The fifth annual Veterans Appreciation Dinner and Program was held on Wednesday, Nov. 16, in front of a packed house at the Frazee Event Center.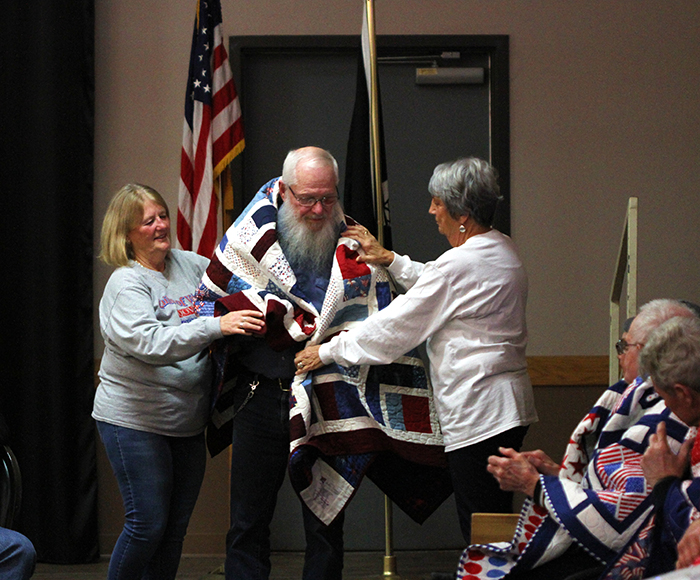 The event is sponsored by the area Lions clubs from Vergas, Frazee, Wolf Lake and the newly-established 4 Corners club. The 4 Corners Club was established in late 2020.
Musical performances were provided by the Frazee-Vergas High School band playing an Armed Forces medley, along with band director Brian Selander performing "Taps" to conclude the ceremony. Amber Estenson performed a moving rendition of The Star-Spangled Banner.
Emcee Dennis Brietzman of the Vergas Lions introduced a number of speakers throughout the night and sprinkled a hefty collection of Armed Forces jokes, making sure to spread his ribbing to each of the branches to the delight of the crowd.
Jane Matejcek, president of the board of directors of Veterans Honor Flight of North Dakota and Minnesota, discussed the program's beginnings and benefits. Her presentation contained a slide show of the various memorials visited on the flights in Washington, D.C.
A few interesting tidbits from her speech included the dedications dates of the various war memorials and the corresponding age of veterans from each.
The World War I memorial was opened to the public last summer. The United States entered the war in 1914; it ended in 1918, and the memorial was dedicated in April of 2021. The last WWI veteran passed away in 2012, but the flight visits the memorial on the D.C. trips.
"None of them will have seen it, but some of the World War II veterans we have taken, their dads fought in World War I," Matejcek said.
The WWII memorial was dedicated in 2004 when the average age of its veterans was 85.
The Korean War memorial was dedicated in 1995; the Vietnam War memorial was opened in 1982.
"Less than 10 years after the war, their memorial went up, so they were much younger than any of the other generations," she said.
Matejcek explained the beginnings of the Honor Flight program in 2005 starting with its creator Earl Morse, a physician's assistant at an Ohio VA clinic and a retired Air Force Captain. Laundromat owner Jeff Miller began fundraising to support Morse's individual efforts and chartered the first commercial flight of veterans.
The highlight of the festive evening was the presentations of the Quilts of Valor to 13 area veterans, a dozen of whom were in attendance. Those receiving quilts were introduced by Janelle Lotzer, who also related the history of the Quilts of Valor national foundation founded in 2003.
"We'd like to thank each and every veteran who has served and sacrificed in many different ways for our country's freedoms," she said.
The quilts were created and awarded by Lotzer, Linda Johnson, Deb Larsen, Crystal Johnson, Jenny Caughey, Pam Krieg, Denise Schellenberg, and Barb Gietzen.
"We award these quilts with a hug," Lotzer said. "These quilts bring you a three-part message from our hearts. We honor you for your service, raising your right hand, taking the oath and leaving all that you held dear. These quilts are meant to say thank you for that service, sacrifice and valor in serving our nation. These quilts are meant to offer comfort, warmth, peace and healing to the individual veteran who receives it and for you to know that you are forever in our thoughts and hearts. We are humbled to be awarding these quilts tonight."
The recipients were:
• Charles "Chuck" Berg, a 1969-70 Vietnam Army veteran who received two purple hearts, a bronze star, a combat infantry badge, national defense medal, expert rifle badge, a Republic of Vietnam campaign medal and an air medal for combat air assaults.
• Duane Money, a 1964-67 Vietnam Navy veteran who picked up downed pilots and refueled choppers during the conflict.
• Steven Christianson, a 1967-69 Vietnam Army veteran staff sergeant and armored cavalry of the 82nd Airborne who received two bronze stars and an Army commendation medal.
• Cornelius "Neil" Hunter, a 1967-69 Vietnam Army veteran, an infantry squad leader with the 1st cavalry.
• Daran Borth, a 1990-94 Persian Gulf War Marine veteran, an infantry machine gunner and a platoon scout sniper.
• DuWayne R. Sonnenberg, a 1996-97 Vietnam veteran, purple heart and bronze star with "V" device recipient from the Army's 101st Airborne Division. V device distinguishes an award for heroism or valor in combat. Sonnenberg was not in attendance at the time of the quilt ceremony. His quilt was delivered to him at home on Saturday.
• Anthony "Tony" Christensen, a veteran of multiple wars from 1989-2022 in the Persian Gulf War, Operation Enduring Freedom, Operation Iraqi Freedom. He was a member of the Marines who served in the Military Police and an Army National Guard combat engineer. He was also deployed to Somalia and received an achievement and commendation medal.
• Jerry Mott, a 1965-67 Vietnam Army veteran, a member of the G1's who set up forward bases in Vietnam operations.
• Mark Lommen, a 1971-72 Vietnam Army veteran, a commendation medal recipient.
• Michael Hofer, a 1954-58 Korean War Air Force veteran, who was a diesel engine mechanic.
• Randall Burnside, a 1974-78 Navy Seabees veteran of the Navy Mobile Construction battalion in British Indian Ocean territory. He also served in Guam and Okinawa and was an Army National Guard Gulf War veteran from 1989-98.
• Kit Nelson, a 1969-71 Vietnam Army veteran deployed to England and Germany in Special Forces as a cryptology expert, receiving a good conduct medal.
• Arden Rohman, a 1969-73 Vietnam Marines veteran, deployed to seven different countries performing duties of navigation and communications for A6 and F4 planes.
Lyle Krieg presented an update on the Vergas Veterans Memorial that has been growing consistently over the past year. Krieg noted the six original committee members are looking for volunteers to join the group.
"You can be a veteran or not; it doesn't matter," he said. "We just want to keep this going and we've gotten a lot of great comments about how it's looking and there is more to come. If you've been there, thank you for visiting it. If you haven't, please stop by. I think you'll be delighted with how it looks. We're very proud of what we've done and we're just going to keep moving forward. We're veterans and we're not stopping."
Wolf Lake Lions president Doug Schwarzrock closed the program with a heartfelt thank you to all veterans.
"We are eternally grateful to you for standing up for our freedom that we all enjoy and take for granted, I'm afraid way too much sometimes. We really, really appreciate you."
Schwarzrock also thanked the band, kitchen staff for preparing the meal, the Frazee-Vergas FFA chapter and Miss Frazee Marcella George and Miss Frazee Teen Katie Courenya who served the meal.
The colors were presented and retired by the Frazee VFW and AmVets.
Next year's Veterans Appreciation Dinner is planned for Wednesday, Nov. 15, 2023.