Tensions rise at school board meeting
News | Published on November 22, 2022 at 1:46pm EST | Author: chadkoenen
0
Complaints about bullying and lack of CTE classes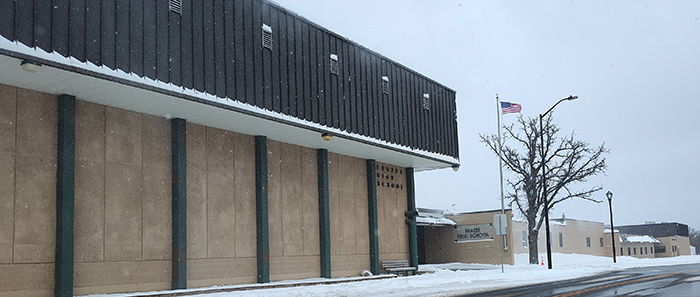 By Robert Willams
Editor
A group of 25 parents and students attended the Frazee-Vergas School Board meeting on Monday, Nov. 14, and tensions rose over a short gathering of 25 minutes with the topics of bullying and harassment, along with a lack of Career and Technical Education (CTE) classes, taking center stage.
School board protocol allots three minutes for citizen speakers to address the board. Speakers must complete a request form prior to the meeting to speak.
Megan Rousu spoke about bullying and harassment.
"My daughter missed school for the day and wasn't able to be in classes at certain times for feeling intimidated and had to be escorted by staff to feel safe," she said.
Rousu was seeking clarification on policy, follow-up action, along with the basics on reporting bullying and protections for those who report harassment in school.
"To me, when the incident occurred with my child, I had to ask for the form and then it was brought to my attention and I feel like that should be something that is encouraged and brought up right away if a child or staff/student feels like there are issues with that," Rousu said.
The district does have a Safe Schools Tip Line available on the school website. The Tip Line allows students and parents to anonymously and confidentially report any bullying incidents, weapons, threats of violence, bullying, gangs, sexual harassment, threat of suicide, drugs and any other activity that could potentially endanger students, staff and property.
Rousu asked for clarification on who to report to in each particular school building. If written or verbal communications are used and what happens in next steps. If there is a way to protect children who report bullying and harassment and if there is a plan so kids are not afraid to speak up. If the district has looked at how many children have been pulled from the school district for anything to do with bullying and harassment and if there is a plan to deter that.
"That's kind of the point where I'm at and my daughter has gone here since preschool and I'm thinking about pulling her and transferring her to Perham," said Rousu.
Rousu also wanted the district to look into improving surveillance at the school to aid in searches for potential evidence in harassment cases.
"I know from what I've seen that the camera footage is poor quality and very hard to see if there are incidents if we need to look back for evidence to see what is going on," she said.
Vice Chairperson Kimberly Antonsen thanked Rousu for her input and invited the next speaker. Chair Thaddeus Helmers was absent from the meeting, along with board member Mike Frank.
Recently elected Becker County Commissioner Erica Jepson spoke on behalf of the Frazee-Vergas FFA alumni about the lack of (CTE) offerings.
"I'm here as a parent, a taxpayer and a 1998 FHS graduate," she said. "I think we can all agree one of the most important goals in high school is to prepare students for their future whether it's attending a four-year college, trade school or going straight into the workforce. Right now, we believe Frazee High School is failing our students, especially those not interested in going to a four-year college. There are fewer and fewer classes being offered, especially in the career and technical education area. My daughter is a senior this year and by the time she graduates she will have taken basic welding three times and basic woods twice."
Jepson noted a lack of advanced classes limits students, forcing them to take classes over and over because it's the only option they have. She also stated CTE equipment is outdated, except for four new welders that were purchased this fall.
"Most of the equipment in the shop is from the 50's and 60's," she said. "The equipment space does not meet the needs of the students and some could even consider it unsafe," she said.
Jepson continued with complaints on the size of CTE classes, a lack of CTE teacher input on which classes are offered, along with the breadth of CTE curriculum, stating how much interest there is for those classes from Frazee-Vergas students.
"CTE is much more than just agriculture; it's manufacturing, engineering, robotics, agronomy, production and much more," she said. "There is a great interest in CTE classes in Frazee, evidenced by the number of students who sign up for them."
Jepson presented a signed petition from students asking the board to support more CTE classes.
"Over the course of the last several years, we've had two-and-a-half CTE teachers leave Frazee or retire," Jepson said. "Those positions have been replaced with a half-time teacher, so currently we have one-and-a-half CTE teachers. I don't know if you knew this, but 35 percent of CTE teacher's wages are reimbursed to the school, so we don't understand why we haven't replaced the CTE teachers that have left. There's a demand for an additional CTE teacher and we believe the CTE program needs more promotion and support from the Frazee administration."
Jepson asked the board to strongly consider adding a CTE teacher for the next school year, to work with the current teachers to bring unique opportunities for students and to listen to them about the size of their classes and the equipment needed.
"Frazee-Vergas needs to do better for students that are interested in trade schools and provide them with more opportunities to prepare them for the workforce," she said. "I have heard several times over the last several months that families are leaving, or potentially leaving, because of the lack of opportunity for students in Frazee. We need to support this program, not only for the students, but for our school."
Antonsen thanked Jepson for her input and the board continued with staff and district reports. Upon the completion of the agenda, Antonsen was set to adjourn the meeting, but was interrupted by Roger Schaefer who angrily stood up from his chair.
"Wait a second, is this a bunch of puppets here," Schaefer said. "Don't you discuss anything that they brought up? I've been on national boards and at least we discussed stuff when it comes to the board. Do you just stamp everything and discuss nothing?"
Schaefer continued, calling some of the board members out by name, for not providing feedback to either of the speakers during citizen request time.
Antonsen acknowledged board members will review the submitted documents and discuss both issues at a later time.
"It's not the place to be doing that right now at this meeting," she said.
"It's a place to answer some questions," said Schaefer.
Schaefer was not one of those who completed the paperwork to be on the agenda to speak, but he got the ball rolling anyway and was interrupted by other members of the group of 25 people, both students and adults, who randomly addressed the board with complaints of not getting any responses after being told to bring those issues the board.
Antonsen addressed those wanting answers on bullying at the school with the fact that privacy restrictions, especially of children involved, limit what the board can say in a public forum.
Multiple speakers joined in rebuttal making claims that they may move their kids out of the district, nobody on the board cares about the issues and that there should be some discussion so parents know board members are listening.
"There is a policy that is in place and you both knew that coming into this meeting," said Antonsen.
Voices got louder in protest from both students and parents, including questions like, "When will we ever get answers about anything? This has been going on for months!" and "When will your policies start protecting our children?"
Board member Tammy Nunn did her best to assuage the group.
"I understand your frustration and you have to understand our frustration, as well," she said. "There are policies we have to follow. We have to go through protocols just like everybody else does. Our job here is to listen to what you say. We will take that back and we will discuss it with Terry (Superintendent Karger)."
Nunn also addressed the concerns raised by Schaefer. He was less than enthused about her reply. As a former ag teacher, he was insistent that action needs to be taken soon.
"The problem is you keep postponing another month and another month," he said. "If you postpone it too long you don't find a teacher. Ag teacher is a tough, tough job to fill."
Schaefer and Nunn continued their conversation another minute before Antonsen noted the protocol of proper notification to the board for speakers, notably to Schaefer who did much of the speaking without being on the agenda.
"I've let you speak and I could have ended it right away," said Antonsen. "I could end the meeting right now and we just walk out the door, but I don't want to do that."
"You've got to get real and you've got to communicate with the people," Schaefer said. "All these people showed up today and one or two people got to speak."
The meeting was quickly adjourned, but individual conversations continued with both district and board members being spoken to individually after the meeting, along with a reporter from KVLY's tip line waiting in the hallway to interview Rousu.
Lost in the shuffle were the reports to the board, which included the resignation of high school principal Anna Potvin at the end of the school year.
Personnel
The board approved the resignations of six positions: Amber Oelfke, a Transportation Paraprofessional, Nicole Strand, a Health Aide, the Knowledge Bowl Advisor and Prom Advisor, Jennifer Yost an ECFE Paraprofessional and High School Principal Anna Potvin.
Potvin will complete the 2022-23 school year. Her effective resignation date is June 30, 2023.
Six hires were also approved.
Julie Wake has taken an After School Tutor position. Tabitha Branden has backfilled the Health Aide opening. Amy Kilde was hired as the Frazee Students Against Drunk Motoring and More! (FSADMM) Adviser. Taylor Greenwood was hired as the Junior High Boys
Basketball Coach. Caitlin Breitenfeldt will be the Junior High Dance Coach. Jennifer Nannenga will be hired as the Vocal Musical Director.
Hornet Pride
Donations were accepted from Thaddeus and Kristen Helmers for $171.87 for high school physical education equipment. Bell Bank donated $50 for custom bank cards for Frazee-Vergas Schools.
Admin report
Superintendent Terry Karger updated the construction projects, including work starting on the bleachers at the new football and track complex, along with earthwork on the new junior varsity baseball field. Work is being wrapped up for the season.
Issues raised by parents will be discussed at an upcoming school board work session that has yet to be scheduled.