Injecting fun has band program flourishing
News | Published on November 29, 2022 at 2:37pm EST | Author: Chad Koenen
0
Selander named high school's Teacher of the Year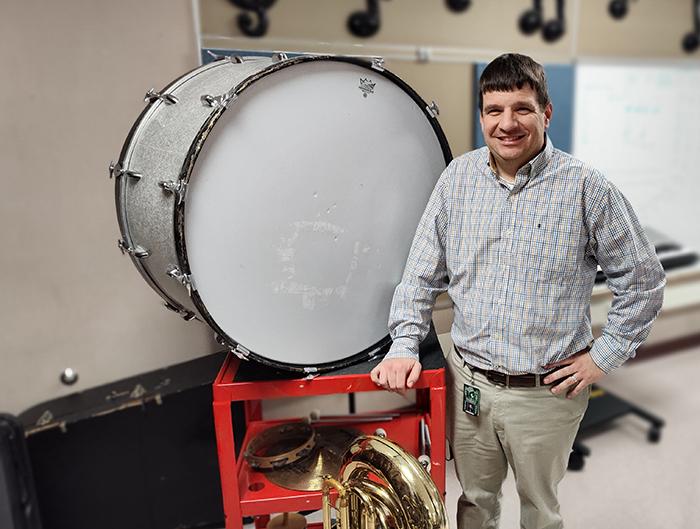 By Robert Willams
Editor
Music Director Brian Selander is one of the rare teachers who gets to instruct a student's near full life-cycle of education beginning in fifth grade with music training from the first to last note. After 13 years in the position and creating a program that has consistently attracted more and more students, Selander was named the high school's Teacher of the Year.
"I've really enjoyed that. You really don't get to have that much connection with a student if you don't have them for as long as we get them. It's one of the main reasons why the program has gotten to where it is—that consistency. The seniors that are graduating this year were kindergartners when I started teaching here. That's kind of the cool thing to see one whole entire class graduate from beginning to end."

Brian Selander, Music Director at Frazee-Vergas school
Receiving the nomination and award for this school year is a nice acknowledgment of the time Selander puts into the program.
"Pretty humbling, I guess; that's the main thing that comes to mind," said Selander. "I do believe it's voted on by the other teachers. I'm not much for accolades. I come here and do my job. I just want to do the best that I can and that's what I feel I have been doing. It's nice to know that what I do is seen by other people."
The teaching aspect of music is what drives Selander to get great performances out of kids and that interaction is the highlight of his work.
"I look at why I like the job and to me it all comes down to the students," he said. "Getting to work with them every day has been an absolute joy for me. It gets me up in the morning and gets me excited to come to work.
The Selander family was a huge musical influence on Brian. His great uncles were in country & western bands. His father is a drummer in a country & western band. Both parents were in the church choir.
"It's been a lifelong thing of mine," he said. "I know my grandma told me in high school, 'I don't know what it's going to be but you're going to have a job in music.' Sure enough. I went to college not knowing that's what I wanted to do. I took a year to dive into some classes and talk to some people."
Selander studied and performed on trumpet at North Dakota State University and its marching band is where music began to take hold.
"Just talking with some of the trumpet section and some of those folks were in the music ed program," he said.
Those folks could see what Brian had yet to realize.
"They could see me right away with the passion I have for music," he said. "They were the ones who really encouraged me."
Selander worked on channeling his passion into presenting curriculum while at NDSU and has seen his teaching format morph into creating that same level of enjoyment for his students.
"It combines the two things," he said. "I like music but I didn't know if that was going to translate into being a teacher. How am I going to be able to teach it and motivate kids to want to play their instrument better? Some of those things were developed in college. The biggest thing for me is I want kids to leave here having a good experience in music and knowing it can be a lifelong experience. It doesn't have to be your instrument. Just having an appreciation for music because it's everywhere."
Selander uses teaching tactics beyond reading music and repetitive lessons and instruction. He also uses kid-friendly video situations to explore the effect music can have.
"I show a scene from "Pirates of the Caribbean" played with different styles of music and how, if you wouldn't know if that was the music, this is kind of a comedic scene because the music in the background is comedic, or this one is depressing, and when you actually listen to the real one it's really heroic."
Selander's own heroism to his students who went on to continue in music is something he relishes hearing about, especially after receiving congratulatory messages on social media from former students when the award went public.
"That was so cool; we chatted back-and-forth," he said. "She was a ninth grader when I started, so I'm sure her love of music was already there, but to know that I kept it going or elevated it even more – it was really cool to hear that. It's definitely a rewarding thing when those types of things happen."
The music program has doubled in participation since Selander took over 13 years ago in grades 5-12. Selander credits the building of trust with parents and being able to sprinkle music into family trees with an eldest family sibling loving music, thereby, passing it down to his or her younger siblings to keep consistent participation in the program.
"It's got to be a rewarding experience for them," he said. "It's a lot of extra work. You've got pep band, marching band, there are a lot of other things that you are going to have to do now that other kids don't. It's the friend-to-friend support and the parents supporting and it can be hard in the winter time. I definitely think the fun aspect has to be there. If it's not there then they don't need to do it anymore."
Selander also credits the time he has put into the district and the program as creating a healthy outlook on band and it gives kids another level of certainty. He has also found a personal level of comfort within himself and is passing that down to his students
"I think the longevity of me being here has helped," he said. "Kids feel like they can trust me from year-to-year and I feel like I've gotten a little bit more like myself. I told them that, after I won the award, I feel like I can get in front of you and be myself. Trust building and wanting to continue doing it is that fun aspect. I get 'em for eight years. In these smaller programs, it can really help flourish if kids buy in from fifth grade and you have fun with them. It's really a big process. The most fun thing for me is when I can look at a piece of music for flute and here's for clarinet and saxophone, trumpet all the way through percussion. Now if we all play exactly what our paper says at the same time it's going to turn into something. When you get fifth graders doing that it's eye-opening for them. Seeing that process from the beginning to throwing a real complicated piece in front of my symphonic band, we dig into the fine details and make it even more special – it's a neat thing."
Editor's note: JerriAnne Burton was named the elementary school's Teacher of the Year. Her feature story will appear in the next issue of the Forum.