Andrea Froeber prepped to bring positive change
News | Published on December 9, 2022 at 11:19am EST | Author: Chad Koenen
0
New city council member encourages community action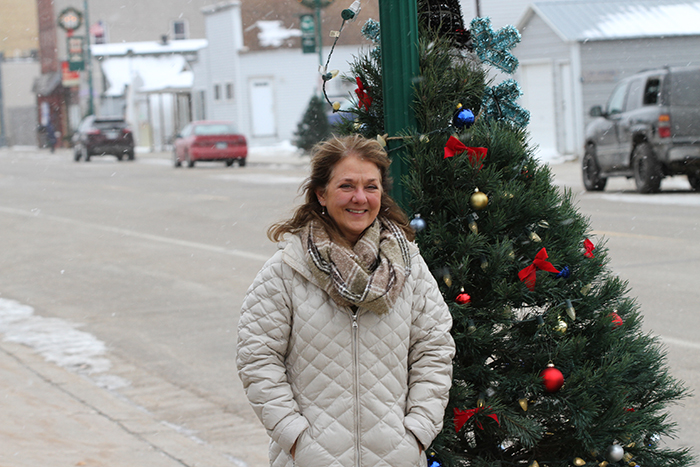 By Robert Willams
Editor
Andrea Froeber is bringing a positive, can-do attitude to the city council after earning a seat in the general election last month.
Froeber worked in the Frazee city office for seven months and brings prior city and public works experience to the council beginning in January.
"I'm old enough to be retired but I just feel too young to be retired and my husband likes being retired and he didn't want me gone all the time," she said.
The part-time job at city hall continued to grow and take up more time so Froeber sought out a different way to contribute to Frazee by running for city council.
"I left, but I missed interacting with the people and we're new here," she said. "We moved up here from Savage and it was COVID so I didn't know anybody."
Andrea's husband Jim is originally from Crookston and she is a native of Bloomington. The couple met at Moorhead State University and moved back to the Twin Cities after college.
Their youngest daughter, son-in-law and grandson live in Fargo, along with one of Jim's brothers and his wife. Andrea's brother and his wife also live in the area.
Along with her experience, Froeber got involved to meet people in Frazee.
"I was looking to build friendships," she said. "I always felt like I had a small town inner-being. Savage was a really small town when we moved there and they were offering a bond program and wanted to grow. Now it's over 30,000 people that live there. When we left it was starting to get big."
After deciding to run for council, Froeber began by meeting people and building friendships by the time-proven method of a door-to-door campaign to get her name out there.
"I loved getting out and knocking on doors," she said. "I got out because no one knows me. I think Frazee is a great place to live. I'm excited to work with the community and bring beneficial changes to Frazee."
Being involved in the future of Frazee was imperative. She was not willing to sit back and let it all happen when there was a possibility to provide productive input.
"I don't have an agenda," she said. "If I'm going to live here I don't want to be an armchair quarterback. I wanted to have a stake in how Frazee grows. Working in two large cities and having been in the office I think I can contribute something positive."
When talking to Frazee residents, she utilized two questions from the Forum's election special section where candidates were asked their opinions on what to do with the liquor store and also how important the Wannigan Park project is to Frazee's future. She posed those same questions while campaigning.
"Most of the people were, 'it doesn't matter to me" and Wannigan Park, the majority of them were like, 'I don't even know what you're talking about; where is it?" she said.
Froeber decided to learn more about Wannigan Park by taking an official tour in October. That experience made her turn up the volume on how she spoke about the project.
"After I took the tour, I would say, 'we need to get behind this as a town, as a community;' I want this to be our legacy," she said. "Not mine, our legacy, because it's beautiful. I've gone to EDA meetings and I like what Don Lorsung said about how tourism is huge in Minnesota. Seven million dollars just for the state of Minnesota. With us being between Perham, Detroit Lakes and lake country, we should be on the map. All it would take is that one thing to bring people into town."
Froeber is a proponent of the park and the vision of how the school and community can connect with and to it, but is really willing to listen to all sides.
"I'm a very honest person; I don't have an agenda," she said. "I'm not hiding anything. I want what is best for Frazee," she said.
Regarding the liquor store and business prospects in town, Froeber believes those goals and any changes are a community responsibility.
"Bringing new business to the community is not just the city council's job and city hall's job," she said. "We all have the opportunity to promote Frazee and that's the message I want people that live here to know."
She also wants to see more women involved.
Froeber reached out to the other new council member, a former council member and well-known high school teacher and coach Jim Rader, who brings a track record of positive changes from his time in service to Frazee. They echoed Froeber's comments on how it is going to take teamwork to succeed.
"Jim and I have talked. This is our community and we want it to be a good community," she said. "It takes more than just four people and a mayor to make it a good community."
Froeber is undeniably dedicated to positivity and promoting Frazee. She was not disheartened from walking all around town speaking to residents during her campaign. While there may have been the occasional apathetic response there was the next house and people there who believe in Frazee like she does.
"I met some people that were very receptive," she said. "It's going to be a positive experience."