Teaching first grade in Frazee was always the plan
News | Published on December 9, 2022 at 11:31am EST | Author: Chad Koenen
0
Burton named Elementary's Teacher of the Year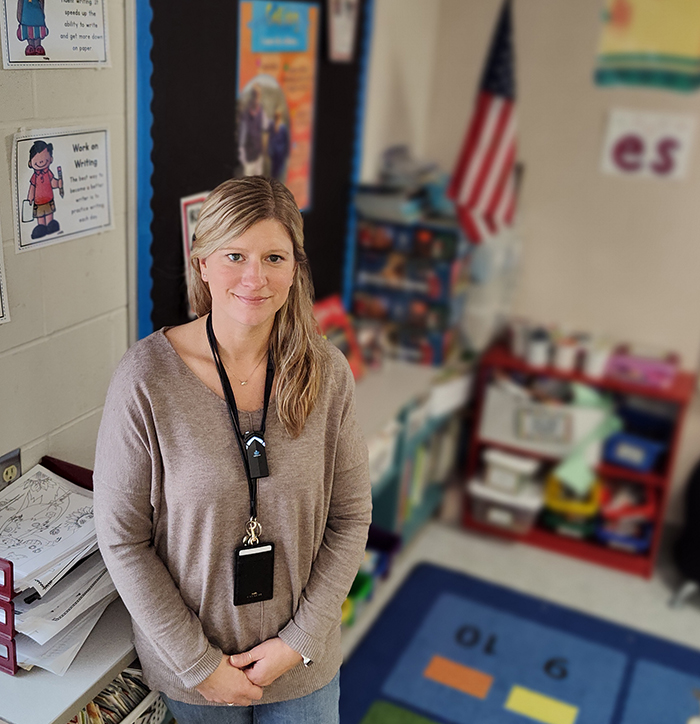 By Robert Willams
Editor
Frazee native JerriAnne Burton has made her first grade classroom a second home for kids and her efforts were recognized in November as she was named the Frazee-Vergas Elementary School's Teacher of the Year by her peers.
"It's a good feeling; I feel honored," Burton said. "I totally wasn't expecting it, at all, so it was a huge surprise."
The award has a special meeting as Burton's life plans since high school were to teach here.
"It totally was," she said. "I was going to come back here and teach. I did some student assist when I was a senior with Karen Krause and I always wanted to teach first grade."
Burton graduated from Frazee in 2000, did her undergraduate studies at Bemidji State University and earned her Masters degree from Graceland University. This is her 19th year of teaching. She spent her first five teaching second grade in Sebeka before taking over her first grade class in her hometown in 2009.
Having grown up here, teaching in Frazee brings back memories and also allows her to work with lifelong friends and members of her family.
"Julie Wirth, I teach with her in first grade and I had her for kindergarten so it's kind of fun to be teaching with staff that I had as a student," said Burton. "It's fun to be able to see all of the faces and that's one of the best parts. You know a lot of the families and I have classmates' kids coming through."
Two of those faces are very familiar. Burton's mother is a Special Ed Paraprofessional and her aunt works in Indian Education Services.
Being named to the elementary's award has been a boon after having to work through the pandemic and the challenges that presented, which are far more difficult when teaching such young kids.
"It is nice to see an acknowledgment for all of the things that I've done working through COVID and all of the distance learning and the extra time put in on the Google classroom and online components for all of the students gone throughout the year," Burton said. "At a first grade level, it adds a whole nother realm of learning."
Much of the online instruction was difficult to get to kids with everything from hardware limitations to simply not being in-person.
"It's so tough," Burton said. "We had iPads at that time. It was hard."
Instruction was mainly done through Google Classroom. Burton would have to cast her lessons that she was teaching in rooms by herself either at the school or at home.
"When we didn't have classes you'd be teaching to yourself and then push it out so they would learn that way," she said. "For the most part, we would work from home. You just don't get that interaction."
First grade is on the front line where COVID-affected development can be witnessed in real time.
"I notice a lot of just the fine motor skills," Burton said. "These kids would have been ages three and four. The lack of ability just to be able to cut or even using glue sticks and bottles. You have that anyway, but the fact that they missed that basic instruction. This year isn't quite as bad. Last year was really tough. You tried your hardest to get them to grade level and beyond."
From the outside, first grade seems like it's a lot of fun and some learning, but it's quite the opposite. It is a fundamental year in childhood development.
"First grade is a huge introduction to a whole realm of things from science, social to math and English," said Burton. "They're introduced to it all, so I feel like we're constantly giving them little pieces of information here and there just so that they can grow. Once they get into second, third, fourth grades they just keep adding to that pot. We're such a baseline here. It's exciting and fun because a lot of what you teach, it's new information. They haven't seen it before. There's a lot of excitement at this age. They all come in with smiles and they're happy to be here."
Burton infuses that happiness with a lot of learning to the point she has to occasionally make time for actual fun.
"There are days when I think we have to have something fun today," said Burton. "All we do is work. You have to find that happy medium with your day."
Each day also presents a challenge at the group level on how learning is going to go. Every class day can be completely different than the last.
"It can be," Burton said. "Today we were so on. I'm taking advantage of today; we're just cruising; everybody is working together. If you would have asked me yesterday, it was completely opposite. We just had an off day."
Burton credits her first grade teaching colleagues and the group's communication as a means for keeping all the first graders on pace.
"We have such a good community in this group, classroom and this school," she said. "I truly love working here. We try to make sure we're very consistent and we try to stay on the same page. We're a very good, close team. We communicate every day and we're together for lunch. I'm blessed that I have a very good team."
Career development has also been a big factor in Burton's success in the classroom.
"There are a few key things that I like to do that carry over from year-to-year, but I do believe in professional development," she said. "I like to go to things: workshops, that kind of stuff. I went to the Professional Learning Community conference in Minneapolis and I'm the team leader for first grade."
Burton uses those learning experiences to find constructive ways to present data-driven activities and skills to first graders, building a foundation on where kids are at and directing instruction to them.
The group of first grade teachers in Frazee are also fortunate to have enough paras to pull kids out of class for further instruction when needed in small groups to work on specific skills in math and reading.
"We have a great program here at the elementary, tier-intervention for students who have not met a certain standard and they can get help right away directly working on that skill," she said. "We have a couple first grade paras and we pull our librarian for a 25-minute block each day. We put all of them together and they each get four to five kids."
Seeing the immense progress of first graders over their nine months of instruction is why first grade is so special to Burton.
"For me, they grow so much and just to see that every year," she said. "Holy cow, they come in and they know 20 basic sight words and some of them leave reading a chapter book. The growth you see is amazing and I think that's what really pulled me toward the first grade level."
This year's class also has one special student.
Burton is a mother of three. She and her husband Chris have two daughters—a freshman and a sixth grader—along with their first grade son, who is in JerriAnne's class.
"We're having a lot of fun and he does really well in class," she said. "Sometimes I think he tries to get away with some things, but he knows there are boundaries and expectations."
That being said, after a full day together at school, there are times at home when mom just needs a break.
"When we get home, I'm kind of done some days," Burton laughed. "We've been together for eight hours; can you just go play in your room for a while because I need a break?"
JerriAnne shares her calm personality with her boy and their bond allows for a low-stress relationship as teacher and student and also mom and son.
"I think I would regret it if I wasn't teaching him," she said. "I didn't teach my daughters. Their personalities were a little bit different where I just felt another teacher would have been better for them."
While she and her son share work and home space, Burton's classroom is like home for all her kids in class. Providing that safe space and witnessing the leaps of learning is what makes Burton's job rewarding and a part of that is summed up in the teacher of the year award, but mostly in the work itself.
"It's a nice acknowledgement, but at the same time your job alone is rewarding and you know you're doing the right job," she said. "There are people you talk to and they dread going to work and I've never felt that. I want to be here and I want to see their faces. Even over Thanksgiving break, I was ready to come back and see their faces again."