Flemmer uses National Guard service to serve his city
News | Published on December 19, 2022 at 1:02pm EST | Author: Chad Koenen
0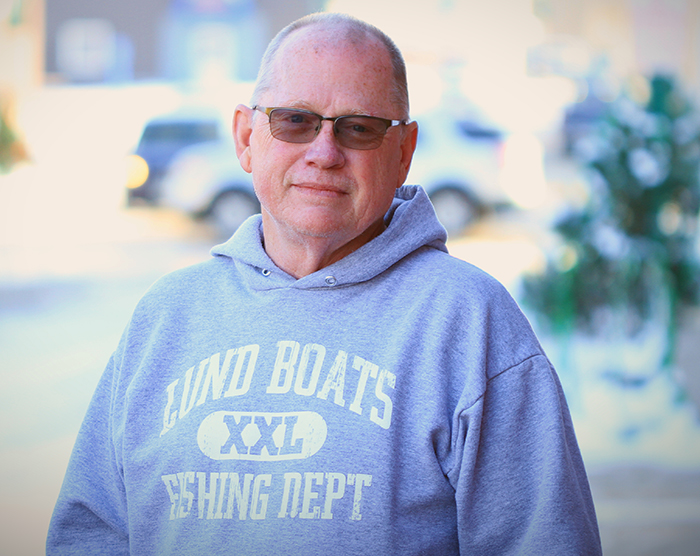 By Robert Willams
Editor
Mayor-elect Mark Flemmer had never heard of Frazee as a native North Dakotan. A four-decade career with the National Guard took him around the state and to Iraq and back. He and his wife Dawn eventually settled in Devils Lake in the 1970's and lived there for 30 years until he retired.
"We started looking around the area and had a camper north of Detroit Lakes," he said. "We fell in love with the area down here. My wife started looking for houses and lo and behold, she found one in Frazee. I'd never heard of the town before."
The road to Frazee was the culmination of a lifelong plan to serve his country.
"I was always going to join the military," said Flemmer. "I knew it since I was age four or five. I don't know why. I turned 17 and made my mom sign the paperwork. I went down to the Marine recruiter and I was going to join up the very next day."
At the same time, the National Guard had a military explorers post for kids aged 15-17.
"I told my advisor, this ol' grisly, worn-out who served in World War II, I said, Sir, I'm going to join the Marines tomorrow all proud and peppy of myself and he looks at me right in the eye, 'You dumb son-of-a-bitch, why don't you join the National Guard? That'll get you in shape for your six months of training and then if you still want to join the Marines you've got options. You'll be in better shape to join the Marines. Otherwise, you can stay working and living here. It kind of made some sense. The next day I joined the National Guard and it turned out being the best thing I ever did," said Flemmer.
Flemmer completed advanced training, received a promotion and got a job at a Red Owl grocery store. His plans also included matrimony.
"About that time I had enough money saved up to go get married, so 19-years-old and my wife, she was 17, they said it would never last and now here we are 45 years later," he said.
The grocery career did not pan out and Flemmer took a temporary job with the Guard at Fraine Barracks in Bismarck, North Dakota.
"I didn't even know there were full-time jobs for the National Guard; I was just a part-time guy," he said.
After six months, he was hired full-time.
"And that's how it started," he said. "From there I had a couple jobs at Fraine Barracks and I was going to quit because I had a boss that was just horrible. I thought I was still young enough; I'll find something else to do."
Before he could do that a communications officer offered Flemmer a job in maintenance, but the officer really needed communications assistance and Flemmer was trained in specifically that.
"He was looking for me to help him out and in turn, he helped me out," said Flemmer. "He ended up being the best mentor that I had. He always steered me in the right direction and took care of me after that."
The civil service repair job opened in Devils Lake and the Flemmers were on the move.
"Luckily, she stayed with me," he said. "Went up there and ended up getting on a repair job and ended up being supervisor and did about 30 years up there. It was great."
Part of civil service with the National Guard included a 2007 tour in Iraq stationed in Baghdad during The Surge
"The first five months we were attacked pretty steady and when the surge hit they cleaned out a lot of the bad guys and suddenly, I know when I left, we had folks that didn't know what an attack was because they weren't attacking us anymore. I was a believer in the Surge," he said.
On the homefront, Dawn was embarking on a battle of her own.
Dawn was diagnosed with breast cancer while Mark was in Iraq and he had to come home early to take care of her as the prognosis was not positive.
"It was tough leaving your unit, leaving what you're trained to do," he said. "I had to come home and be Mr. Mom. She was the one that cooked for me and took care of me and here I am, me and Rachel Ray, 30-minute meals and we got tight. I didn't know how to cook. Hopefully, she survived my cooking better than the cancer."
Dawn was able to survive the diagnosis, treatment and Mark's cooking and has been cancer-free since.
"I always say I met some tough guys in the military and she would be tougher than the rest of them for what she had to go through," he said. "She fought through that and bless her she was able to survive all that. I didn't realize at the time how personal cancer is. Everyone is different and responds to treatment differently. It's pretty much a one-on-one thing."
Mark retired and the Flemmers moved to Frazee in 2010 and he joined the Lion's Club and got involved in the Community Club.
"From there it was just a natural progression," he said. "Serving my country for 35 years, maybe it's time to serve my city a bit."
Flemmer was eventually the president of the Lion's Club and the Rescue Squad, before friends encouraged him to run for office.
"I said, no, but they said I should try it," he said. "I went door-to-door and it was great. I met a lot of people and knocked on a lot of doors. Lo and behold, I won and the second election came up and I barely won that one. I ran for mayor and lost by a few votes on that one and this time I was not going to run. I came down here to retire."
With nobody challenging Mayor Ken Miosek this past November, Mark felt obligated to run and Dawn was a big part of convincing him to do so.
"Ken was the only one running and I thought well, I'll give the voters a choice, at least, and my wife was really encouraging me," said Flemmer. She said, 'You've done some good stuff down here and maybe it's time to continue on.'"
Flemmer has noticed distinct differences between life in the military and civilian life, especially when it comes to enacting change and accomplishing tasks.
"One thing that I've found military versus civilian life is it takes longer to get things done," he said. "In the military they give you the order, take the hill, boom, we go take the hill. Here, it's like let's look at the hill; let's study the hill; let's think about the hill."
While on the council, Flemmer has championed some issues and has also been willing to throw a nay vote out when he deems it necessary. He noted he is not a dreamer. He appreciates those who are, but tries to bring a realistic perspective to his decisions. That does not always make him the most popular guy in town.
"There are some people that think I'm the best thing in the world and there are other people that think I'm the most horrible thing in the world," he said. "It's just life. I've always tried to get along with folks."
Upon winning the election, his seat on the council opened up with two years left to serve. The city council will tackle filling that spot as one of the first duties come January.
Both of the incoming new council members, Jim Rader and Andrea Froeber, have cited the November election results as putting current council member Mark Kemper in that seat. Kemper was third in total votes.
"I've had some folks approach me who want the seat," Flemmer said. "That's a decision we'll all make. We'll find out when it happens."
That January date is somewhat fluid at the moment as Flemmer wants to change the dates of council meetings and the monthly working session to improve the timing of necessary paperwork to be completed, like bills, accounting and whatnot, to more efficiently address issues at both meetings.
Flemmer has already spoken with both Rader and Froeber and has a good working relationship with Vice Mayor Mike Sharp. While the new mayor is not necessarily going to flip Frazee on its head, he is insistent on making changes where they are needed.
"You've got to break a few eggs to make the omelet the best you can and that's how I have approached it," he said. "After being shot at over in Iraq, as long as they're not shooting me that's pretty good. I've always been pretty calm and tried not to get too worked up about things. In the military, they call it doing the hard right thing. Sometimes it isn't popular; it isn't easy but sometimes it's the right thing to do. I look back on what we've done for the last six years and we're pretty happy where we're at and that's kind of why I decided to run again. We've got a few projects in the wind here we need to finish up on and we'll see how it all goes."