Karinall Estate embodies the stuff dreams are made
News | Published on December 19, 2022 at 1:04pm EST | Author: Chad Koenen
0
Holiday event showcases stunning decorating detail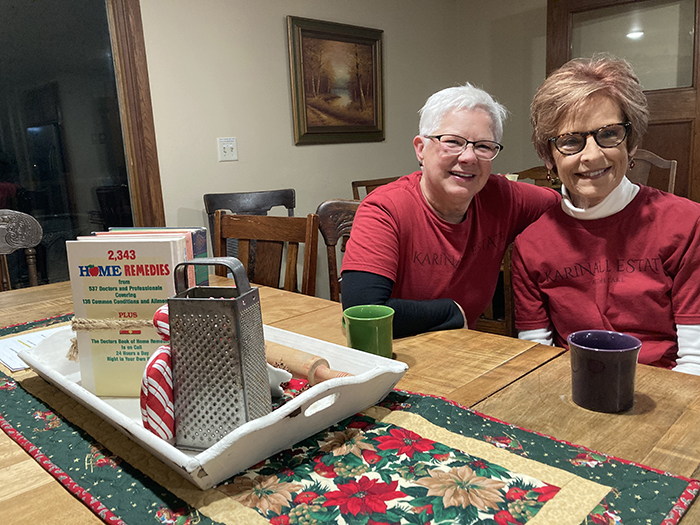 By Lori Fischer Thorp
Correspondent
Marlys Jacobson has a simple explanation of how Karinall Estate at the Lake became what it is today: "It's proof positive that one should never have allowed my husband to have a piece of draft paper."
The design created on that paper led to an extraordinary expansion of the original rural Frazee Wymer Lake structure which first housed Ken and Marlys Jacobson's family, including their five children. As the home enlarged in the 1978-80 period, so did their household, which included over 50 teenage foster sons over the years.
Now, the site is home-away-from-home for families and groups seeking a place to connect.
The 9,400-square foot Estate sleeps 24, has 18 beds, 8 spacious and creative bedrooms, 6 bathrooms, and enough dishes in the Julia Child kitchen to complete 64 place settings. Every area portrays a literary theme ranging from The Sun Also Rises solarium/atrium, to the Great Expectations dining room and How to Win Friends and Influence People office space.
There are children's titles depicted too, including Little House on the Prairie, Charlotte's Web, and The Secret Garden. Even the bathrooms have themes, such as Mary Poppins, Tom Sawyer and Where the Red Fern Grows. Whatever a room's purpose, the theme and décor have been carefully crafted, down to the smallest details.
The undertaking was the dream of Heather Ware Nelson, a lifelong neighbor of the Jacobsons. After Ken died in February 2017, Jacobson explained, she put the house on the market and was living there alone when Nelson suggested converting it to an Air B and B destination.
"I said I'd have to talk to my kids about that," Jacobson recalled, "and when I called the first one, I said, 'What's an Air B and B?" After they explained the concept, several added, "Why didn't I think of that?"
For others who aren't familiar with the term, Bed and Breakfast establishments have been an alternative to other larger inns, hotels and motels for many years. Their younger relatives, Air B and Bs ("Airbnb" being the trendsetter, though there are many other online vendors) are an easy way for a family or group to rent a setting that is more like a home than a hotel. Unlike the traditional B and B, for the rental period the owners are typically not present providing breakfast.
Jacobson now lives in an onsite private apartment, because by midsummer 2018, renovations were underway. Literary themes were a natural focus because both Jacobsons were English teachers. Marlys taught at Frazee and then became an administrator here until her retirement, and Ken taught at the high school level for several years before becoming a college instructor in the Fargo-Moorhead area.
Karinall's details are enchanting and inviting, and guests at the Estate's "A Very Merry Christmas at Karinall" on Friday, Dec. 2 had the treat of hearing about the planning that went into the carefully curated areas.
Nelson gave the first tour to Frazee High School choir students who provided the evening's entertainment. From the solarium, titled The Sun Also Rises, to the Oh the Places You'll Go play room, guests had a chance to see the layers of clever visual art that make the Estate a popular destination for weddings, retreats, reunions, holiday gatherings and other events.
It takes a total of 24 staff hours to do a turnaround between groups to get everything meticulously cleaned and sanitized. Sometimes, multiple staff have just a four-hour window to accomplish that feat.
"There were times we just about had to go to the cemetery to dig up help," joked Jacobson.
Back in the days when she was a busy working mom who was also earning her Master's degree, one of her dreaded cleaning tasks was tackling the fountain in the solarium, which also features trees transplanted in 1980 from the high altar at Holy Rosary Church. She'd end up spacing the work over several days, and until the waterfall was functioning again, her family would beg her to complete the project, because without the sound of the waterfall, they couldn't sleep. 
Now, this is the site of other people alternating rest with days of activity. In a building that also houses the Shakespeare Globe movie theater, The Hustler pool room (featuring Minnesota Fats pool cues), the Rocky hot tub and exercise room and many other areas, dedicated help is essential. That mission is fulfilled by Sharon Trieglaff Jons and Diane Woodard, who were students of Jacobson's in her first year teaching at Frazee. The two remain best friends, and it's clear they enjoy doing everything they can to enhance the Karinall experience.
"We love it, it's a gift," they said.
Jons teamed up with her daughter Nelson for the creativity behind much of the décor. They watched movies and read books for each featured title, which led to details such as a bicycle and boots in the Mary Poppins bathroom, velvet curtains and a plantation feel in the Gone with the Wind bedroom, and Industrial-themed tin foiled ceiling and walls, concrete sink and chain link shower curtain in the West Side Story bathroom.
Perhaps one of the most painstaking features was the Durant bathroom, which is wallpapered with the American historian's 1975 volume, "The Age of Napoleon."
It's as impossible to cover every detail in a news article, as it is for a librarian to pick a favorite book. A guaranteed question at the Estate is, "What's your favorite room?" For Jacobson, it's the Great Gatsby living room, featuring a large fireplace, because more than anything, this is a room that gathers people.
"This is still a home," Jacobson said. "When I see a family that is using this space and just connecting, it's so special. I see families playing games, and it just makes me feel warm to see families interacting like that."
This is a place to have some sweet dreams, and a destination for people to make those dreams come true.
To arrange a tour of Karinall Estate at the Lake or for rental information, call (218) 234-9513, email karinallestate@gmail.com or check out their website, karinallestate.com.