No. 2 Jimmies claim NAIA volleyball title
News | Published on December 19, 2022 at 12:55pm EST | Author: Chad Koenen
0
Frazee High School alum Oswald contributes 22 set assists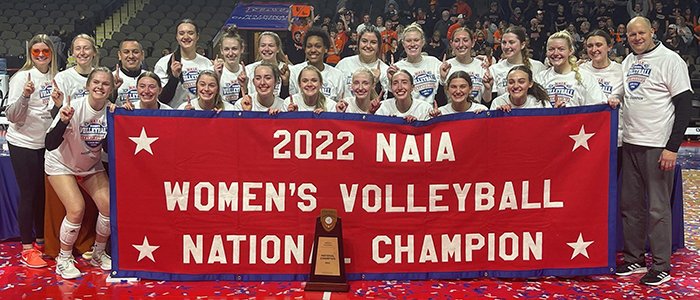 Founded in 1883, the University of Jamestown began sponsoring intercollegiate athletics not long after the turn of the century.
In the 120-plus years that followed Jimmie teams have amassed numerous conference, postseason, and regional championships, but never a national title.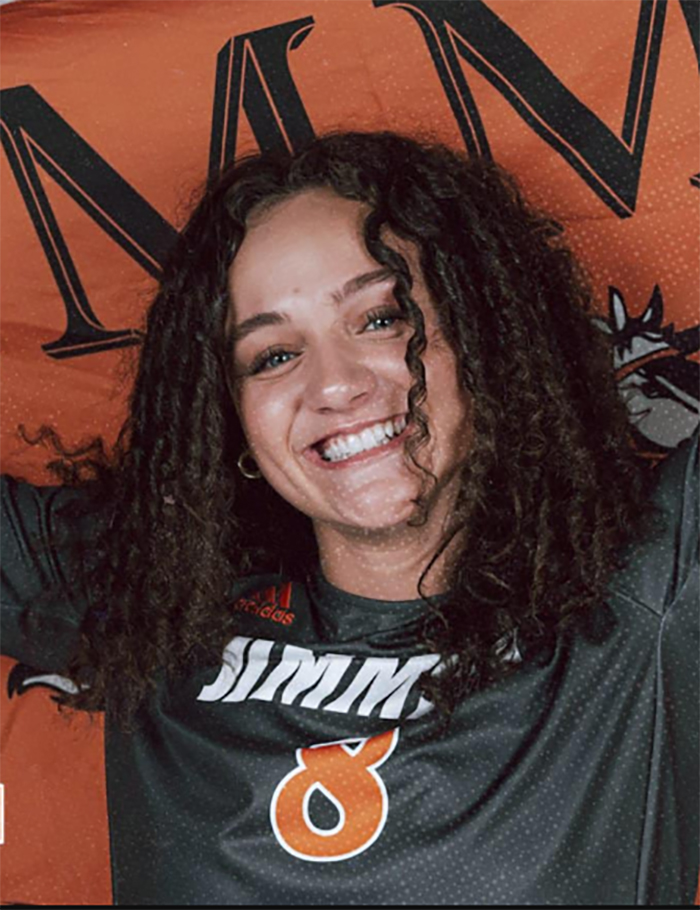 Until now.
The second-ranked Jimmie volleyball team capped off a season for the ages, defeating No. 4 Corban (Ore.) in five sets to win the 2022 NAIA Women's Volleyball National Championship.Set scores were 25-21, 21-25, 25-27, 25-22, 15-13.
"It's just so surreal," remarked Anna Holen (SR/LaMoure, N.D.), who set career highs with 23 kills and 35 digs while earning the week-long tournament's Most Valuable Player award. "It doesn't feel like this is our first [championship] ever, just because we've had such talented teams in the past. Those teams paved the way for making this possible…this is just as much a win for them as it is for us."
Some of the talented Jimmie teams to which Holen referred include the 2019 squad that went 33-6, reaching the 30-win mark for the first time in program history as well as beginning UJ's current streak of four consecutive national semifinals appearances. Last year's team lost just once in 36 matches, and this year's championship run culminated with an overall mark of 37-2.
After losing seven seniors from the 2021 team, head coach Jon Hegerle knew this year might be different from years past.
"At the beginning of the season I told our team that we're going to have to have the courage to take some lumps this year, and we actually didn't take as many lumps as I thought. Tonight, we took some lumps and it was about time we started giving them back."
UJ had no problem dishing out those lumps at crucial times in the match. Down 15-14 in the fourth set and trailing 2-1 in the match, Aleah Zieske (SO/Spicer, Minn.) and Darienne Johnson (JR/Eastpointe, Mich.) combined for a block of Allyson Reid to pull even, then Zieske's kill on the next play put the Jimmies back in front. Jamestown eventually built a 21-17 lead only to have the Warriors claw back to tie at 22. Holen broke the stalemate with her fourth kill of the frame, then teamed with Johnson for a block to put Jamestown at set point. Johnson and Kalli Hegerle (SR/West Fargo, N.D.)'s combo block of Avari Ridgway ended up being the difference.
Holding a narrow 7-6 edge in the fifth, Jamestown took five of the next seven points and forced a Corban timeout. After the Warriors pulled within 14-13, Hegerle and Johnson paired up again to block a Ridgway swing, this time winning the set and match. For Johnson, it was her ninth block assist of the match, tying a personal best.
Ellie Holen (JR/LaMoure, N.D.) turned in a career-high 44 digs and 862 for the season, establishing a new Jimmie single-season mark. The two-time National Championship Defender of the Year helped keep the Warrior attack on the ropes, limiting the team to an overall hitting percentage of .164, 79 points below their season average.
Hegerle showed her versatility yet again Tuesday. She finished with 12 kills and 12 digs, hit a team-best .314 in the match, passed out 32 assists, and had five block assists. It was the tenth time this season Hegerle finished a match with at least 10 kills, 10 assists, and 10 digs.
"In the locker room [with our team], it's always 'one more, one more'—and we always say that, whether it's lifting or practice, and that's what we did tonight," Kalli noted. "One more, one more."
Paige Oswald (JR/Frazee, Minn.) contributed 22 assists in the victory and will likely take over full-time offensive set up duties next season as a senior. Oswald appeared in all 39 games for the Jimmies and was second on the team to Hegerle (832) in assists with a total of 663 this season.
Game notes
Anna Holen (462 kills) and Kalli Hegerle (420) are the first Jimmies ever to each finish with 400 or more kills in a season…Holen ends her career with 2204 digs, a new UJ record, and 1368 kills, tied for fourth all-time…Ellie Holen now ranks seventh on the career digs list with 1556…Lexi Olson (SO/Langdon, N.D.)'s team-high 159 blocks are fourth all-time and the most by a Jimmie since 2019…as a team, Jamestown was tops in the NAIA in hitting percentage (.269), second in total blocks (336), third in kills (1946), fourth in assists (1784), and fifth in both digs (2650) and block assists (496)…the Jimmies were 7-1 in five-set matches this season after winning their only five-set match in 2021.