Guck spreads Christmas cheer at Frazee Care Center
News | Published on December 20, 2022 at 3:52pm EST | Author: Chad Koenen
0
Local resident provides a gift to FCC residents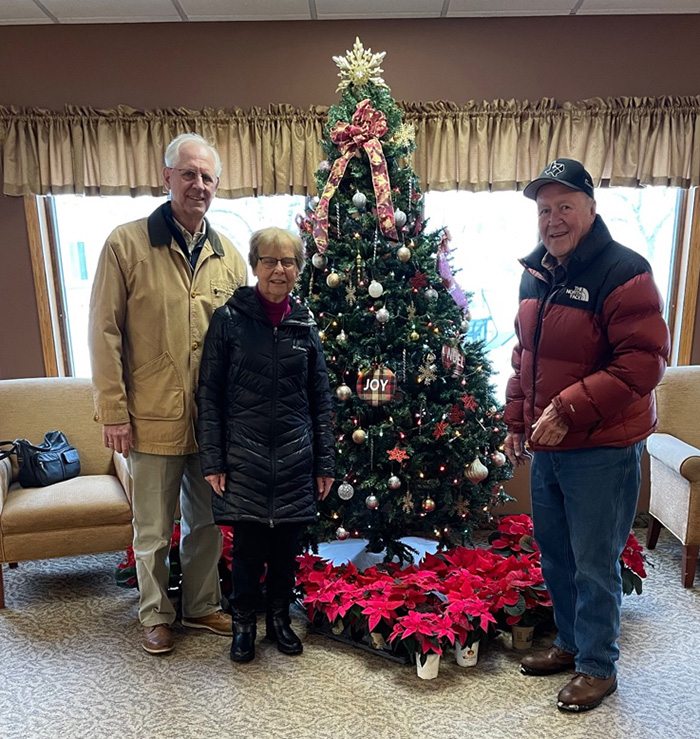 By Robert Williams
Editor
Sharon Guck of Frazee continued a self-started fundraiser to annually benefit residents at the Frazee Care Center providing a gift and a poinsettia to 55 people.
"I started this many years ago, seven or eight years ago," said Guck.
Guck, a Mary Kay representative, picked up the idea from a fellow rep and liked the thought of spreading Christmas cheer and also letting Care Center residents know they are not alone.
"It was an idea we were talking about and I thought that was a good idea," she said. "I called the Care Center to see if they had any objections to coming in and delivering a gift to the residents and if they don't I'll see if I can get people to participate."
She used her gift to say more than Merry Christmas; she wanted residents to know they are being thought of and that people care about them.
"If you think about it, a lot of those people don't have anyone," Guck said. "They don't have families nearby or don't see any family."
Guck started her donation program by giving body lotions or hand creams from Mary Kay to each resident but needed some financial help to do that.
"I would bring a Mary Kay gift to all the residents at the Care Center, but I can't afford to do that by myself so I would get people that would contribute to the cause – many of my close friends at Frazee Sacred Heart and businesses in town," she said.
Guck has been grateful for the support of OK Lumber, Frazee Family Foods, Frazee Auto Body & Glass, Baumgart Auto Repair and Daggett Trucking for donations to keep the gift program going and their support allowed her to add a poinsettia to brighten the day of Care Center residents.
"The last couple of years, people have been very, very generous," Guck said. "So extra generous, I asked Roger how much poinsettias would be."
Roger Boe of Backyard Station in Frazee provides the flowers at cost and helps deliver them, along with Dave Goeddertz of Vergas.
"Backyard Station plays an important role in this," said Goeddertz.
Boe recognized Guck for her willingness to give.
"She just does it out of the goodness of her heart," he said. "It's a real feel-good thing."
Guck adds a personal touch with accompanying Christmas cards and also recognizes those who have helped her provide the gifts.
"I do a Christmas card for everyone and I sign a name of one of the contributors and from your friends at Sacred Heart and from Frazee," she said.
Guck and her team got back to more personal deliveries after running the gift program through the pandemic years where they could not get close to the residents. An obvious highlight is seeing the reactions.
"We delivered them to the rooms today," she said. "Oh, they're very happy and get real excited about it."
According to Guck, the Knights of Columbus play an important role in delivery of the flowers to the care center, because without their very generous contribution, she would not have been able to purchase the flowers.
Guck has gotten so much support she does not need to track down donations door-to-door. People reach out to her to make sure she's doing it again each year.
"I just call the people that have been doing this and people come up to me and ask if I'm doing the Care Center this year," she said. "It has a life of its own."