Nagel awarded for historical football season
Sports | Published on December 20, 2022 at 4:13pm EST | Author: Chad Koenen
0
Senior named all-district running back and MVP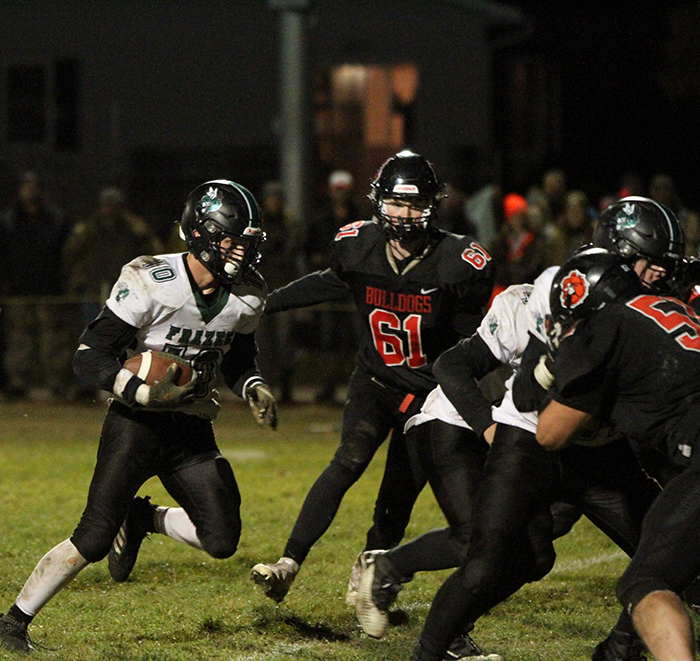 By Robert Willams
Editor
A shoulder injury during his sophomore season had Jake Nagel playing in the slot as a junior, but his drive to get bigger and better was highlighted by one of the best rushing seasons out of the backfield in Frazee history this fall.
Nagel was named the Midwest Blue all-district running back and co-most valuable player with Pelican Rapids' Timmy Guler.
The postseason award announcements were held up by section champion Barnesville's run to the state title.
Nagel wanted to make the most of his final year of high school football and with the help of the coaching staff he did that.
"I put the time into every sport I do; I'm not a slacker; I like to work hard and I figured I might as well, there's one more year left, I'll never get to do it again; I'm going to work as hard as I can," he said.
Nagel is the first Hornet to earn a conference/district football MVP award since Frazee hall of famer John Kostynick did so in 1990 for the section champion and state semifinalist team.
Nagel was a huge part of Frazee's success this season and it showed all over the stat sheets.
In 10 games, he rushed for 1,591 yards, averaging 7 yards per carry and 159 yards per game, to go with 21 touchdowns. Defensively, he led the team in tackles with 51.5, 40 of those solo tackles. The Hornets scored 217 total points this year, 138 of those were from Nagel.
"We rode him good," head coach Russ Hackel said. "I looked back on the records just to compare him to say Tanner Bachmann, his junior year, and he had more yards than Tanner. Pretty solid competition to be with."
Nagel's transition to the backfield was all about getting bigger and molding his body to take hits, and more importantly, deliver them.
"I went into the weight room and our line coach Roger Thorp, he helped me out a lot," Nagel said. "We lifted almost every day. I came in a lot this summer and got bigger. That's what I think, mainly, benefited me the most. I gained about 25 pounds during the summer. After I tore my shoulder I started getting a little bigger. They couldn't repair it so they said all I could do was get stronger."
Hackel had stressed to Nagel how he could benefit the team that way.
"I said Jake, we need you at 180 pounds and we want you strong and he worked his butt off all summer and it reaped benefits for him," said Hackel.
Nagel credited his fellow backfield mates and offensive line with allowing him to have success on the field.
"I think that one guy can't do it all; it's definitely a team effort," said Nagel. "I have a really good fullback, my wrestling partner too, Tyler Moe, he was a big part of it and our O-line really stepped it up too. They did a great job."
Nagel's example is a benefit to his backfield mates as he hands the rushing duties off to Moe next season, along with Brady Crabtree.
Hackel cited Nagel's natural ability and elusiveness as complements to his work ethic as a prime example of what a player can achieve with the right mindset.
"He was one we were going to lean on and we were going to have a two-headed monster with Moe and Brady was in the mix a little bit too," Hackel said. "Jake set goals, which is really good. It was good to see he had what he wanted to prove or show. He made some nice cuts. When I was doing the stats I was oh gosh, that's pretty. There was one run against Breckenridge that was oh my goodness, man. He made a slight cut and jumped over a kid that was on the ground and goes for the touchdown. You don't teach that. He's a natural. He was always a little slippery. Sometimes, he'd be stopping right in the middle of the play and guys would go right by him. It wasn't even a cut. He'd just stop and weave his way through. Nobody got a clean hit on him. He's good at that."
Four Hornets made the all-Section 8AA team led by Nagel, Moe and seniors Zach Longfors and Kale Ovsak.
Success away from home
Nagel and his fellow seniors made a big sacrifice this year playing all 10 games on the road while the new field is under construction. The closest they played to town was a playoff victory over longtime rivals Hawley in Detroit Lakes. To have the best season since 2014 while doing it all on the road was a big accomplishment.
"It was different, for sure," said Nagel.
While not ideal, the Hornets found a way to bond on the road trips and take advantage of the situation as much as possible.
"It was pretty cool," said Nagel. "Six games on the road we won and two or three homecomings we got to ruin – that was nice, definitely. There's not a different team that I'd want to do it with."
The season conundrum presented an ironic sense of déjà vu for Hackel
"I actually talked to the boys a little bit about it because during my senior year of high school, I actually had the same thing happen to me," said Hackel.
Hackel played for a small school, similar to Frazee in size, in Fall Creek, Wisconsin, that replaced their football field with a middle school building and the team had to hit the road for the season.
"I think they were bummed a little bit," said Hackel. "I told them to make it what you want to make it, what you want it to be. It's all perspective."
Nagel and his teammates were pleased to find success by working through that adversity and bringing some life back into Frazee football. It also meant a lot to do that for their coach.
"For sure, it's good to have Hackel get that success and that under his name and I'm glad to be a part of it," said Nagel.
The underclassmen have also had their share of season woes playing through limited seasons during the pandemic. This season was a special year for everyone involved in Frazee football.
"It was very good; it's the best season I've had since I've taken over as head coach," said Hackel. "I tried to make it as special as I could and do whatever I could."