Nagel wins 100th match in his career
Sports | Published on December 20, 2022 at 3:43pm EST | Author: Chad Koenen
0
Moe wins his 75th match for Frazee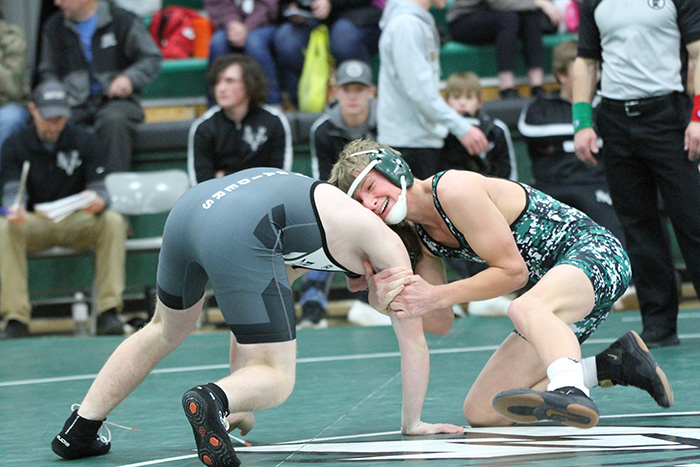 By Chad Koenen
Publisher
Frazee became the center of the wrestling world, at least in west central Minnesota, on Saturday as the Hornets hosted teams from as far east as Staples-Motley to as far west as Fargo.
The Hornets went 3-0 in a meet that included teams like Moorhead, Staples-Motley, Fargo Davies and Bertha-Hewitt/Verndale/Parkers Prairie.
In their opening match of the morning, Frazee found themselves in a big hole from the start against BHVPP as the Hornets trailed 25-0 following the 132 lbs. match. That's when the Hornets went on a 42-3 run to blow past the Raiders by a score of 42-38.
Cade Nagel was the first Hornet to get on the scoreboard when he picked up a pin at 138 lbs., before Frazee won the final seven matches in a row to secure the win. In fact, the Hornets won five of the final six matches by falls with Jake Nagel, Preston Mayfield, Max Rue, Jack Graham and Xander Kohler all winning by fall.
Frazee's match against Staples-Motley started out just the same for the Hornets as they once again found themselves in a 32-0 hole after 145 lbs., before once again dominating the upper weights by winning the final seven matches to come away with a 39-32 win.
Pins were once again key for the Hornets as they secured pins in six of the final seven matches with Tyler Moe, Jake Nagel, Preston Mayfield, Jack Graham, Daniel Graham and Xander Kohler all picking up pins.
The Hornets took the lead for the first time by a score of 33-32 after Daniel Graham secured a pin at 220 lbs. and Kohler iced the match with a pin at heavyweight in overtime.
In their match against Moorhead the Hornets got off to a quick start and never looked back as they defeated the Spuds by a score of 48-15. The Hornets dropped just three out of the 14 matches wrestled as they capped off a successful day of wrestling.
A pair of Hornet wrestlers picked up historic milestones on Saturday as Tyler Moe picked up his 75th career win, while Frazee senior Jake Nagel secured his 100th career win.
Saturday's wins improve the Hornets to 4-1 on the season as they will now take an extended break from action for the holidays.
Frazee vs. Staples Motley 39-32
106- Gage Bjerga (Staples Motley) over Gabe Schermerhorn (Frazee) – Maj Dec 9-0
113- Elijah Greenwaldt (Staples Motley) over Cash Osterman (Frazee) – Maj Dec 11-2
120- Jack Carlson (Staples Motley) over Liam Hamm (Frazee) – Fall 0:28
126- Caden Dobson (Staples Motley) over Forfeit (Frazee) – Forfeit
132- Turner Beachy (Staples Motley) over Brady Borah (Frazee) – Decision 6-2
138- Jason Trantina (Staples Motley) over Cade Nagel (Frazee) – Fall 5:48
145- Colbe Tappe (Staples Motley) over Bailey Peichel (Frazee) – Decision 8-1
152- Tyler Moe (Frazee) over Blake Neelan (Staples Motley) – Fall 2:40
160- Jake Nagel (Frazee) over Dustin Converse (Staples Motley) – Fall 1:50
170- Preston Mayfield (Frazee) over Jacob Becker (Staples Motley) – Fall 0:45
182- Max Rue (Frazee) over Luke Bjerga (Staples Motley) – Decision 7-6
195- Jack Graham (Frazee) over Kevin Miller (Staples Motley) – Fall 1:47
220- Daniel Graham (Frazee) over Adrian Gomez (Staples Motley) – Fall 3:01
285- Xander Kohler (Frazee) over Steven Petrich (Staples Motley) – Fall 7:24
Frazee vs. Moorhead 48-15
106- Gabe Schermerhorn (Frazee) over Ean Langer (Moorhead) – Decision 7-2
113- Cash Osterman (Frazee) over Croix Mongeau (Moorhead) – Decision 4-0
120- Liam Hamm (Frazee) over Michael Jenkins (Moorhead) – Fall 3:53
126- Dalton Humeniuk (Moorhead) over Sebastion Sonnenberg (Frazee) – Fall 5:05
132- Brady Borah (Frazee) over Azhar Salih (Moorhead) – Decision 11-5
138- Cade Nagel (Frazee) over Josh Beach (Moorhead) – Fall 1:21
145- Bailey Peichel (Frazee) over Will Borud (Moorhead) – Maj Dec 14-6
152- Tyler Moe (Frazee) over Lee Ellingsberg (Moorhead) – Decision 1-0
160- Jake Nagel (Frazee) over Bridger Mongeau (Moorhead) – Tech Fall 16-0
170- Preston Mayfield (Frazee) over Draeden Prosby (Moorhead) – Fall 0:32
182- Max Rue (Frazee) over Ron Addo (Moorhead) – Fall 3:51
195- David Krabbenhoft (Moorhead) over Daniel Graham (Frazee) – Decision 8-2
220- Weston Mickelson (Frazee) over Ashton Spieker (Moorhead) – Decision 7-4
285- Jake Erdmann (Moorhead) over Xander Kohler – Fall 1:51
Frazee vs. BHVPP 42-28
106- Hudson Truax (BHVPP) over Gabe Schermerhorn (Frazee) – Fall 0:57
113- Orran Hart (BHVPP) over Cash Osterman (Frazee) – Fall 5:54
120- Justin Olson (BHVPP) over Liam Hamm (Frazee) – Maj Dec 18-5
126- Evan Jares (BHVPP) over Sebastian Sonnenberg (Frazee) – Fall 5:29
132- Bennet Arceneau (BHVPP) over Brady Borah (Frazee) – Decision 10-3
138- Cade Nagel (Frazee) over Tanner Schulke (BHVPP) – Fall 3:22
145- Deagen Captain (BHVPP) over Bailey Peichel (Frazee) – Decision 10-8
152- Tyler Moe (Frazee) over David Revering (BHVPP) – Decision 7-4
160- Jake Nagel (Frazee) over Blake Sumstad (BHVPP) – Fall 0:52
170- Preston Mayfield (Frazee) over Cayden Kimber (BHVPP) – Fall 3:05
182- Max Rue (Frazee) over Justin Koehn (BHVPP) – Fall 0:48
195- Jack Graham (Frazee) over Zack Mrnak (BHVPP) – Fall 1:02
220- Daniel Graham (Frazee) over Brayden Shamp – Decision 5-2
285- Xander Kohler (Frazee) over Hunter Strom (BHVPP) – Fall 0:58