School board acts to improve response times
News | Published on December 20, 2022 at 4:05pm EST | Author: Chad Koenen
0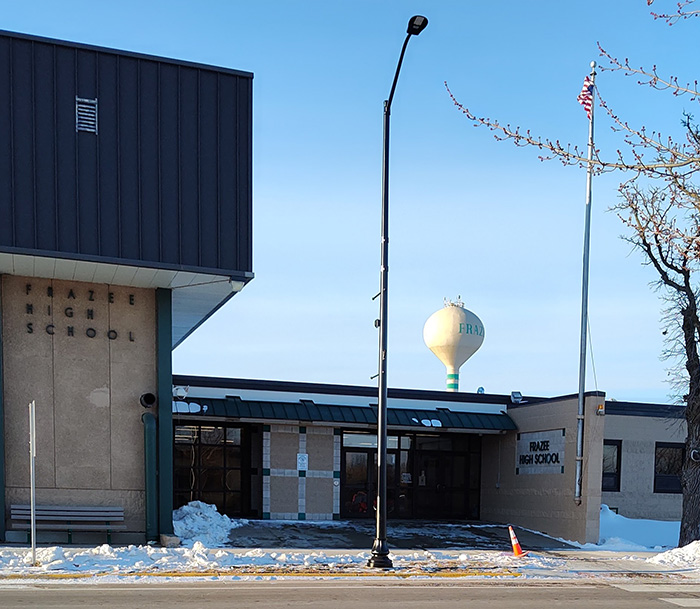 By Robert Willams
Editor
The Frazee-Vergas School District is adding a new employee to help facilitate communications between students and parents and address issues that have recently been brought to the board's attention by concerned parents. The position was voted upon and approved at the school board meeting Monday, Dec. 12.
A new full-time, temporary position was created for the remainder of the school year, the Student Support Coordinator, that will be paid by the Elementary and Secondary School Emergency Relief fund (ESSER).
"The position will address supporting students who have social and behavioral concerns, assisting and responsiveness as student concerns are brought forth, assuring timeliness and privacy, working in collaboration with the principals and staff, communicating with parents and guardians of identified students and working with outside agencies to maintain records and reports," board chair Thaddeus Helmers said.
Superintendent Terry Karger is targeting someone to help support counselors and high school administration and address concerns the school has been having, according to Helmers. The targeted candidate is an experienced educator, like a former principal or super, to increase response times and increase interaction with students.
The motion to approve the new position was approved with no votes coming from Tyler Trieglaff and treasurer Nathan Matejka.
The issues brought forth to the board during the November meetings by parents are some of the main topics of discussion, along with the budget, at an upcoming board working session Monday, Dec. 19.
Personnel
The district accepted the resignations of one food service worker and a part-time elementary music teacher. Four openings were filled, including Jim Jacobson as the Knowledge Bowl Adviser; Tiffany Schermerhorn as an ECFE paraprofessional; Linda Kuehn as a special education para and Heather Perrine as prom advisor.
The track and field team will see a reduction in coaching staff with the head coach position being combined into one, as opposed to having separate head coaches for the boys and girls programs.
Truth in Taxation
Business Manager Chrissy Clapsaddle presented the annual Truth in Taxation public hearing information. She covered the general education formula allowance, the budget and district tax levies.
The basic revenue for each district equals the formula allowance times the adjusted pupil units for the school year. The formula allowance for fiscal 2023 and later is $6,863 per student.
The basic general education formula establishes the base level of per pupil unit funding for the 343 school districts in Minnesota, per the House of Representatives Fiscal Analysis Department.
The budget was initially submitted back in June and will be revised after the first of the year.
"The big stressor I want to show is total revenue; we have over $13 million of district total revenue and only 18.6 percent of that is actually levied, so that's a pretty small percent of our budget."
That percentage is calculated by total revenue of $13,036,860 and total property taxes of $2,421,843.
Significant changes to the budget from the prior year were a 2 percent increase in the formula, a decrease in student enrollment and a decrease in compensatory aid with less students on free and reduced lunch. There was an increase in special education cross subsidy expenditures and the district reduced the amount of full-time employees to get the budget closer to balanced, according to Clapsaddle.
The Ag2School tax credit was also explained. Ag2School was passed in 2017 to increase the state share in districts in which farmers were paying an outsized portion of districts' facility debt, according to the Minnesota Rural Education Association.
The Ag2School Ag Bond Credit has been increasing each year as it is set to scale to 70 percent in 2023.
"It's a reduction for our farmers and timber owners; this money is then paid by the state, so it doesn't go on to our residents," said Clapsaddle.
Ag2School has increased incrementally the past three years from 55 percent in 2021 and 60 percent in 2022.
Tax changes per property and reasons for those were also explained with changes in value or classification being the top factor, along with changes in enrollment numbers.
"One thing that I have seen this year is the valuation of property; as the property wealth increases, our aid decreases, which means our levy increases and that's kind of what happened this year," said Clapsaddle.
Frazee-Vergas is one of 94 districts out of 237 in Minnesota that does not have an operating referendum. The median amount received per pupil in districts that do have referendums was $492.
Included in the levy are a 10-year facility maintenance plan including roofs and a primary playground, which were also discussed extensively over the summer.
The total percent change to the levy for 2023 ($2,583,549) was 4.24 percent, an increase of $105,174.
Fall activities
Activities director Nick Courneya reported on the culmination of fall activities, along with head football coach Russ Hackel and FFA advisor Trescha Mitchell.
Courneya's comments on each activity were as follows:
• Cross Country – (Head Coach-Megan Galligan) Out for cross country this fall we had 8 Boys and 7 Girls. Our cross county team is very young, and we are working to recruit more students.
• Football – (Head Coach – Russ Hackel) In grades 7-12 we had 70 students come out for football. The program consisted of 8 coaches: Junior High Coaches – Jason Reierson, Jason Bauer, and Todd Larson: Varsity and Junior Varsity – Russ Hackel, Bryan Gillespie, Roger Thorpe, Nick Courneya, and volunteer coach Brandon Olson. The football team ended the season with a 6-4 record, losing to Barnesville in the Section semifinal game.
• Volleyball – (Head Coach – Molly Fairbanks) This year we had 70 volleyball players out in grades 7-12. We had six different teams competing: Varsity, Junior Varsity, B team, C-Team/9th,8th and 7th Grades. The program is supported with five coaches of which all are supported by the district: Varsity and Junior Varsity- Molly Fairbanks, Taylor Tappe, B-Team Katie Hoekstra, Volunteer Coach C Team/9th Grade Megan Kelsey, and junior high Coaches Lynn Tappe and Jolene Tappe. The volleyball team's season ended in the first round of sections when they lost to Perham.
• Swimming and Diving – Two students participated with the co-op swimming and diving with Detroit Lakes. Both members of the team, Faith Hamm and Hope Hamm, were named all conference and qualified for the state meet.
• FFA- Through the fall competitions thirteen members so far that have qualified for
state competition.
• Fall Trap Shooting League -Volunteering Head Coach Tim Roble and assistant Carrie Roble. Frazee had 13 kids on the team. They took first place in the conference. Frazee had 1 student place in the top 100 in the state. We had 7 shooters place in the top 25 in the conference.
Courneya also thanked the following booster clubs: Fast Break, Wrestling, Volleyball, GridIron, and Baseball for assisting in upgrading the weight room equipment.
• Action Fabricating in Detroit Lakes donated their labor and material painting the new squat racks and benches. Courneya also thanked Anderson Bus, "For always taking care of the kids with the greatest transportation we can ask for."
Hackel spoke more about the football season, which consisted of all road games during construction of the new football and track and field facility.
"Being on the road all season was kind of a feat in itself, but in the end, I think our kids fared really well with that and since I've taken over it was our best season so far," he said.
The Hornets went 6-4 with a section playoff victory before a season-ending loss to eventual state champions, the Barnesville Trojans.
Hackel also noted participation numbers were at 26 in grades 9-12 when he took over the program and are now at 40, which is a reason for the program's success.
"Football is about numbers; that's the challenge we have," he said.
Hackel also announced that senior running back Jake Nagel was named All-Section and District Most Valuable Player. He is the first Hornet football player to earn a district/conference MVP award since Frazee hall of famer John Kostynick did so in 1990.
FFA advisor Trescha Mitchell gave a lengthy account of individual and team accomplishments dating back to August, along with fundraising and volunteer efforts.
Hornet Pride donations
Lakeshirts donated four pallets of shirts to be distributed to students.
A $250 donation was received from the Tyler Shipman Memorial fund to go to negative lunch balances and food service.
Kristin Helmers donated $35 to the cross country program account.
"As always we appreciate donations to the district; it truly shows the community support we have for the students here and I love to see it," said Helmers.