Former mayor returning to Vergas council
News | Published on January 3, 2023 at 3:24pm EST | Author: frazeevergas
0
Haarstick brings wealth of knowledge to council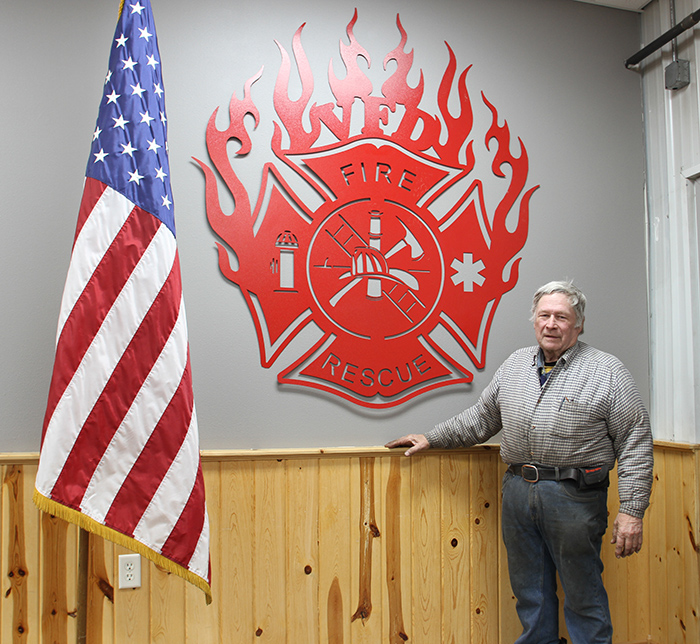 By Robert Williams
Editor
With all the success that Vergas has seen in the past few years, it is hard to think that city government might need a ringer to come back on board, but after meeting former mayor Dean Haarstick, it's easy to see why many people prompted him to run for a city council seat.  ¶  "Friends and people encouraged me to get back on; I enjoy serving with the city," he said.  ¶  Haarstick was mayor of Vergas for 20 years, served on the council for another decade, but more fascinating is he began serving the community as an emergency medical technician in 1989. He still maintains his EMT licenses by completing 20 hours of continuing education credits per year.  ¶  "To me, it's amazing what they encourage us to learn how to do," Haarstick said.  ¶  Haarstick served with the fire department for 22 years and has been with the rescue squad since. Thrown in being a business owner of Vergas Ford for half a century and that's quite a resume.  ¶  The EMT work was not part of Haarstick's original plan.
"It was just something I fell into," he said. "It sounds a little strange, but a lot of the stuff that happens is similar to what happens in my hydraulic system. If you are not getting good pressure from your heart, for example, either the pump is not pumping or you have an internal leak and it's the same type of thing."
Haarstick is able to string tangents together between all of his pursuits from business to healthcare and city government. Continuing all of those passions comes down to one simple axiom.
"I think I still have some things to offer," he said.
Haarstick also has a big picture focus when it comes to jobs big and small.
"I work systems and structure—that's kind of what my comfort zone is with those kinds of things—I like to see how things tie together," he said. "If you do this thing, how does it affect something else?"
One might think owning a business for 50 years and growing up working on a farm that it might be time to slow down, but not for Haarstick, who looks at his future with a sense of humor and positivity.
"At my age, I'm probably soon to retire, but I still think I can contribute something positive," he said. "Somebody asked when I was going to retire. I said, 'When I get caught up!' he laughed.
Helping people and being able to communicate effectively are two important things Haarstick brings to interactions he has every day, regardless of situation.
"When you can help someone and you're there to support the people; a lot of times it's support as well as the things that you do for the person," he said. "As far as visiting and talking to people, some people can't do that. It doesn't bother me to talk to people. Communication goes a long way. If it gets to the point where people don't tolerate that, it's a problem."
Finding answers can come in formal situations, but Haarstick likes to seek out the informal for vital information when it comes to solutions.
"Know and use resources; there are a lot of places where there are resources and when you go to these meetings and stuff it's surprising how much you learn at break time," he said. "Where you visit with the people, especially the cities that are small like us, like 350 people, and then you go to the 800 people. Those were the ones that gave the best advice because they already went through the 350 deal."
Haarstick also highlighted being on the other end of communications as crucial in city government.
"You also have to have your mind open to listen to someone else when they come in with a different deal because sometimes I never even thought of that," he said. "Just like in fixing tractors, you can save yourself a lot of time by having your mouth shut and just ask the guy what's the tractor doing or not doing the way you want it to do? That helps a lot in solving the problem."
Haarstick is big on teamwork and cited his work with rescue and his own business as prime examples of how important it is to work together.
"You can do more if you work together with people than think I can fix everything by myself," he said. "I think it's very important that you push for collaboration with fellow cities, other government agencies, private business and civic organizations. You learn to know your neighbors and I think that's important. I'm not here to massively change stuff; I think and it's not just because I'm there, the rescue squad is a team. That's the way you have to look at it. I don't like to go out all by myself; I like to have somebody else in case it's really bad."
Haarstick also brings a wealth of wisdom and town history to his council seat. He has seen Vergas go through many changes and different iterations. Like many people, he loves the new look of town with all the business development, but it isn't the first time he's seen drastic change in town.
"That's happened before this last little bit," he said. "It isn't just the last two years when things turned over."
He has similar thoughts about the city's new comprehensive plan.
"There have been two since I've been there," he said. "About every five years, they put out a comprehensive plan as far as what they can do."
A holder of a mechanical engineering degree from North Dakota State University, Haarstick has a keen sense of motives and proofs.
"I went to school for four years and I only studied one word and that was 'why,' he said. "I've always been that way. I think that's something, after a while, you can see the need for the whys."
His work in healthcare and helping people in need has contributed to his big picture philosophy. Seeing people suffering a health crisis can have a sobering effect on one's perspective putting problems and issues in an objective light.
His ability to fix things has given him that objectivity when it comes to customers and he has also seen the importance of proper communication between first responders and doctors in his work in the EMT and rescue fields. It is not often one meets a literal jack of all trades. Haarstick is certainly one of those.
"It has to be done in a system and structured manner," he said. "There's always strife that you go through but I don't let that bother me. When you're a leader you compliment in public and criticize in private and that's so important to do."
Haarstick will rejoin Mayor Julie Bruhn and the Vergas city council at its first meeting of 2023 on Tuesday, Jan. 10.
When all that city service is done, Haarstick can always retreat to his downtown shop where he's been for nearly 52 years.
"I enjoy working on my little tractors," he said.