D&K Designs opens in downtown Frazee
News | Published on January 10, 2023 at 4:47pm EST | Author: frazeevergas
0
Pifher has come 'full circle' with new business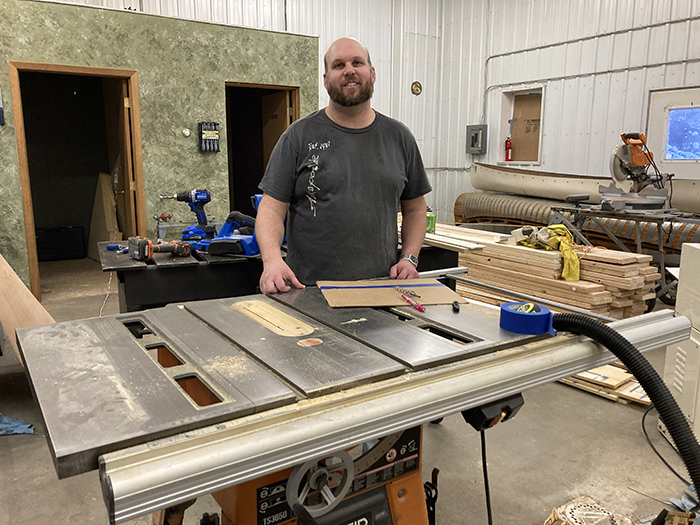 By Lori Fischer Thorp
Correspondent
Dan Pifher has creative energy, and he's channeling it into Frazee.
D&K Designs is already busy with custom cabinetry, and other projects will include custom furniture, single room remodels, and finished work.
"We have a vision for the community," Pifher said of the dreams he and his wife Karen want to realize.
He has strongly supported her work with CornerStone: Frazee Community and Youth Project. Now, she's encouraging him in his new venture, D&K Designs.
The Pifhers, who live in Frazee, met several years ago, and their family includes an adult son and two high school students.
Prior to launching the business on January 1, the Pifhers did extensive market research and got support for a number of locals. One was Tom Watson, from whom Pifher is renting a large shop near the Goose Pond on the 500 block of Frazee's Main Avenue.
Several years ago, the Pifhers "were engaged with organizing the mural (at the shop), building the frame for it and painting the building blue," Karen Pifher posted on Facebook in mid-December. Back when they were investing their time in the exterior, they didn't foresee that this heated shop would become the gateway for their business.
"We've come full circle," he said of being located in the building they enhanced.
Pifher said he was originally planning to open the business in May or June, but there were a number of promising contracts coming up sooner. Relationships in the community helped move the opening process along.
Pifher has also come full circle in terms of returning to his deeply rooted love for working with wood and other media. A native of Big Fork in northern Minnesota, Pifher was raised by his grandparents and was the reason his grandpa bought a bandsaw, which now is a featured item in Pifher's shop.
The bandsaw was needed for Pifher and his grandfather to tackle crafting a Pinewood Derby car for Scouts.
"Then we got a little wood lathe, and we just started doing projects together," Pifher said.
They crafted Adirondack chairs, porch swings, and other items.
"This is my fourth major career," he said, including ranching, being an electrical engineer, and a pharmacist.
"I only have one life to live. My primary passion is wood," he said.
Dan also wants to diversify his time and talent into blended material artwork featuring metal and rubber, and maybe some plastics, as well as wood. His objective will be to find ways to inject some motion into what he creates.
"It will have a little life to it as opposed to a static statuary," he said.
Pifher plans to focus 20 percent of his time—one day per week—on this artistry.
"I don't want to totally do rubber art, but I think it would work well with metal…I'm not really blazing new trails, but it's kind of new to this area," he said.
Fittingly, his business is near one of Frazee's featured attractions, the Goose Pond Moose, created by found objects welder Paul Eppling a number of years ago.
He's also a creator of intarsia pieces, where different dimensions and colors of wood are designed into a portrayal of something such as a trout, salmon or eagle.
Pifher plans to purchase a 3D scanner in the future, so that some of his work such as embossed relief on a custom door can be easily reproduced.
"Technology is way better now than it was 10 or 20 years ago," he said. "Weeks of programming can be bypassed. My dreams are bigger than my wallet right now. I'll always be upgrading and improving."
He's encouraged by the end-product satisfaction that comes from the type of work that has a lasting effect and can be viewed and have frequent usage. He'll continue doing some regular pharmacy work to maintain his licensure, but said, "I've wanted to do my own business for years, and everything lined up. I don't have the fears and hesitations that I would have before. If we have any problems, we'll find a way to overcome them."
He said he has "ideas from around the world…as long as I can get the materials together, I'll have an unending list of things."
He plans on getting a steam machine for some projects, and using epoxy to suspend items in a clear liquid which hardens.
"Epoxy has become really popular," he said. "I want to use things that would have been scrap wood. I want to recycle, reuse, revitalize. We are also very conscious of our usage of products."
Growing up on his grandparents ranch, he said, "taught me a lot of different skills, and the lesson that with enough time and patience, you'll figure it out. There's always a way, like in engineering, it's problem-solving."
He paralleled his work with various items to his wife's work with community resources, saying, "She's just managing people, and I'm managing materials. She's the starter and finisher, and I'm the detail person, so we complement each other really well."
He is determined to support local businesses, and wants to be part of more vitalization to Frazee.
"Growth in the town has really picked up in the last six months," he said. "That's awesome and we're proud to be a part of that. We'd like to see some of those older buildings improved."
Taking the plunge of starting his own business "is a risk," but he is confident in the company's solid business plan and community support.
Pifher wants to keep his business plan open and flexible.
"Eventually, we want to get to the point of buying older smaller homes for conversion, and be part of getting people into good, smaller homes. We're looking at affordable, stable housing work, if we don't do it, we hope somebody does," he said.
Pifher said his life now is about being passionate about his work, investing energy in projects for clients and then recharging through his art.
Join Pifher and community members at a ribbon cutting on Thursday, Jan, 26 at 11 a.m. For more information about business products, contact D&K Designs at (307) 371-5542.