Frazee splits triangular with Pelican Rapids, DGF
Sports | Published on January 10, 2023 at 3:48pm EST | Author: frazeevergas
0
Hornets to host BGMR on Tuesday night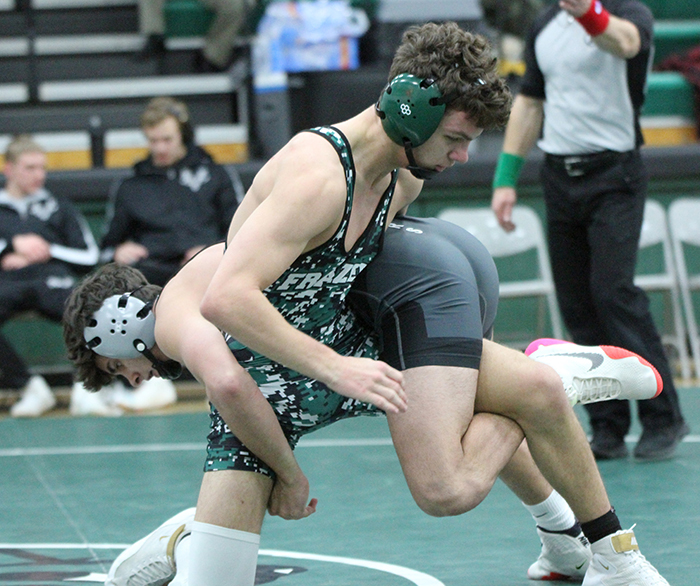 By Chad Koenen
Publisher
The Frazee Hornets got back on the mat on Thursday night as they split a triangular with Pelican Rapids and Dilworth-Glyndon-Felton.
The Hornets opened the night with a commanding 50-19 win over the Vikings. Frazee trailed by a score of 16-6 heading into the 138 lbs. match, but won eight of the final nine matches to blow past the Vikings.
After opening the match with a forfeit, Cash Osterman put the Hornets on the scoreboard with a pin at 113 lbs. to tie the match up at 6-6.
Pelican Rapids WON the next three matches to take a 16-6 lead, before Frazee took over the match. Cade Nagel won by major decision at 138 lbs., before Bailey Peichel tied the match up at 16-16 with a first period pin over Jack Paulson.
Tyler Moe put the Hornets in front for good as he won a 9-1 major decision at 152 lbs. over Carter Johnson.
Jake Nagel followed with a pin at 160 lbs., before Preston Mayfield earned a pin at 170 lbs. to make the score 32-16 in favor of Frazee.
Max Rue made it three pins in a row as he needed just 16 seconds to earn a pin over Elias Valdovines at 182 lbs.
Xander Kohler ended the match in dramatic fashion as he picked up a pin in just 51 seconds at 285 lbs. to make the score 50-19 in favor of Frazee.
In their second match of the night, the Hornets fell to DGF by a score of 38-30.
Frazee once again found itself in an early hole as they trailed the Rebels by a score of 23-6 heading into the 145 lbs. match. The lone win early on was a Cash Osterman pin at 113 lbs.
Following a Bailey Peichel major decision by a score of 16-6 at 145 lbs., Roy Rude of DGF was able to get the best of Tyler Moe by a close 4-3 decision to give the Rebels a 26-10 lead.
Jake Nagel won by tech fall at 160 lbs., before Preston Mayfield won by forfeit at 170 lbs. to make the score 26-21 in favor of DGF.
Max Rue secured a close 1-0 decision at 182 lbs. over Thomas Thureen to bring the Hornets within striking distance. Unfortunately, DGF won two of the final three matches of the night by fall to come away with the 38-30 win. The lone win in the upper three weights for Frazee came by a Daniel Graham pin at 220 lbs.
The Hornets, who are 5-2 on the season in duals, will host Badger-Greenbush-Middle River on Tuesday night at 6:30 p.m., before heading to Bemidji on Friday and Saturday for a tournament.
Dilworth-Glyndon-Felton 38 Frazee 30
106: Kayleb Kosen (DGF) over (FRAZ) (For.)
113: Cash Osterman (FRAZ) over Gabe Schmitz (DGF) (Fall 3:13)
120: Sam Schmitz (DGF) over Liam Hamm (FRAZ) (Fall 3:01)
126: Jacob Luebke (DGF) over Blake Sonnenberg (FRAZ) (TF 17-1 2:30)
132: Alex Anderson (DGF) over Brady Borah (FRAZ) (Dec 4-1)
138: Austin Lenhart (DGF) over Cade Nagel (FRAZ) (Dec 4-2)
145: Bailey Peichel (FRAZ) over Camden Mustachia (DGF) (MD 16-7)
152: Roy Rude (DGF) over Tyler Moe (FRAZ) (Dec 4-3)
160: Jake Nagel (FRAZ) over Joey Arends (DGF) (TF 16-0 0:00)
170: Preston Mayfield (FRAZ) over (DGF) (For.)
182: Max Rue (FRAZ) over Thomas Thureen (DGF) (Dec 1-0)
195: Cole Julin (DGF) over Jack Graham (FRAZ) (Fall 3:29)
220: Daniel Graham (FRAZ) over Mason Ferden (DGF) (Fall 4:23)
285: Bryce Fischer (DGF) over Xander Kohler (FRAZ) (Fall 3:18)
Frazee vs. Pelican Rapids –  50-19
106: Issac Bergren (Pelican Rapids) over Forfeit (Frazee) – Forfeit
113: Cash Osterman (Frazee) over Hazen Milbeck (Pelican Rapids) – Fall 1:30
120: Danny Salazar (Pelican Rapids) over Liam Hamm (Frazee) – Decision 13-9
126: Jackson Peasley (Pelican Rapids) over Blake Sonnenberg (Frazee) – Maj Dec 10-0
132: Jed Carlson (Pelican Rapids) over Brady Borah (Frazee) – Decision 12-9
138: Cade Nagel (Frazee) over Oakley Carlson (Pelican Rapids) – Maj Dec 12-0
145: Bailey Peichel (Frazee) over Jack Paulson (Pelican Rapids) – Fall 1:05
152: Tyler Moe (Frazee) over Carter Johnson (Pelican Rapids) – Maj Dec 9-1
160: Jake Nagel (Frazee) over Jack Kapenga (Pelican Rapids) – Fall 1:32
170: Preston Mayfield (Frazee) over Mark Kapenga (Pelican Rapids) – Fall 1:22
182: Max Rue (Frazee) over Elias Valdovines (Pelican Rapids) – Fall 0:16
195: Forfeit (Pelican Rapids) over Daniel Graham (Frazee) – Decision 0-0
220: Derek Zitzow (Frazee) over Forfeit (Pelican Rapids) – Forfeit
285: Xander Kohler (Frazee) over Jarett Setz (Pelican Rapids) – Fall 0:51