Council appoints Kemper to open seat
News | Published on January 17, 2023 at 2:39pm EST | Author: frazeevergas
0
Regular meeting dates and times changed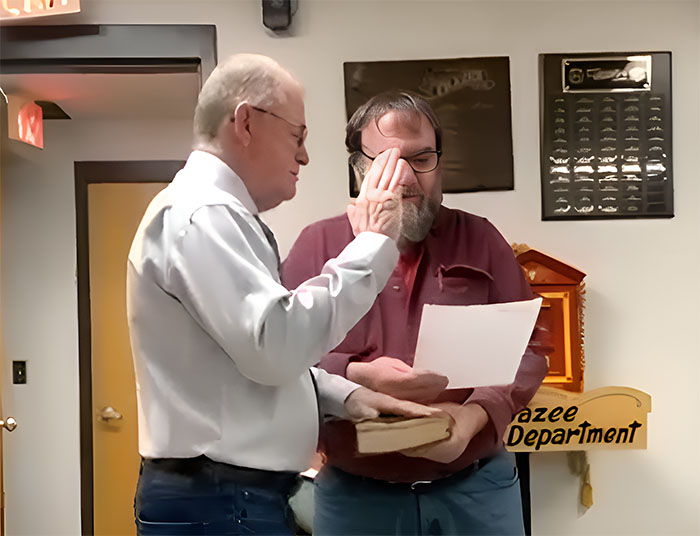 By Robert Williams
Editor
Mark Kemper was selected out of three candidates to fill the open seat at the Frazee City Council meeting Monday, Jan. 9. The seat was vacated when Mark Flemmer was elected mayor in November.
Kemper was one of two council members from 2022 vying for the seat, with Nicole Strand. The third party nominated was John Freeman.
"The voters made it pretty clear they were looking for change here in Frazee," Flemmer said. "They elected a new mayor and two new council members and one of the decisions I had to make is who best to follow through with the changes that the city seems to want. That was my reasoning for nominating Nicole for my seat as she is one of the persons who backed us a lot on some changes."
Vice Mayor Mike Sharp noted that both Kemper and Strand had an advantage having served four-year periods on council before. Both of those new council members, Andrea Froeber and Jim Rader, expressed their interest in Kemper due to his receiving the next highest vote total below both of theirs in the November election.
"I have nothing but good things to say about Mark and Nicole," Sharp said. "To me, I think the deciding factor is probably the election results."
Both Strand and Kemper spoke to the board prior to the voting.
Flemmer made a motion on Strand first, then Freeman, but was unable to get a second. The board subsequently chose Kemper unanimously.
Swearing in
To begin Monday's meeting, former mayor Ken Miosek relinquished his duties by swearing in new mayor Mark Flemmer. Flemmer did the same to incoming council members Andrea Froeber and Jim Rader. Kemper was sworn in by Flemmer after his return was approved.
Meeting date changes
Regular meetings of the Frazee City Council will be moved from the third Monday of the month to the second Monday of every month at 6 p.m., and the Fourth Wednesday of every month at 4:30 p.m. All meetings, including special and adjourned meetings; except the Fourth Wednesday meeting, shall be held at the meeting room in the Fire Hall, unless the City Council decided otherwise at a prior meeting. The fourth Wednesday meeting shall be held at the Event Center.
A procedural change was made to the second meeting, making it an official council meeting, rather than a more staff-centered Committee of the Whole, which it was prior. The original single council meeting was split into two in late 2022 to limit the length of meetings of having to do everything at only one per month.
Both Fire Chief Nathan Matejka and Police Chief Tyler Trieglaff submitted written support to keep the first meeting per month on the third Monday as the the second Monday of the month, conflicts with Frazee-Vergas School Board meetings. Both parties are school board members.
"With two department heads on the school board, we feel that separate meeting nights are most beneficial for a small town. Several other city employees have direct relations with both the city and the school. Also, it is not fair to city residents who may want to attend either or both meetings."
The second meeting of the month was changed to a 4:30 p.m. start. Flemmer noted that allows both Matejka and Trieglaff to attend the more staff-centric meetings. The notion of the difficulty of either the Fire Chief or Police Chief to attend the main meeting earlier in the month was largely ignored.
The newspaper also made a written complaint directly to the mayor about the conflict with school board meetings, making coverage of two meetings happening at the same time a far more difficult task than should be necessary.
Board assignments
Vice Mayor: In the absence of the Mayor, the Vice Mayor for the Frazee City Council shall be Mike Sharp.
Council Committees:
Liquor Store Committee: Mark Flemmer, Mark Kemper, Doug Anselmin*
Parks & Recreation: Mike Sharp and Andrea Froeber
Personnel & Finance Committee – Mike Sharp and Mark Flemmer
Public Safety Committee: Mark Flemmer and Mark Kemper
Employee Safety Committee: Mark Flemmer and Mike Sharp
Planning & Zoning: Mike Sharp and Andrea Froeber
Economic Development Authority: Mark Flemmer and James Rader
Council Member Liaisons: Council Members shall serve as liaisons to these specific
groups/organizations:
Frazee Area Action Fund: James Rader
Frazee-Burlington-Silver Leaf Joint Powers Board: James Rader and Larry Stephenson
Lakeside Cemetery Liaison: James Rader
Lakes Area Regional Library:
Frazee School District: James Rader
Planning Commission: The Frazee City staff appointed by the City Council to the Planning Commission shall be Andrea Froeber and Mike Sharp. Other Planning Commission members with an annual appointment date of 01/09/2023 are: Eric Anderson Brad Solberg, Tyler Trieglaff
Economic Development Authority Members: The Frazee City Council members appointed by the City
Council to the Economic Development Authority shall be Mark Flemmer and James Rader. Other
Economic Development Authority members are: Ted Anderson Term Expires 1/1/2024, Ashley Renollet Term Expires 1/1/2024, Jon Olson Term Expires 1/1/2025, Heath Peterson Term Expires 1/1/2025, Hank Ludtke Term Expires 1/1/2025, EDA – CEDA Contracted Representative – Don Lorsung, EDA – MHP Advisor – Jill Hendricksen
Legal Advisors: The firm of Ramstad, Skoyles, & Winters P.A. shall be retained as the law firm responsible for legal services and advice, with Tom Winters as the primary city attorney and Karen Skoyles as the primary prosecuting attorney.
*Doug Anselmin is the general manager of the Holiday Inn Detroit Lakes who volunteered to assist with the liquor store committee.
Wannigan Park
Mayor Flemmer signed a letter of support for Wannigan Regional Park's Border Planting Phase I. to remove noxious weeds and restore native plant species along the northwestern boundary of the park.
"The City of Frazee supports the grant application "Wannigan Regional Park – Border Planting Phase I", under project management by Becker County Soil & Water Conservation District. The benefits of the border planting include: 1) to create a visual screening 2) to provide a natural look and natural benefits for the neighbors 3) to provide a wind break for inside the park, and 4) to restore and provide a native plant habitat for birds and wildlife. The project will include a community wide planting day. This project will be an ideal opportunity for the City, due to its location along the park border area, and will provide the Frazee area a display of sustainable landscape management on what is currently agricultural land. We will support this project in coordination with Frazee Community Development."
Donation
The city received a $1,500 donation from Michael and Michelle Sharp to be used for the beautification of city parks.
Public hearing
The council held a public hearing and approved the interim use to operate an interior remodeling business out of an existing accessory structure (shop) for a period of up to three years at the property owned by Tyler Moe located at 500 Juniper Ave East. This property is zoned Single and Two-Family Residential (R-1). According to Moe, he is using a portion of his shop as a showroom for flooring, tile, countertops and cabinets, along with sales displays.
"Love seeing new businesses open up," said Rader.
Moe will have the option of reapplying for another conditional use permit when this one expires, or the property could be rezoned.
"Or, if his business is flourishing, he might want to move to a downtown location," said Sharp. "There are a lot of options for the future."
The motion was passed unanimously.
Quiet Zone
After discussions with the Minnesota Department of Transportation and the Federal Railroad Administration, the product needed to create the railway quiet zone in Frazee was agreed upon. MnDOT's preferred product, Tuff Curb, will be installed by city employees this spring at a cost of $14,763.40 for materials, which will be paid for by 4M funds.
The Minnesota Municipal Money Market Fund (the 4M Fund) is a customized cash management and investment program for Minnesota public funds. Sponsored and governed by the League of Minnesota Cities, the 4M Fund is a unique investment alternative designed to address the daily and long-term investment needs of Minnesota cities and other municipal entities.
The quiet zone will officially go into effect 60 days after installation and the necessary paperwork is submitted and approved.