Cutting Edge Salon opens in Vergas
News | Published on January 17, 2023 at 2:28pm EST | Author: frazeevergas
0
Tjaden excited to work closer to home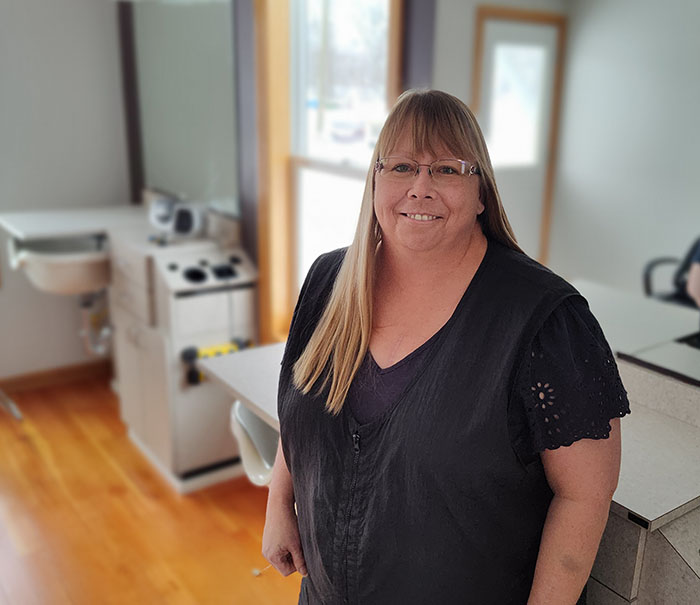 By Robert Williams
Editor
Cutting Edge Salon owner Lori Tjaden lives out on Sybil Lake and recently took a leap at the opportunity to work closer to home and nab some rare commercial real estate in Vergas.
Tjaden purchased the house at 159 East Elm Street, behind Billy's Corner Bar and Grill, where she opened her second salon location Friday, Jan. 13.
The purchase was not part of a big plan. The opportunity to acquire the building arose and she jumped at it.
"That was it," said Tjaden. "I've known the guy that I got it from a long time and I was like, 'What are you ever going to do with that house?' Everybody thought he'd never sell it but he finally did. It just sat here. I tried buying another building but it fell through."
Tjaden has worked in the industry her entire adult life, beginning her training as a high school student in Wadena.
"I graduated in '86 and took it my senior year," she said. "Back then, you could do it during school."
She purchased the Detroit Lakes location in 2009. The salon moved from its initial spot out on Highway 34 to the north side of downtown on Washington Avenue four years ago.
The Vergas location formerly housed Elm Street Boutique, prior to its move to Main Street.
While the building was in good shape, Tjaden had months of preparation work prior to opening to transform it into a salon. That work included painting the interior, and most importantly, upgrading the plumbing to handle two hair stations and a public restroom.
"It just takes time," she said. "I've been getting the other stuff moved out and my stuff moved in and waiting to get stuff done, like the bathroom."
The upstairs of the salon has a nail tech station in the opening room and an adjacent room holds the two hair stations. A back room is set up for a massage therapist and Tjaden also has an area downstairs set up for tanning.
While tanning services do not have the large clientele base as when it began, there is still a need and that has been expressed by locals around the Vergas area. Much of that demand is from regular travelers, especially those escaping winter for beach locations.
"Everybody is going on vacation, so I have eight people that want to start tanning," Tjaden said.
The Vergas Cutting Edge Salon will be open two to three days per week as the salon business takes shape and the client base forms. Summer hours will be announced later in the year.
"They will change; I'll be here way more," said Tjaden.
One known change is Tjaden plans to work Saturdays full-time during the warmer months. Her goal is to get the salon going to the point where she can work much closer to home.
"I want to be over here full-time, eventually," said Tjaden. "I'm just sick of driving back-and-forth."
She is also keenly aware how the city of Vergas supports its local businesses.
"They are supportive," she said. "I don't know how many I have waiting to get in the chair already."
Adding a second location will keep Tjaden on the move, but she has spread her business out to three different places. She also services senior clients at Park Manor Estates Assisted Living in Detroit Lakes.
Vergas Cutting Edge is also looking for a licensed massage therapist, a nail technician and an eyelash technician, full or part time.
Tjaden's current schedule in Vergas will be Wednesdays and Fridays, Saturdays by appointment. She will still be in Detroit Lakes on Tuesdays and Thursdays.
Cutting Edge is actively taking clients. For an appointment or to discuss her job openings, call Lori at 218-234-8172 (texting also available) or 218-342-4434.