Hornets fall to Cowboys 72-55 in Heart O' Lakes Conference action
News | Published on January 17, 2023 at 12:06pm EST | Author: frazeevergas
0
Hornets to travel to NCE/U-H on Tuesday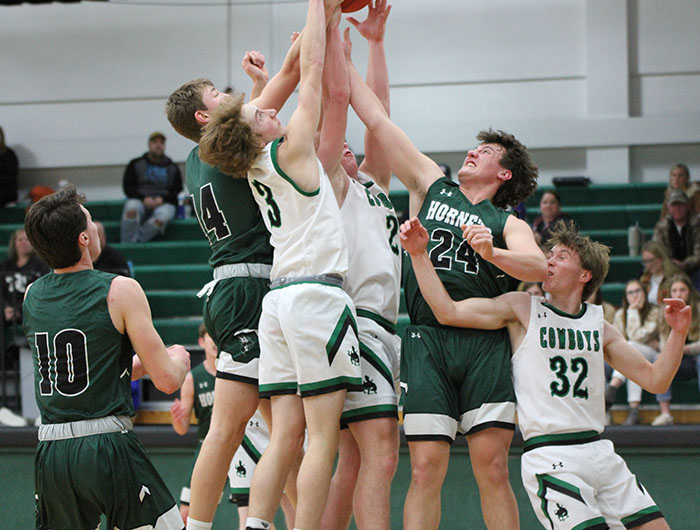 By Chad Koenen
Publisher
Frazee outscored Breckenridge 29-23 in the second half, but they were ultimately unable to overcome a late Cowboys first half run and fell by a score of 72-55.
The Hornets trailed the Cowboys by single digits for much of the first half until the Cowboys went on a big run late in the first half to take a 49-26 lead at halftime. The Hornets were able to put together several runs in the final 18 minutes of action to cut into the Cowboys lead and make the game competitive late.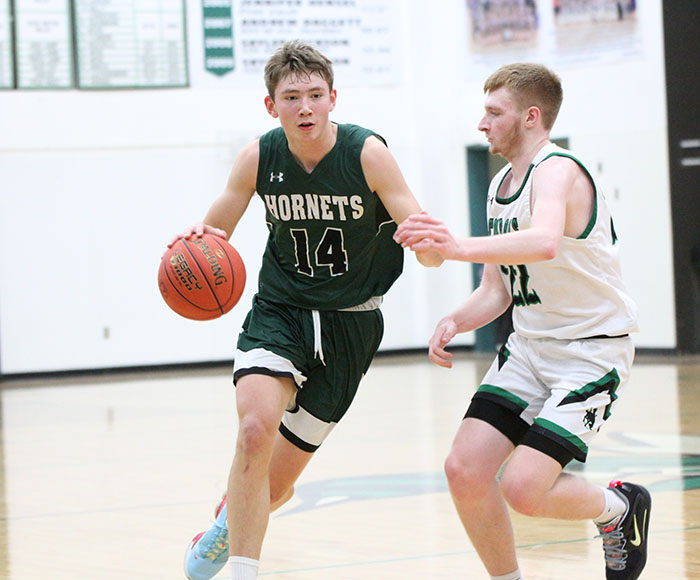 The Hornets shot just 30 percent from the field, but pulled down 20 offensive rebounds that led to 15 second chance points. They also had 28 points in the paint and had 32 deflections in the loss. Both the Cowboys and Hornets were in a bit of foul trouble throughout the game as they combined for 40 team fouls.
Carter Sonnenberg led the way offensively as he recorded a double-double with 16 points and 13 rebounds. Adam Vigen joined him in double figures with 11 points to go along with 3 assists and 3 rebounds.
Nathan Longfors just missed out in joining them in double figures as he finished with 9 points.
The loss drops the Hornets to 2-8 on the season and 0-5 in the Heart O' Lakes Conference.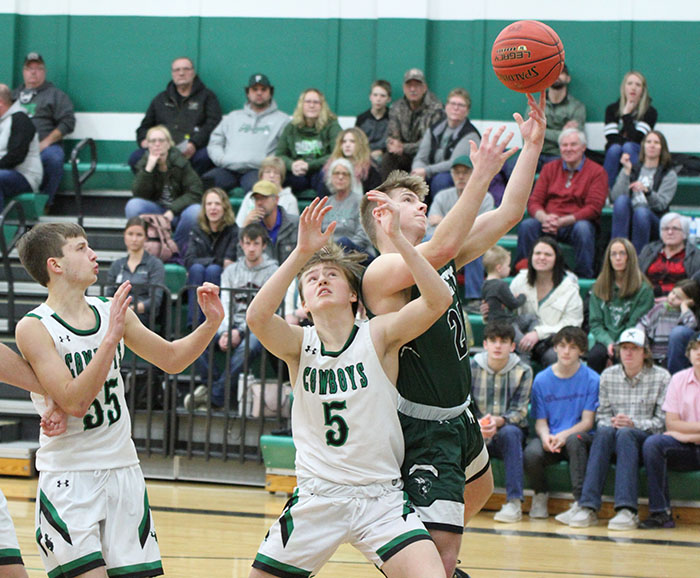 This week the Hornets will travel to Norman County East/Ulen-Hitterdal on Tuesday in their lone action of the week.
POINTS: Carter Sonnenberg 16, Adam Vigen 11, Nathan Longfors 9, Alex Helmers 7, Logan Brekke 5, Zachary Longfors 4, Kale Ovsak 3
ASSISTS: Adam Vigen 3, Alex Helmers 3, Carter Sonnenberg 2, Asher Blaine 1, Kale Ovsak 1, Nathan Longfors 1, Andrew Aho 1, Zachary Longfors 1
REBOUNDS: Carter Sonnenberg 13, Kale Ovsak 4, Gage Post 4, Adam Vigen 3, Alex Helmers 3, Zachary Longfors 3, Nathan Longfors 2, Asher Blaine 1, Cael Pausch 1, Andrew Aho 1, Logan Brekke 1
STEALS: Adam Vigen 2, Kale Ovsak 2, Carter Sonnenberg 2, Cael Pausch 1, Mason Krieg 1, Alex Helmers 1, Zachary Longfors 1, Gage Post 1
BLOCKS: Carter Sonnenberg 1, Zachary Longfors 1, Gage Post 1