Support is available for childcares
News | Published on January 17, 2023 at 2:32pm EST | Author: frazeevergas
0
Minnesota surveying participants January through May
By Lori Fischer Thorp
Correspondent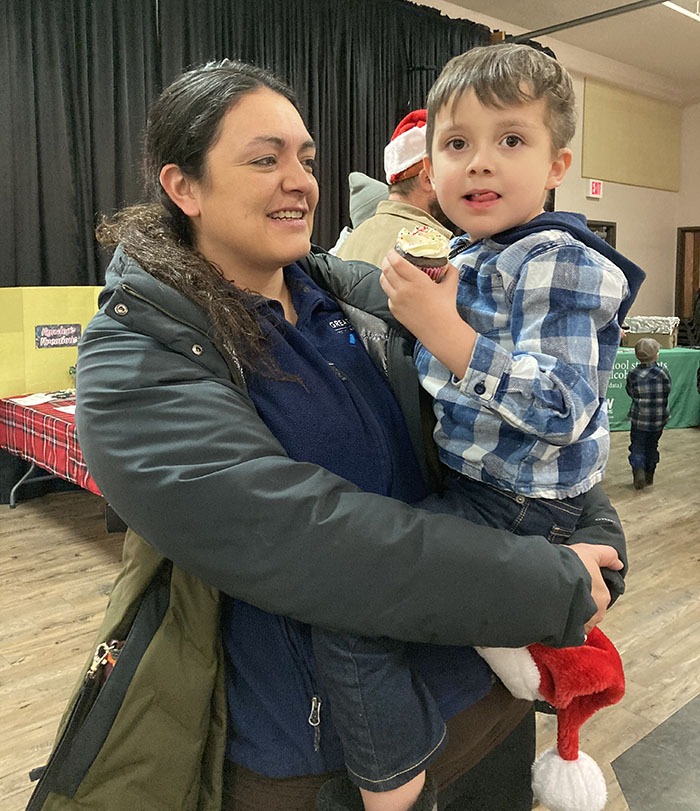 Meagan Hernandez has walked in the shoes of a parent needing childcare. Like many other families throughout the nation, the solution took the form of a family, friend or neighbor.
Her youngest child, Oliver, has only been cared for by family members since she returned to work following his birth, until he started preschool this year.
"It was the best fit for our family. I wouldn't have had it any other way," Hernandez said.
Their situation falls into about 40 percent of Minnesota children age 2 and younger who are being cared for by Family, Friend and Neighbor (FFN) childcare providers, according to the most recent survey done in 2016 by Wilder Research.
"This is older research, and a lot has changed in six years, especially with COVID," Hernandez said.
Now, this Lake Park mother of three has a unique opportunity to help other families in similar situations as the Childcare Program Manager with MAHUBE-OTWA Community Action Program.
Since Hernandez stepped into the new position in mid-May, a major part of her role has been to connect with FFN childcare providers throughout the six-county area of Becker, Hubbard, Marshall, Otter Tail, Todd, and Wadena.
"We want to identify individuals who are these types of providers," Hernandez said. "They might think, 'No, I'm not a childcare provider, I'm just a grandma'" or other relative, neighbor, or friend, "so educating them that the state does see them as a childcare provider, those we identify, we're just trying to support and help them," she said.
The national website ChildCare.gov defines FFN care as "provided in the child's or caregiver's home by a person who is a relative, friend, or neighbor, or a babysitter or nanny." It adds, "These providers are typically exempt from licensing and regulations. They may not be required to meet health, safety, and training standards unless they care for children who receive government financial assistance."
Minnesota's Department of Human Services (DHS) states that "an FFN or legal non-licensed provider must be at least 18 years of age, provide child care only to related children and/or provide child care to children from a single unrelated family at one time." Definitions of "related" mean the provider is the child's sibling, grandparent, great-grandparent, aunt, or uncle of the child.
Beyond the definition, the role of FFNs is crucial. Hernandez's task is to connect with them, listen to their needs, and help meet those needs whenever possible.
FFN providers might be older siblings or high school students.
"It's still very broad, a lot of people are falling into the category and they might just not realize it. It doesn't have to be their full-time job, some of them might do it on the weekends or for an hour at night . . .They might have (childcare) responsibilities before the family's other childcare opens for the day, or after school. A lot of them have non-typical hours. We want to let them know that we see them and they're a vital part of our childcare industry," she said.
Especially since the arrival of COVID, care situations with only one or two families help parents stay at work whenever possible.
"A grandma will still take a baby with a runny nose, but a licensed provider has different responsibility for the whole group," she said. "We want to find out if they're comfortable that they have everything they need for health and safety needs, do they want First Aid-CPR trainings, do they know what choking hazards are, and things like that," she said.
Other needs have included car seats, cribs, diaper-changing tables, strollers, baby gates fire extinguishers and smoke-carbon monoxide detectors, similar to what licensing requires, but not necessarily limited to that.
Sometimes the need is a sense of connection, such as grandparents in the Park Rapids area were seeking.
"They came in thinking they were alone (in being caregivers)," Hernandez said, "and left with partnerships within their own community."
The group met in-person for seven weeks throughout October and November. Hernandez said there's a possibility of doing groups in other areas.
"What we do is really based off community need," she said.
The current funding grant runs through June, and "We really want to be intentional."
Another need was expressed in the Detroit Lakes School District, where the program helped a group of students obtain CPR-First Aid training this winter. Hernandez said that important training could be supplied for other districts, as well.
In Todd County, the need is more complex.
"We're reaching out to the Spanish-speaking community there," Hernandez said. "It is almost impossible to get a CPR-First Aid class in the Spanish language. We think about how easily obtainable it is to some of us, but it's darn near impossible an hour and a half away, and that just doesn't seem right, so we're trying to get a Spanish-speaking trainer for Todd County."
Regardless of where a person lives, there is a childcare shortage. Many families in this area seek connections on platforms such as FaceBook, which has groups including Becker County Childcare to link providers and families. One recent post by a Detroit Lakes family stated that they spent eight months looking for infant care in Detroit Lakes.
"It's especially hard to find childcare for infants and toddlers because of the ratios allowed by childcare licensing," Hernandez explained. Also, she said, "Babies are expensive. The rates for infants can be higher because they require the most equipment, the most food, the most care, can't communicate their needs beyond crying, and they're relying on that special adult to just know what their needs are.
"FFNs provide care from their heart and for love. They're not typically providing this care for money or any gain for themselves, it's for the babies."
For anyone who is currently providing care as a FFN provider, DHS is putting out a survey in January.
"There is going to be a big push" Hernandez said, so that currently accurate figures can be established. The survey will be online, and Hernandez said there will also be positions for community navigators who will be contacting people who might be harder to reach.
For more information about the program or FFN survey contact Hernandez at mhernandez@mahube.org or (218) 530-7284.