University of MN grad student joins Cornerstone
News | Published on January 24, 2023 at 2:54pm EST | Author: frazeevergas
0
Entrepreneurial logistics will help shape the project's future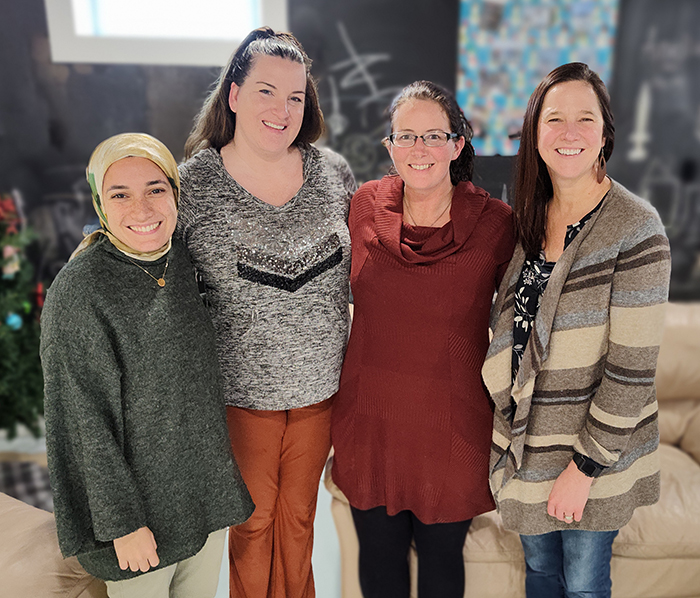 By Robert Williams
Editor
University of Minnesota graduate assistant Dalila Hussein made her first visit to Cornerstone last week to get a first-hand look at the project and discuss with board members how her hiring can benefit the program.  ¶  Hussein brings a lengthy entrepreneurial, research and project management background to the project having worked with youth all over the world. Her part-time position was created by a grant and partnership with the University of Minnesota Extensions Regional Sustainable Development Partnerships program.  ¶  "I have a background in social entrepreneurship from a personal and professional perspective," Hussein said. "Everything kind of linked up with my interests. I'm interested in economic development and I'm also specializing in impact evaluation.
"I have a quantitative research background, but I'm also interested in the social entrepreneurship scheme," Hussein continued.
Hussein was joined by Molly Zins, the executive director at University of Minnesota Central Sustainable Development Partnership, who put Cornerstone and Hussein together.
"The program I work with is the organization that Karen (Pifher) reached out to about a year ago to talk about the work going on the youth center and in particular, developing the youth entrepreneurship programming," said Zins. "Our organization fields ideas from all over the north central region of the state to figure out if there's an opportunity for University of Minnesota partners to work alongside the community for some type of research, design or programming work."
Zins and her team started interviewing graduate assistant candidates in December.
"We met Delila and all of the incredible expertise that she brings with her previous work experiences, present position and studies in the Humphrey School," said Zins.
The Hubert H. Humphrey School of Public Affairs is a public policy and planning school at the University of Minnesota.
Hussein was hired to work with Cornerstone during spring semester to develop a youth entrepreneurship programming model.
Cornerstone was the only project Hussein had applied to and from Zins' perspective, she was the ideal candidate among a pool of applicants eager to work on the Frazee project.
"We had a lot of really talented students apply for the position," said Zins. "We really wanted Delila, so we moved fast. There was something about this project that really attracted a number of very talented students. Something was really compelling to many students. That doesn't always happen. We have a lot of projects like this all over greater Minnesota that we're trying to market to talented students and sometimes we just don't draw them in. This one did."
Hussein noted how Cornerstone's uniqueness stuck out in comparison to many others, including a lot of agriculture-based projects in outstate Minnesota.
"I think it's the economic development aspect," said Hussein. "This was what clicked the most—you don't get a project like this every year."
Pifher and Youth Director Katie Grindall went over a lot of resumes and selected a collection of five candidates.
"Delila was a clear front-runner," said Zins.
Cornerstone is in the process of hiring a new director to replace Pifher, who will still be heavily involved in development work as a board member.
"I'll have a more focused role there on fundraising and development," Pifher said.
A lot of Hussein's role will involve researching similar projects and finding what those organizations used to be successful, especially in rural communities.
"We'll be able to take that back here and apply all the details to it," said Pifher. "The goal is by the end of her time with us in May that we will have—here is what the entrepreneurial program looks like, here's how we roll it out, so when a student is down here, from the time they touch a product through finishing it to going upstairs or selling it online where the funding distribution goes. That will all be mapped out. We'll have a plan of how it all kind of incorporates together."
A big part of Cornerstone is for students and adults to utilize the workspace as entrepreneurs. The exact details of how that will work is a big part why Hussein has been brought in.
"When adults and youth are using this center and space, we want them to develop things they can sell upstairs," said Pifher. "We want to be able to highlight local artists. If they're creating things and they're in the community we want to be able to sell it upstairs. It's really building entrepreneurship with youth and the community."
Incorporating the full bistro slotted for upstairs into meaningful work-study hours for students is also part of the plan, allowing students to learn inventory, marketing, sales, and business basics. Work will be done with the school to map out how that works with both curriculum and Cornerstone.
"What do we need to do to partner to help create that opportunity for kids?" said Pifher.
Cornerstone is aimed at seventh through 12th graders and will have a STEAM lab to allow those students to pursue creations in such pursuits as laser engraving, 3D printing, T-shirt printing, soap and candle making.
"Kids don't have to sell anything if they don't want to," said Pifher. "They can just play, but we'll also have the opportunity for them to create things they can sell."
Figuring out the logistics, especially on the monetary side, is one of the first hurdles to get over.
"We really want to invest part of it back into the youth, but we don't want to be 1099-ing kids," said Pifher. "How can we make it come back in a meaningful way? No matter what, it'll come back to the kids, we just don't know what that looks like yet. Same with the community. How do we manage sales for artists and inventory? We have more questions than answers, which is why we have Delila to help."
Hussein started in market research in Egypt, along with a strong international consultancy background.
"I wanted to do something on a social schema and with startups," she said. "Something that creates value for people more than organizations and multinationals."
Hussein worked with underprivileged communities, like east African and Syrian refugees in Egypt, managing a mentorship program helping youth and refugees develop ideas and training.
On a personal side, Hussein also comes from an entrepreneurial family. Her father and sister both own their own businesses.
"I don't see myself doing that," she said. "I like to brainstorm and help people throughout. I'm passionate about taking people through that process, especially from a small scale and how to grow that."
Getting an actual look at the building, interior space, and seeing what Cornerstone is were keys in helping Hussein formulate her work, along with mapping out the structure and hierarchy of those involved. She is scheduled to make a second visit to Frazee in the future, but will do most of her work telecommuting. Her first impression of the youth center was a positive one.
"I really like how open the space is," she said. "It feels very communal. I think this is very smart as an interactive space."
After working through delays and challenges, Cornerstone is closing in on a timeline to completion of the upstairs by June or July, which will include soft openings. The upstairs remodel still has a lot of work to be done. The downstairs will be open soon for rentals to the public outside of the scheduled youth center hours.
"It's been a long journey," said Pifher. "It takes a village to get this done."
The work has also garnered attention, funding and support from around the state. According to Pifher, Essentia Health and the Wilder Foundation are coming in June to film a video of the project.
"They want to help highlight how other rural communities can do similar things," said Pifher.
Lakes Region Arts Council will be sponsoring Cornerstone leaders to speak in other communities. Cornerstone also recently received a $10,000 donation from the Becker County Children's Initiative.