First Froze Fest Tournament a success
News | Published on February 1, 2023 at 12:25pm EST | Author: frazeevergas
0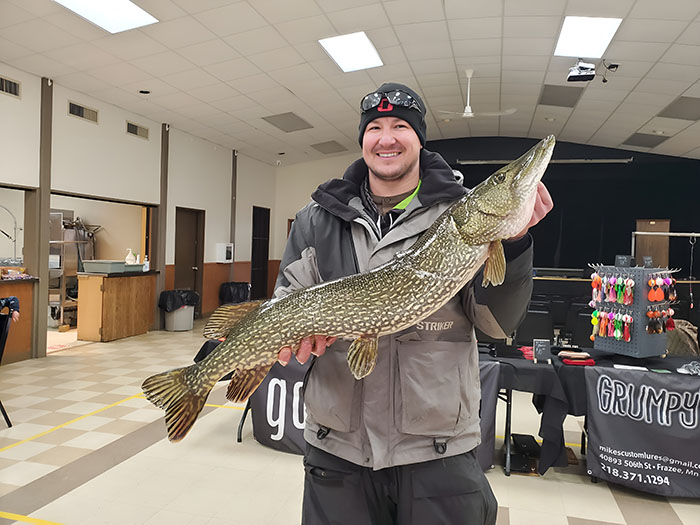 By Robert Willams
Editor
January is one of those rare months when there are not a lot of organized community activities in Vergas, but Alex Levenhagen of Panfish Pirate Tackle and Guide Service took advantage of a quiet weekend January 21-22 to organize a successful first run of the Froze Fest panfish tournament, pike spearing, decoy contest and vendor show in town.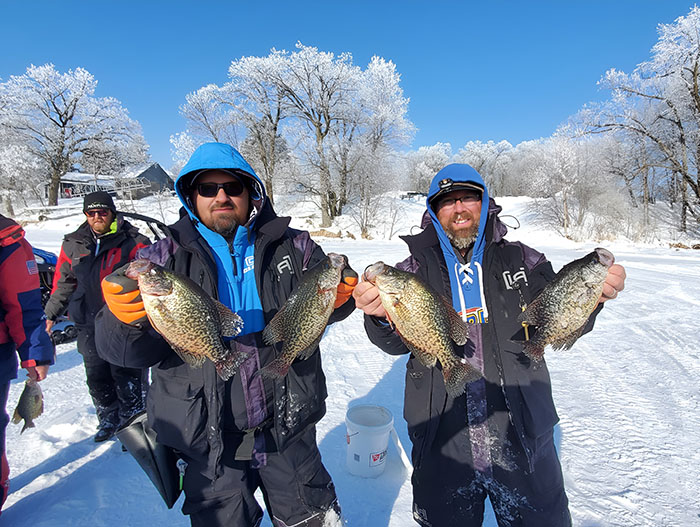 Like his own business, Levenhagen did much of the work on the tournament from the ground up himself, put up the money to have the event, along with support from local sponsors and praised the local community for making his tournament a success.
"That's because this is an amazing community and people want to see those events come," he said. "The business owners here especially understand that our recreational tourism and events like that for the locals really show off the quality of life we have here to be able to do that. Thanks to the businesses that really put forth an effort from town here: Otter Coffee, Billy's, Ditterich Mercantile, I want to give them some recognition."
Away from the ice, the vendor show was a way to showcase regional artists, especially decoy carvers and painters. The Event Center hosted multiple artists including an area 12-year-old boy who ties flies. Also included were companies from around Vergas and mid-Minnesota like Arctic Anchor, Mike's Custom Lures, HS Decoys & Crafts, among others.
"I'm going to keep it that way," said Levenhagen. "Everybody is going to be a smaller company. I'm a proponent of small business, hand-crafted, artisan type work. These are decoys that are one-of-a-kind because they're all done by hand."
An artisan himself, Levenhagen takes pride in helping others who have chosen similar pursuits, as much as he is proud of Vergas as a community. Plans are in the works for an annual tournament next year and after a successful test run – a bigger event.
"If we could get 50 teams, that's 100 people coming to Vergas and the area," he said. "Really, the idea is to show off our fisheries a little bit and get the local economy stimulated in the winter season. Next year, I want to get the community more involved."
The 2024 tournament will include a full angling tournament with weigh-ins at the Event Center.
"Just like we did with the pike because that was really cool," he said.
Levenhagen did take some heat from a very small minority who thought the tournament competitors were going to take all the fish in the lake.
"I'm not doing this just for people to catch fish," he said. "I'm bringing them here to show off our community and what we have available. I think there are people who have lived here their whole lives or are retired here that don't realize we probably wouldn't have a nice gas station to go to without recreational tourism."
Levenhagen has seen what can happen to small towns without that luxury in his native Kittson and Roseau counties.
Levenhagen found early success as a teenager and into his 20's competing at fishing contests. He farmed and was a welder and worked for Sportsman's Lodge in Lake of the Woods prior to moving to Vergas.
"I came down here and I started fishing and eventually did some guiding in the area with clients from the cities, instead of them driving all the way up north," Levenhagen said. "I fell in love with lakes country."
He also met his wife Hannah seven years ago and that romance brought him to Otter Tail County permanently. Hannah is currently the student success coordinator at Perham Public Schools.
"She's been doing her education and I've been doing the fishing thing," he said
Part of getting his foot in the door and ramping up his own business led Alex to fishing bigger tournaments with his brother-in-law, which became a good learning experience.
"I'd been paying attention to the circuit and I wanted to get into the national-level tournaments to showcase my product," he said. "We went and fished a couple, got a little humbled, realized hey, maybe I don't know everything to fish at that level."
Levenhagen is in his 20th year of building tackle and guiding and has been doing it full-time for the past seven years.
"When I got into it originally, the market was really thin and I wanted something better for what I was using," he said.
Levenhagen started building baits for friends and clients on a small scale for a number of years.
"Five years ago is when it really started to take off because my custom jigs that I had done for about a year or two had drawn a crowd," he said. "I took ideas I had for plastics and developed them into molds and eventually settled on making baits on a semi-commercial level."
His business continued to grow for another year and got a big boost from Facebook posts of quality fish that showcased his baits.
"It really took off," Levenhagen said.
He is hoping for a similar fate for Froze Fest.
An early highlight of the tournament came in pike spearing. Luke Halverson of Hawley really tipped the scales and a tournament win in his favor sticking a 40-inch, 16.5 pound pike.
"That's a personal best for a lot of guys," said Levenhagen.
Halverson's big spear came with a good ol' fashioned fishing tale to go with it.
"He got to the lake and he forgot his spear at home," said Levenhagen. "They had another buddy whose grandpa didn't live very far away. They ran over and got his grandpa's spear that probably hadn't been used in 30-some years and he took it out and speared that 40-inch-plus pike."
The panfish tournament attracted professional and highly-skilled amateur fishermen alike that made for stiff competition.
"A pro team won, but a local team got second," Alex said.
Devan Nelson of Vergas and Reed Mace of Detroit Lakes were the local fishermen who put up a challenge against pros Ryan Hylla and Clayton Kettering.
Saturday at the Event Center included a vendor show and a decoy contest that was won by Luke Borgerding.
Levenhagen has already had 14 of the 18 teams commit to returning for next year's tournament and he would like to expand the tournament to 40-50 teams for a full field. Expanding the event off the ice is part of the plan also.
"The Event Center is only so big but I think we can add three or four more vendors easily and have even more for people to look at," he said
Full results and more photos are available on Facebook at Alex Levenhagen's and his Panfish Pirate Tackle and Guide Service's page. More information on the guide service is online at panfishpirate.com.