Tyler Shipman Memorial Car Show accepting nominations
News | Published on February 21, 2023 at 4:30pm EST | Author: frazeevergas
0
Families in need and graduating seniors wanted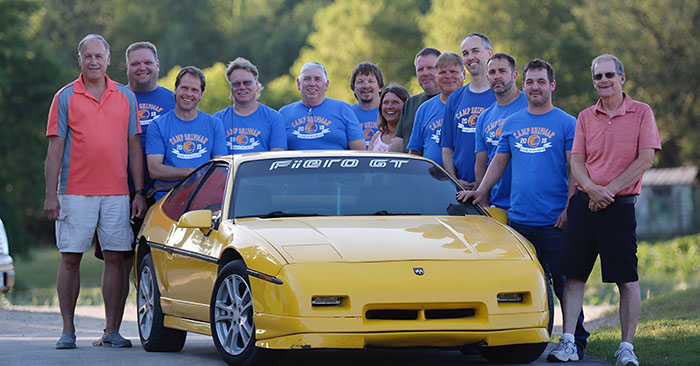 By Robert Williams
Editor
The annual Tyler Shipman Memorial Car Show will hold its 14th event during Turkey Days this summer, but nominations of families in need are currently being accepted, along with scholarship applications for area students.  ¶  The organization made a change this year, becoming a 501c3 – a nonprofit organization that has been recognized by the Internal Revenue Service as being tax-exempt by virtue of its charitable programs.  ¶  "From the onset of the car show, we've been operating under the community club's umbrella for the majority of what we do and for our scholarships we were running through the school," Daneele Shipman said.  ¶ The Shipman family was hesitant in past years to branch out on its own, but more than a decade of consistency, minus the pandemic, has led the show to go independent.
"Honestly, we didn't know if we would get enough people to donate and sponsors to keep this going," Shipman said.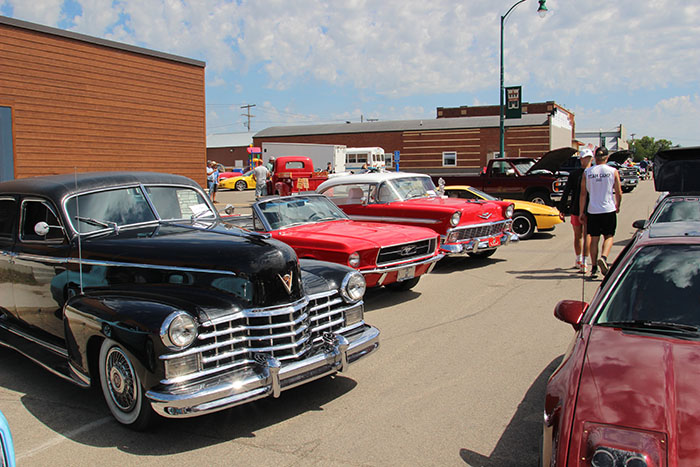 In its 14th year, the show and the important charity work done by the organization are certainly keeping it going every year, but the weight of doing something in remembrance of her son Tyler who passed away from cancer in 2010 adds some stress to making the show a success year after year.
"You don't know and you're attaching your dead son's name to something. You don't want it to be a flop," said Shipman.
Registering as an independent non-profit was a taxing process, but was a step in proving that the show will continue to be a success into the future.
"We needed something to cement our ability to be independent and last year I worked really hard on being able to get all of that process through," said Shipman. "Now, for us to do things like have a family nomination, to actually make that selection or for selecting scholarships, we have a board of directors who are not just us sitting around a kitchen table."
The family-run enterprise remains that at its core, but having others on the board from outside the family helps alleviate some of the pressure.
Initially, the car show only awarded scholarships, but has expanded since 2020 in helping families in need, like the Shipman's were during Tyler's battle with cancer.
"At the 10th year anniversary, we decided to do something different, which was to look for families that needed help that were similar to us," Shipman said. "That's where all that started."
By then, the car show was big enough and people were donating enough to do more.
"We wanted to branch out with what we were doing, while still supporting the kids," said Daneele. "I wasn't sure how that was going to go. It was a little scary, taking chances and risks. It was a big anniversary for us too and that was the year we helped five families. We were just going to go for broke."
Drawing from her family's experience, the Shipmans are keenly aware how a little help can be a big boost to families in need. They are not set out to solve big financial issues. The assistance that comes from the show and fundraising is for everyday assistance or something the family needs to keep going.
"Do you need help paying your bills? Do you need food? What do you need?," she said. "We're not some huge thing that we're going to be able to pay off hundreds of thousands of dollars of medical bills. When Tyler was sick people did a benefit for us and gave us money. Jay and I were both out of work for the entire six months that Tyler was sick. So that was a huge financial hit and that happens to people. That inspired us to where we are now. We're not big enough to take that entire burden off. What happened to us with that experience was we didn't have to worry about not working. We were able to focus on caring for Tyler. We could pay for our insurance and pay our electric bill."
The assistance Jay and Daneele received also provided opportunities for things that really mattered, ways to help Tyler that nobody else would know. Something Daneele calls "that chicken moment."
"Tyler had a hard time eating, but his favorite thing to eat…he would say, 'Mom, I want you to go get that Osage chicken,' which, back in the day, Osage Store had this broasted chicken and we could do that. We could jump in the car and drive over there and buy that Osage chicken for him because we had some money in the bank to do that for him," she said. "It's those little things; we want to give people the ability to go get that Osage chicken. That's what we're trying to fund for someone. It's that chicken moment. That's what we're trying to give them."
In the past few years, the funds raised annually have purchased a camping weekend for a family with a child suffering from cancer. They provided a child with a handicapped-accessible bicycle. Another family had the simple request of a mom and daughter haircut day. Last year, they helped fund the purchase of a therapy dog for a family.
Last year's family was nominated during the 2020 pandemic when there was no car show.
"I went back and sought that family out and I was just checking in," said Shipman.
The family had been saving up for the therapy dog and had not reached the full amount of money they needed to do so,"
"I was like, 'Bingo!' That's what I'm going to do," said Shipman.
The family had a breeder that Daneele was able to vet out and figure out the process of getting the dog and the cost.
"It just kind of fell into place," she said. "It's not like we're just writing checks and throwing money away. We definitely want to vet, so to speak, the situation of what we're buying."
Becoming an independent non-profit does demand a few parameters and rules be put in place on the donation side, but the organization remains largely as it was. The two limits are that the family in need must have a child 18-years of age and under, and live within a 100-mile radius in Becker, Otter Tail, Hubbard or Wadena counties. The latter is based on past success in being able to focus close to the area, along with the difficulty of stretching farther in regards to fundraising for a small entity.
"What I've found for myself, personally, I am able to better connect with businesses to help people to raise money in an area that I know people," said Shipman. "We felt 100 miles was a pretty good radius."
There is no set of rules on what families are going through. If there is a need the Shipmans want to be able to help.
"The medical thing they're going through can be chronic, it can be diabetes, something they're dealing with forever and ever, or it can be something very acute like cancer, but it certainly doesn't have to be that," she said. "Everybody's struggle is very important to them and everybody's story is important. The family can remain anonymous. They don't have to be in the limelight. Some people don't like that and it's totally fine. I completely respect that."
There are plenty of families in need within 100 miles of Frazee and Vergas, but it is not always easy to reach them or get them to respond. Shipman wants to encourage families that are in need to reach out or their friends to nominate a family.
"People have a hard time coming forward," she said. "I think, also, people don't nominate other people because they think everybody knows and people don't."
The earlier the nomination the more likely those needs can be met. This time of year is perfect to allow the organization to direct future fundraising and allot what has already been raised.
The majority of the scholarships awarded have gone to Frazee-Vergas graduates, but not always. Much like the families they help, the Shipmans are open to students from outside the district and outside the norms of a typical scholarship recipient.
"We don't care what program they're going into. If they have a C average and they're going to a two-year college to be a mechanic…awesome, I'm all about that," she said. "It's more about attitude and drive. We usually target the kids who aren't up for that $25,000 ride to Concordia. We're hitting those kids who might not be eligible for a different scholarship."
One scholarship recipient from outside the area was Marlee Zender of Pelican Rapids in 2019. How that occurred was more happenstance than anything. Zender caught the eye of Daneele and her daughter Cassidy, who is also heavily involved with the show and fundraising.
"Cassidy and I kept running into Marlee at events and she was just the kindest girl I have ever met," said Shipman. "She would just go out of her way to be kind and we could see it from a distance. We just decided we were going to give her a scholarship and called her out of the blue. She ended up helping out at the car show that year and invited us to a play in Alexandria after she graduated and we've kept in touch with her."
Students from around the area have already started submitting applications.
"I got an email from a kid in Perham a few weeks ago asking if he could apply for a scholarship and I said, 'absolutely,' send me an email of who you are and what you're doing," said Shipman.
Area businesses are major supporters of the car show and assist greatly with the fundraising. Shipman does her best to focus those efforts to be beneficial for all, especially the businesses who help out every year.
"The businesses here in town, we're trying to be considerate of our local economy and wanting to help them be involved with what we're doing," she said. "We know they feel an ownership of what we do too. Like Ketter's and the lumber yard and All-in-All, if I purchase a gift card they'll match what I buy. That's the kind of stuff we can give families so they have gas money and food. It's a way for businesses to advertise and help without it being a huge request, like can you donate $500 to our show? I try to be sensitive to our local businesses so they can be a part of our show without it being a huge hit. I know they get the knock-knock and donate money and I want to do it in a way that is helpful to both of us and to the people we are trying to help too."
The 14th annual Tyler Shipman Memorial Car Show will be held Saturday, July 29, in downtown Frazee. The new T-shirt design is going to be released soon. Information on the show, scholarships and contacts for nominating a family can be found on Facebook or at tylershipmanmemorialcarshow.com. The show also utilizes the hashtag #PAYITFORWARDFORTYLER on social media.
"It's been fun and for us I feel everything we do, whether it's a scholarship, a donation to CornerStone, helping a kid or family, these things, for me, are like these little seeds of Tyler being spread all over the place and it's very special," said Shipman.