Frazee trio returns from state runner-up finish
Sports | Published on February 28, 2023 at 4:01pm EST | Author: frazeevergas
0
Ratz, Aschnewitz sisters contribute to postseason run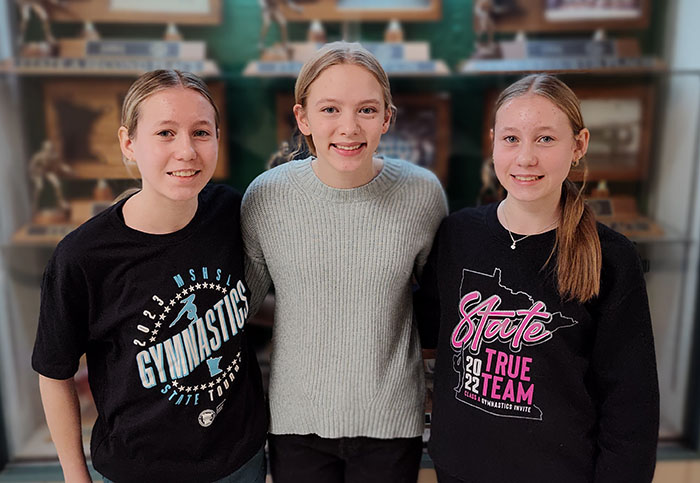 By Robert Williams
Editor
Eighth grade twin sisters Addy and Kaija Aschnewitz, along with junior Elsie Ratz, made up the Frazee contingent on state gymnastics state runner-up team from the co-op with Detroit Lakes that made a run at Big Lake for the Class A championship Friday, Feb. 24, at Roy Wilkins Auditorium in St. Paul.
The Aschnewitz were already veterans of the experience having traveled with the team last season as seventh graders. State gymnastics can be intimidating and an intense experience.
"It was fun because we were one of the youngest there," said Addy.
The experience is more than just cheering for the Lakers. It's about taking in the entire experience and watching the best in the state.
"It was really fun to be there and watch the other teams compete too, not only ours," said Kaija.
Kaija got her first experience at state during the team competition on day one performing on the trickiest of the four rotations—balance beam. Kaija scored an 8.275 in her first state appearance.
"It was really nerve-racking; I was shaking a lot. I think I did okay, but I could have done better. I was hoping I would do better but I'm okay with what I did."

Kaija Aschnewitz
That is all part of the learning experience when it comes to performing on the biggest stage in high school gymnastics. Even for Ratz, having that experience does not take away the nerves.
"Beam, I was pretty nervous, but I stayed on and I nailed my back tuck, so that was fun," she said.
Ratz joined the high school team as a freshman after competing in club gymnastics year round in Perham prior to that.
"It always seemed really fun watching them at meets and I just decided I'd like to do it seasonally, not all year round," she said.
Ratz competed in three events during the team competition, beginning on vault.
"Vault is probably our best scoring event so I just knew we had to do good on vault if we want to stay in it," she said.
Starting out with a strong score is a big key to consistently doing so the rest of the meet. The Lakers' best score came on vault—a 37.5. Ratz put up a 9.35 behind senior team leaders Jerzie Horner (9.675) and Gabby Whitworth (9.4) to get the team off to a strong start.
State gymnastics is an emotional rollercoaster from just the competition, but also watching girls who have led the team compete in their final meet of their careers adds another level.
"It was sad watching them for the last time competing and I'm excited that we're probably going to get to fill their shoes," said Addy.
While the Aschnewitz have a few years left of their high school careers, Ratz will now transition from an underclassman to taking charge next year as a senior leader.
"I feel like this year I got a lot stronger both physically and mentally and I cleaned up a lot of my skills. That was good and I tried to enjoy it as much as I could because it is my last year next season."

Elsie Ratz
She was right in the middle of the team's vault order setting up the senior duo.
"We started on vault and I went third," said Ratz. "I always go after Kate (Taves) and before Gabby (Whitworth) and Jerzie (Horner) so I'm kind of like in the middle. It was good. I was nervous, but I knew I could do it because I had done it at sections the week before."
Just getting to state is an accomplishment as the Lakers compete in the toughest section in Class A with past state champions Melrose and Perham. Since 1994, the three teams have captured 17 state titles, Perham 8, Detroit Lakes-Frazee 5 and Melrose 4.
That makes the Section 8A championships an intense warmup for state.
"It's almost more nerve-racking than state," said Ratz.
This year, the state berth was battled for in the old gymnasium in Fergus Falls that has a similar feel to Roy Wilkins Auditorium in St. Paul.
"We actually like that because it's like state gymnastics but smaller; it was a good warmup," said Ratz.
Making another run at state and adding to the Laker history was not a for sure thought early in the season.
"We knew we were good enough to do it, but we didn't know if we could put it all together at once," Ratz said.
Ratz contributed a 8.675 on beam and a 9.325 on floor exercise. She was pleased to stay on the beam during her performance, a must, and got to let a lot of those nerves loose once she got to the floor.
"Floor was good; I cleaned up my form a lot and tried to stay tight and just had fun with it," she said.
Compared to state champion Laker teams of the past, this year's team competed in the night session at state. Class A had been relegated to the morning session for years prior. Competing in the evening adds a lot of pressure.
"I never went to the morning one, but everyone says the morning one is better because you don't sit around all day and have to think about it," said Ratz. "You just kind of get up and do it. I felt like I was a little tired on individual day because the night before we were all excited and full of adrenaline so we couldn't go to sleep. It was a fun experience."
Ratz also qualified on vault for day two's state individual competition. After going all out during Friday's team championships, day two can be a rough one.
"I fell on vault the second day, but I honestly was just like as long as I can make it through," she said. "Everybody was hurting so much and we were all just kind of mentally done. It was fun rotating with the girls from our section."
Ratz will be part of a large senior core on next year's team looking to return to state. The Aschnewitz sisters will be moving into bigger contributing roles as freshmen.
"We have a lot of seniors next year; I think there are four or five of us," said Ratz. "I think we'll be good; we have a lot of girls right on the edge of getting new skills and scoring well. I think as long as they can pull it together and try their best we'll be good."
Full state gymnastics meets, along with photos are available at mshsl.org/2023-girls-gymnastics-results